How To Do 3D Nail Art Perfectly?
3D Nail Art is three dimensional art done on nails. 3D nail art can be done on both natural nails as well as on extensions. Typically 3D nail art is created using acrylics.  Acrylic powder is a polymer powder which is used with a monomer liquid to create designs. And when this design comes in contact with air, it solidifies.  There are many molds available to create 3D design with acrylics. Non acrylic 3D nail art can be created using rhinestones, fimo canes, dried flowers, 3D nail stickers, glue on molded acrylics designs like flowers, bow, hearts etc. All of these are easily available in market and are quite easy to use.
In this tutorial, we will show you how to apply these non acrylic designs perfectly.
Rhinestones:  These are most common type of 3D art. Rhinestone comes in many different shapes, sizes and colors. You can get a wheel easily for bargain prices.
What you will require
Rhinestones
Regular top coat
Toothpick
Little water (just to dip tip of toothpick)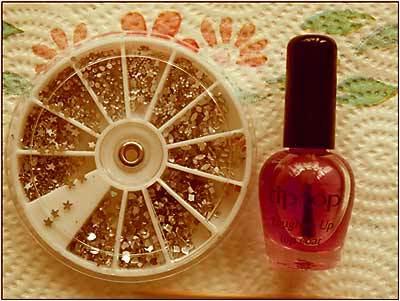 Application:
1. Paint your nails and let them dry completely.
2. Rhinestones can be placed using several techniques. Most common of them is to apply a regular top coat on the nail and then place a rhinestone.  They can also be placed using glue.
We will use the most common method as it is most effective and easiest.  So, apply a coat of top coat.
3. Now slightly dip the tip of toothpick into water and pick a rhinestone using it. You just need to take the wet toothpick near the rhinestone and it will automatically attract the toothpick and become movable.
4. While the topcoat is wet, place rhinestone on the desired place.
5. Press it lightly on the top so that it sticks to base.
6. Place all the Rhinestones like this and finish it with a dry top coat.
You can place almost all 3D art pieces using the above method.  The difference may be in how to pick them or how to stick them to the base.
Dried Flowers:   These come in various colours and types.  Application is the same except these are very delicate and must be handled carefully. You can pick them using tweezers.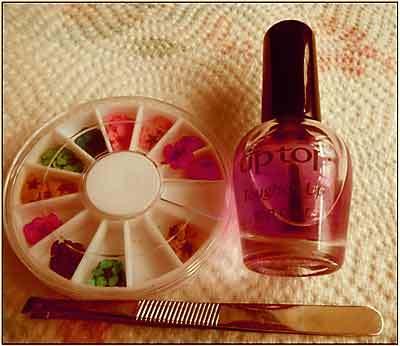 1.  Apply base color and let it dry.
2.  Apply a top coat.
3. Using a tweezers, pick a flower from the wheel and while the top coat is wet apply the flower on the nail.
4. Gently press the petals to make it stick properly and remove any air bubble.
5. Apply fast dry/shiny top coat.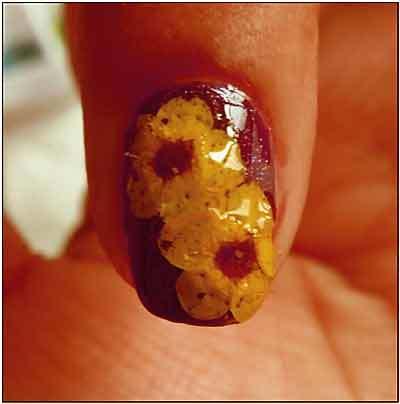 One interesting thing here is that you can make your own dried flowers and use them.
Fimo Canes/Pieces:  These are made from ceramic clay and each cane contaisn a specific pattern or design. These can be then cut into pieces and these pieces are then applied on the nails to create 3D designs. Some pre-cut pieces are available in a wheel.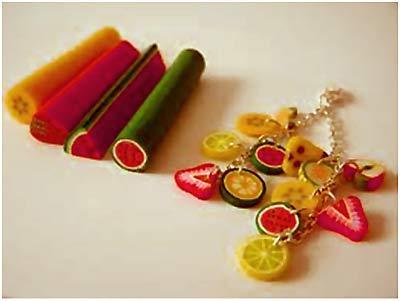 Here is a pictorial demonstration about how to apply them.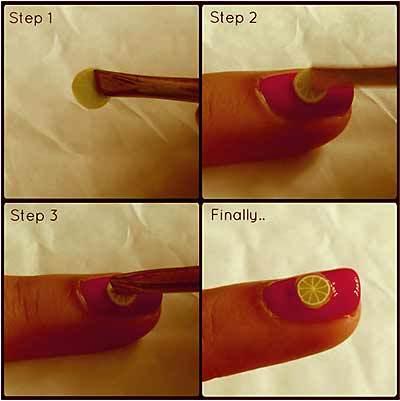 Here's the final design:
On pinkie finger, we simply lined blue rhinestone.
Other than these, molded acrylic pieces like bows and hearts can be applied using glue. Nail art stickers can be applied directly on nails without the need of anything else. These can be applied on both natural as well as fake tips, acrylic or gel nails.
And as I said you can create 3D nail art using acrylic powders but that requires hard work and expansive stuff like acrylic liquid, powders, brushes etc. 3D nail art is durable. You can eat, wash your hand and pretty much do anything with little attention. Hope you find this article useful and cleared some of your doubts about 3D nail art.
Like this post, then :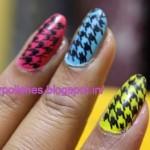 Hello, I am dimpal and I blog on Crazy Polishes.. I am a software engineer turned house wife. I am fun loving, easy going person who love exploring new places... Nail art actually started off with a simple rainbow polish and now I create many interesting nail arts. Feel free to buzz me anytime :)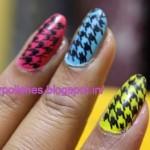 Latest posts by dimpal rathore (see all)