Do you want to dress like the eponymous lead character from the Tim Burton cult classic Beetlejuice? The dirty, moldy, half-human, half-zombie look is difficult to master. But with this simple tutorial, it will be as easy as doing a mermaid makeup.
All About The Beetlejuice Makeup
1. Face
Beetlejuice is not human; he's not even fully alive. Naturally, your face cannot have the smooth, dewy texture that you usually have for any other normal makeup. The mold, mottled green on Beetlejuice's skin requires a bit of cosmetic trickery to achieve. If you don't have the supplies you need for this Halloween makeup, it is well worth the investment. You need to buy some scar wax, liquid latex and clown white face paint, which are easily found in stores prior to Halloween. First moisturize your face well.
Start with the wax and with your fingers stick it on the sides of your cheek, chin and forehead. Smooth and scrunch up the wax with your fingers to create a realistic texture. The wax can come off with your fingers, so put lotion on your hand beforehand. Now coat the wax with liquid latex. Use a sponge to smooth the latex and let it dry. After this, dab the white face paint on with a sponge. This is your base makeup. Set it with a white or translucent powder.
2. Highlights
Take a dark grey eyeshadow and with a fluffy brush, smudge it around the contours of your face. It gives a grimy look and also brings out the paleness. Now take some light green eyeshadow on a small brush and dab it on the wax 'mold'. Use another darker shade of green to add depth and definition to the mold and dab some brown shadow in places to give it an old, withering look. You can also dab green shadow in random places. With a sponge, smudge the shadows and rub away stark lines. Another dusting of grey shadow all over the 'mold' takes the decrepit look further.
[ Read: How To Do Harlequin Makeup? ]
3. Forehead
If you have noticed Beetlejuice's forehead, you will know that it is full of creases. Assuming that you don't have such cavernous creases on your forehead, it is time to forge some new ones. First, raise your eyebrows that will create some creases. Using an angular stiff brush, stroke some dark grey eyeshadow across these creases. Do two or three strokes if necessary, but it should be dark enough to be visible across the white paint. Now take a pencil eyeliner and draw thick lines through the middle of the faux creases.
4. Eyes
Eyes are important in any makeup, and the same principle applies in this half-alive zombie makeup too. Start with your eyebrows. Beetlejuice's eyebrows look like they need a good amount of shaping and sprucing. Yours are probably a lot neater, so make your eyebrows messy. Take a kohl eye pencil and draw around your eyebrows to make them appear bushy and messed up. If you have thick brows, use a comb to mess up the eyebrow hair.
Now for your eyes, you need purple, which characterizes Beetlejuice's deathlike dark circles. Take a cream-based purple eye paint and with your fingers, apply it all over the eyelids and even under the eyes. It should be quite dark, and hence go for full coverage. Now, to add definition, bring out your trusty eye shadows. With a dark pink shadow, highlight your brow bone and center of the eyelid. Now use a dark purple (a shade darker than the paint) shadow to smudge on the outer end and below the lower lashes. You can also add a bit of black shadow for more depth of color.
5. Lips
If you are going for an authentic version of Beetlejuice makeup, chapped, dry lips are a must. So skip the rosy lipsticks and pink lip balms. Your lips should be moisturized. You don't need to dehydrate your lips into a scabby, flaky pout for this makeup. Now make a tight pout with your lips (purse it as though you are about to kiss). Take white powder (which is used to seal makeup) on a brush and brush over your lips. When you're pouting, the white powder doesn't get in the creases, so it looks like your lips are actually chapped. You can also run some green shadow over your 'chapped' lips for a moldier appearance.
[ Read: How To Do Peter Criss (Kiss) Makeup? ]
6. Teeth
You cannot pull off a true Beetlejuice look with shiny white teeth. So, to make your teeth look grimy and disgusting, take some black cake icing and rub over your teeth. Yes, it is sweet and delicious, but do refrain from licking it up. If you are not a baker and feel like a tube of icing would go waste, you can melt some really dark chocolate and use it for this purpose. Brush the icing or chocolate on to your teeth so that it sticks to the gums and spaces between your teeth.
You may have to reapply this during the course of a party, so carry a small Ziploc bag containing emergency teeth grimer in your purse. Also, prolonged contact with sugary stuff is harmful for your teeth. So, on this day, be sure to do some extra brushing and flossing on your otherwise pearly whites.
7. Finishing Touches
Something that most people miss during this makeup is the five o'clock shadow that Beetlejuice sports. Of course, it seems quite trivial, but you will see the difference once you put it on. Take a grey eyeshadow and mix some charcoal powder in it. Take the powder mixture on your round brush, and tap it a couple of times to shake off the excess. In quick, light strokes, apply it on your lower face to emulate light stubble.
8. Hair
You can buy any regular white costume wig (Albert Einstein, crazy scientist, candy floss, etc.) and modify a bit for this makeup. If you have a cream based green eyeshadow, dab it on the teeth of a wide comb. Now take a thick section of the wig hair and brush with this comb. Finally, dust with a similar green shadow. If you don't have a cream shadow, you can simply coat with powder shadow. Do this in two or maximum three hair sections.
If you don't want to work that hard, just put on the wig and dust some green shadow here and there and no one would complain.
Female Version
For a more attractive, feminine version of this look, you can try the following:
For your face, skip the wax, latex and white paint. Start with a very pale concealer and foundation and apply these, as you would for normal makeup. Set with a dusting of translucent mineral powder. Don't try a bronzer or blush for this look because that healthy, warm glow is not a part of a female Beetlejuice makeup. Pale and deathly is the way to go. To incorporate mold, try using small bits and strips of synthetic mold. It requires much less effort and can be placed strategically on your temples and cheekbones with a dab of makeup glue. To blend it into your face, smudge some green eyeshadow with a sponge makeup applicator.
Purple haze on the eyes is a trend now, and it goes well with Beetlejuice makeup as well. All you need is some purple eyeshadow and smudge it over your lid. You can do a smokey eye with this look. Take dark purple or grey eyeshadow to create smoke above and below your lashes. Dust a bit of black powder on the outer edge of your eye to enhance the smokiness. Two coats of mascara or even fake long lashes go well with this sultry Beetlejuice look.
In this look, instead of messing up your eyebrows, make them extra thin and arched. Rub concealer above your eyebrows to hide them and then draw the fake brow with a liquid liner. It adds drama to your look and gives it a proper Halloween touch.
For your lips, you can go nude or try a deep purple lipstick to enhance the purple in your eyes. You can also apply black lipstick. Also paint your nails in the same color as your lips.
You can wear a white and black striped corset and similarly designed short skirt with this ultra feminine Beetlejuice makeup.
[ Read: How To Do Pastel Goth Makeup? ]
Costume
To make a Beetlejuice costume, you need a white or black suit and pants along with some black or white (respectively) thick masking tape. With a dark pencil, mark equal vertical sections (as thick as the tape) on the pants and the body of the suit. On the hands of the suit, do a similar but horizontal marking. Now stick sections of tape on alternate sections, following the pencil markings.
Some suggest spray painting over the strips uncovered by the tape. But why waste a suit when simply the tape could do the job? To finish up, stick some real or synthetic moss and rub some dirt on the costume.
Now that you know how to do Beetlejuice makeup, what are you waiting for? This Halloween, make an appearance like never before with this make up. If you want to try out simply follow this Beetlejuice makeup tutorial to avoid any goof ups! What's more? You also get Beetlejuice makeup kits to make your job all the more easy! Try this look and add a few creative ideas and you will be showered with "ewwws" and elicit frights!
How did you like this post? Tell us by commenting in the box below.
The following two tabs change content below.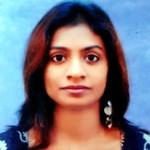 Latest posts by Maanasi Radhakrishnan (see all)