We pay a lot of attention to our face but often neglect our hands. We apply different kinds of creams and sunscreen on the face but skip the hands completely which is why a lot of us might have dark spots or patches on our hands. More often than not, the culprit behind hyper-pigmentation is sun exposure. Today I am sharing some effective dark spot skin treatments which will help you get flawless and beautiful skin on your hands without dark spots or patches.
Home Remedies For Black Spot On Hand Or Feet
Paste of Raw Potato and Onion Slices:
Using your blender, make a paste of raw potato and onion slices and apply this to your hands. Let this dry before you rinse off. This acts as natural bleach. If done for a few weeks, you would notice effective lightening of the dark spots or patches.
[ Read: Hand Beauty Tips ]
Cucumber Juice and Lemon Mix:
Use cucumber juice mixed with a few drops of lemon on your hands regularly and let your skin soak up its goodness before you rinse off. This is another effective skin lightening remedy that has worked for many.
Alternatively, you can use curd with grated cucumber or cucumber juice for the same effect on black spots for hands.
Using Vitamin E  Capsules:
Vitamin E capsules are very useful for reducing dark spots and patches. You can use Evion capsules. Cut open a capsule and apply on the affected areas. Leave overnight for best results.
Aloe Vera Gel:
Aloe Vera is a magical plant with a host of health and skincare benefits. Pure Aloe Vera gel when applied regularly on the skin is an effective treatment for dark spots on skin. It will also help to make your skin supple and bring about an improvement in the texture of the skin of your hands. For winters, you can mix fresh Aloe Vera pulp (crush it into a gel form) with your favorite moisturizer or sunscreen (if you would go out) and apply on your hands.
[ Read: Natural Remedies To Remove Old Scars ]
What worked for me:
How to remove black spots from hands is the question right? Here is what i did.
[ Read: Homemade Scrub for Hands ]
The Brihans GreenLeaf Pure Aloe Vera Skin Gel used in conjunction with the Lotus Herbals Whiteglow Skin Whitening & Brightening Hand & Body Lotion with SPF 25 and PA+++. The lotion contains sun protection which is why it can be safely used in the daytime and the combination of these two has worked effectively for the skin on my hands.

You can see the image of both products on my hand.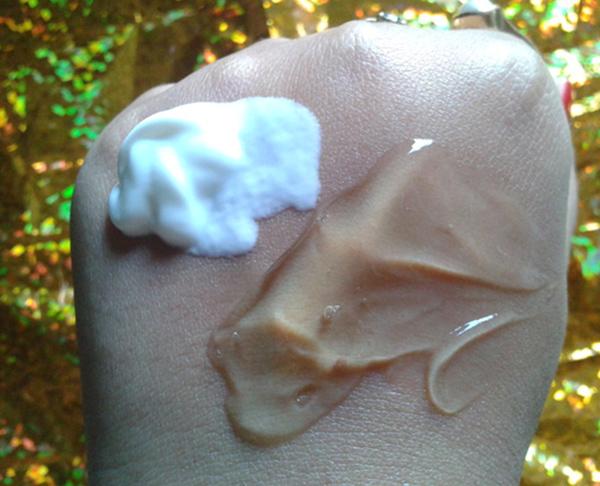 Here I have mixed them together. Just blend them well and apply all over your hands and massage in.
[ Read: How To Cure White Spots On Lips ]
Don't forget to exfoliate your hands at least once every week followed by a moisturizer. You can use a homemade hand scrub made out of olive oil, sugar and a few drops of lemon. Alternatively, you can try the Oriflame Renewing Hand Scrub.
Any dark spot skin treatment requires some amount of time and patience, so sit back relaxed and let it take its time to regain.
Never step outside the house without sunscreen on your hands; love your hands as much as your face and care for them before those dark spots creep up!

The following two tabs change content below.