Long, shapely nails are high on all our wishlists.
Nothing can be more eye-catchy than them. When you see someone walk past you with long and nicely painted nails. you look again. Every looks again! But for most of us, nails are very difficult to grow. We tend to bite them or damage them in some or the other way which means that they never get that long. Even if we manage to grow them, taking care of them is quite a task. If proper care is not taken, they will end up chipped or broken. And you end up with a bruised if not broken heart!
So to put an end to all these troubles and to get those long nails you always wanted, here are a few tips to help you on how to grow nails long.
[ Read: Nail Spa at Home ]
Tip 1:
First of all, you have to take a look at your diet. After all, you are what you eat. Is your diet giving you enough calcium and proteins? If not, take control. A glass of milk and a handful of dry fruits and nuts should form an all essential part of your food. This is not only good for your nails, but also your skin and hair.
Tip 2:
Adopt the almond oil routine. Opt for the variety which can be consumed as that will be the purest. Take an empty topcoat bottle (use a topcoat bottle strictly). Fill it with acetone and let it rest for 2 days. This is to help any remaining topcoat to dissolve completely (even the wand gets cleaned). Then wash the bottle with soapy water, air dry it and filled it with oil. Voila!! The wand can now be used as a brush for application comfortably. Refill it as required. Massage this on your cuticles every night before bed. Try being as regular as you can. You'll see the difference.
Tip 3:
Always remember to wear a base coat before applying nail polish. It'll prevent damage considerably.
Tip 4:
As far as possible, try to wear nail polish as often as you can. Nails have more chances of breaking without polish than with it. Even if you don't have polish on, do wear a base coat.
Tip 5:
While applying polish, don't forget to apply it on the top edge of your nail. When you do so, you'll notice that the area thickens considerably with multiple coats. I have experienced such dangerous instances where my nails would surely have cracked but stayed rock solid due to this.
Tip 6:
Do not buff your nails frequently as it wears out the natural protective layer of nails, making it susceptible to breakage.
Tip 7:
This might sound silly, but try wearing rubber gloves while doing the dishes or any other work that involves water. Nails have the highest chance of breaking when wet. Not only that, the harsh chemicals in cleaning agents will do no good to your hands in general.
These pointers may seem tedious at first, but when you see a difference, you'll religiously want to do it. Bid broken and chipped nails goodbye!!!
The following two tabs change content below.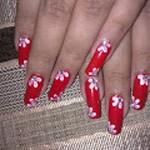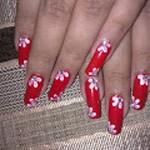 Latest posts by Neha Mane (see all)