How to Stop And Reduce Hair Fall – 21 Things That Worked For Me
All of us dream of having healthy, shiny and beautiful locks – hair that would be our crowning glory but unfortunately hair fall seems to have become a constant problem. Hair loss is a common issue that affects millions around the world at some point in their lives. Though hair fall is painless, it can be a distressing experience to lose hair on a daily basis considering that women associate hair with beauty. No one wants to go bald (something many men accept as the natural result of ageing) or look old prematurely.
How many times have you seen your comb or brush covered with hair and felt worried?
Not only while combing but even when oiling or shampooing, hair fall can occur. According to the beauty experts, it is normal to lose about 100 strands of hair in a day. Beyond this may be considered as severe hair fall.
A. What causes Hair Fall?
The common reasons behind hair fall can be perceived as a lack of essential nutrients in the body, excessive use of chemicals through hair coloring and hair styling treatments, improper and unhealthy dietary habits, hormonal imbalance, certain medications, dandruff, alopecia and other scalp disorders.
Even stress and tension can lead to hair fall. Hence try not to let these become a part of your life or if you are stressed out due to some reasons, consider meditation, Yoga or deep breathing exercises to reduce and counter it as they perfectly help in hair fall control. Also, make it a point to get adequate sleep every night.
Any medical issues should be taken care of to avoid severe hair fall that can lead to baldness. Thyroid is a common problem affecting thousands of women over the country and this condition may lead to rapid hair fall. So consider getting yourself tested for this after consulting your doctor.
Here is a detailed post on what causes hair loss in women.
B. Easy Tips To Hair Fall Control

Now, let us look at some easy tips on how to stop hair fall:
1. A wide-toothed comb should ideally be used for the hair to gently detangle it and then the regular fine-toothed comb may be used to style the hair as per one's need. This will reduce the risk of the hair breakage and hair fall while combing.
2. It is best not to comb the hair while it is wet as this leads to greater chances of hair breakage and fall. Let it be dry or semi-dry before combing.
3. Do not rub your hair vigorously with your towel. This will only lead to unwanted hair breakage. Use the towel instead to gently soak out excess moisture.
4. Clean your combs every week. If you look minutely, you will see that combs become unclean and dirty over time; so they need to be cleaned with a brush, soap and water as using that dirty comb continuously can lead to hair fall as well. You can do this easily when taking a bath or shampooing each week. This is a necessary precaution to take for hair fall control.
5. Hot oil treatments is one of the most frequent answers to the question of how to reduce hair fall!
The tradition of oiling the hair to enhance and retain its natural beauty hails from ancient India.
Instead of opting for an expensive parlor treatment, it is best to use natural products that are safe, produce no side effects and are also effective.
Natural oils such as coconut, olive, canola, jojoba, sesame etc. can be used to massage the scalp for countering hair fall and encouraging new hair growth. You have to warm the oil of your choice by heating it; ensure that it's not too hot but bearable, gently massage your scalp with this using your fingers or even a cotton ball may be used. Next, wear a shower cap, leaving it on for about 1 hour and rinse off using a mild shampoo.
Here is a detailed post on how hot oil massage prevents hair loss.
As we know, hair fall problems can be related to the scalp – issues such as dandruff, dryness and flakiness etc. With a natural hot oil treatment twice every week, the blood circulation in the scalp area can be stimulated causing the hair follicles to stay active and hair loss can be countered through deep conditioning and eliminating these scalp issues, and at the same time your hair receives the much-needed nourishment and care which will help in strengthening and making it beautiful.
6. Try to switch to shampoos that are sulfate, silicone and paraben-free to avoid loading the scalp and hair with harsh chemicals that damage hair, making it brittle and more prone to breakage. Controlling chemical damage is certainly a sure shot way to ensure hair loss prevention.
Some such options are available from brands like The Body Shop, Soul Tree, Rustic Art, Organic Surge; The Nature's Co. etc
7. Wash your hair at least every 3 days with a gentle hair cleanser or shampoo to remove all accumulated dust, dirt, oil and bacterial build up. Keep it clean at all times to avoid hair fall due to unclean scalp and scalp infections. This is a necessary step to follow as an answer to how to prevent hair fall.
How to Stop Hair Fall? Care for Your Hair:
if you have been wondering what more you can do in your quest on how to control hair fall, here are few more suggestions.
8. Do not subject your hair to frequent chemical treatments, excessive blow drying, ironing and coloring as these can lead to hair loss.
9. Hair styles such as wearing tight ponytails, pigtails or braids on a daily basis, using elastics and rubber bands to pull back hair tightly can cause hair fall.
10. Natural Juices to counter hair fall:
An ingredient from our kitchen can effectively help to tackle hair fall problems – it is the good old onion.
It is an amazing natural remedy to fight hair fall and also effectively increases the growth of your hair. Some simple and easy ways to use onion in treating hair fall and promote new hair growth.
[ Read: Onion For Hair Growth ]
11. Eat Healthy to Minimize and Prevent Hair Fall:
Give importance to a balanced diet to counter hair loss as this one of the most important answers to your question of how to prevent hair fall. Nutritional deficiencies in the body are a major cause of hair loss.
Iron-rich foods; those rich in zinc, Vitamins A, B complex, Vitamin C, Vitamin E, Omega-3 fatty acids and proteins should be consumed to overcome these deficiencies, add moisture to your hair, leading to a healthier scalp, lesser hair fall and fewer split ends and at the same time for getting thicker, stronger hair that shines with good health. This is a long term and effective way to cure hair fall.
[ Read: Eat Away Your Hair Loss Problems ]
Consider adding more of these to your diet – carrots, oats, whole grains, brown rice,  green leafy vegetables, citrus fruits, lentils, sweet potatoes, pumpkin seeds, oysters, nuts such as walnuts and almonds, flaxseed oil (Linseed oil) or grounded flaxseeds, fish such as salmon and tuna that are rich in Omega-3 fatty acids, eggs, beans, yogurt, low-fat cheese.
Do not forget to drink plenty of water throughout the day to flush out all harmful toxins from your body.
C. Home DIY for Hair Fall Problem:
Homemade hair masks are an inexpensive and a very useful option when the question is how to control hair fall problems without exposing your hair to any kind of harmful chemicals. They help to easily strengthen, nourish and beautify your hair with suggested use.
12. This DIY homemade hair mask is great for combating thinning hair and hair fall problems.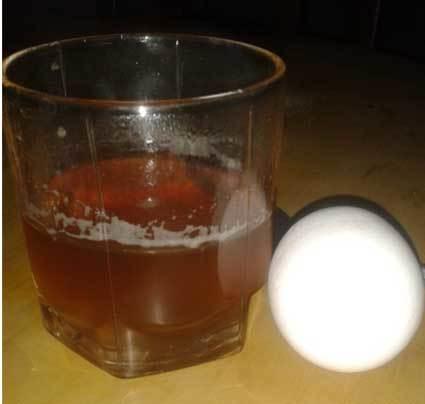 Ingredients Required:
Freshly prepared strong green tea (good quality)
1 egg yolk
How to Prepare:
Take 1 egg yolk in a clean bowl; add 2 tablespoons of freshly prepared green tea to it.
Green tea will be hot; so be careful.
Mix nicely till such a frothy and creamy consistency is acquired as seen in the image. If it becomes thicker, you can add more green tea to dilute it.
[ Read: Avocado Homemade Hair Mask ]
How to Apply:
Part your hair from the center and apply this hair mask. Wear a shower cap; leave this on for about 30 minutes for it to complete its action. Rinse well followed by shampoo and conditioner as usual.
Why is this useful?
The increasingly popular drink, Green tea is loaded with antioxidants which help in preventing hair fall and boost hair growth. Eggs have been used for hundreds of years to achieve strong and beautiful hair. Being packed with protein, essential vitamins and nutrients, egg yolk is an excellent ingredient for prevention of hair fall and also for boosting hair growth.
Use this hair mask at least thrice weekly to get rid of brittle hair, dry and damaged hair and hair fall problems.
13. Simple and Easy DIY for Arresting Hair Fall and Inducing New Hair Growth:
This has made my hair stronger, thicker and now I have almost no hair fall issues.
Ingredients Required:
Almond Oil – 40 ml
Coconut Oil – 40 ml
Castor Oil – 10 ml
Aroma Magic Stimulate Oil – 5 ml
Aroma Magic Lavender Oil – 5ml
Vitamin E capsules – 3 capsules
This is for a 100 ml mixture. Also required is an empty bottle for storing it and a measuring cap to take the required quantities.
I have used the following (you may use brands you prefer):
Divya Badam Rogan Almond Oil (from Baba Ramdev's Patanjali),Patanjali Tejus 100% Pure Coconut Oil, Castor oil from a local brand, Evion Capsules (Vitamin E) and the two oils mentioned from Aroma Magic.
How to Prepare:
Mix the above-mentioned quantities of Almond, Coconut and Castor oil.
Now add 5ml each of Stimulate Oil and Lavender Oil.
Slit open and squeeze 3 Vitamin E capsules into the mixture.
Shake the mixture well and store in a cool and dry place away from sunlight.
How to Apply:
This needs to be used for massage on the entire scalp and hair for about 10 minutes on alternate days. Leave overnight and wash off with shampoo.
Use this remedy for hair fall with patience and I am sure you will see the results very soon.
D. Treatments to stop Hair Fall:
14. Hair Spa:
This is one of the most commonly used treatments for hair loss. Not only is this a relaxing experience, but hair spa treatment also has a lot of benefits as listed below:
-It is meant to deep condition the hair, treating split ends and repairing dry, damaged and dull hair as well as removing dandruff which is another cause of hair fall.
-It provides essential nourishment to the hair roots; fortifies the hair follicles and revitalizes the scalp, thus making a way for newer hair growth and countering hair fall.
-It prevents scalp ageing and stimulates blood circulation in the scalp area through the massage, helps in maintaining clean scalp and hair, thus leading to healthier hair and reduced to no hair fall.
-It also brings a welcome relief from stress and tension.
Many beauty parlors and hair salons offer hair spa therapy and it is wonderful to indulge yourself in this treatment once or twice a month to combat hair fall and get bouncy, smooth and beautiful hair. Charges will of course vary from one parlor to the other.
15. Minoxidil (Rogaine):
This is one of the most effective, FDA-approved and commonly prescribed medications from doctors worldwide for arresting hair fall and treating alopecia-related problems.
[ Read: Rogaine For Hair Loss ]
16. Laser therapy:
A non-surgical treatment, Low-level laser therapy (LLLT) is a medical treatment meant to effectively deal with hair loss or thinning hair and stimulate new hair growth.
[ Read: Laser Therapy To Fight Hair Loss ]
E. Best Anti Hair Fall Products:
Here's a look at some of the best anti hair fall products available in the Indian market:
17. Trichup Hair Fall Control Oil:
A popular and commonly used anti-hair fall product, this is known to arrest hair fall, strengthen and nourish the hair roots and encourage new hair growth. It also protects the hair from environmental factors and chemical-induced damage, improves the hair texture and repairs hair, making it strong and bouncy.
Directions for Use as per their website:
Cleanse off the hair with Trichup Hair Fall Control Shampoo. After thorough drying, massage gently this oil on the scalp using finger tips until it gets absorbed in skin. Keep overnight for better results. Repeat 2 – 3 times a week for minimum of 4-6 weeks.
18. Dove Hair Fall Rescue Treatment:
This is a recent launch from Dove. The Dove Hair Fall Rescue Treatment contains patented Trichozole active with Ginseng and Soy Protein to help combat hair fall in only 2 weeks of use.
It has the following benefits for the hair:
-Strengthens and nourishes each hair strand from the root, reducing damage
-Locks hair firmly in its place, giving freedom from hair fall
Directions for Use as per their website:
i. Wash hair as usual and towel dry.
ii. Break open flat nozzle cap and apply lotion directly on clean scalp.
iii. Make series of partings and apply lotion evenly to the scalp.
iv. Massage lotion for 2-3 minutes to let it penetrate into the roots of your hair.
v. Use entire content of one vial at each application and leave it until next wash. Style as usual. (Must be left on for at least 8 hours)
vi. For best results, apply on clean scalp soon after towel dry & use every two days.
19. Parachute Advansed Scalp Therapie:
Formulated with Active Protein Complex and tested by dermatologists, this penetrates into the roots of the hair, provides essential nourishment to the hair follicles, replenishes hair, heals damage and controls hair fall. Here is a detailed review of Parachute Advansed Scalp Therapie.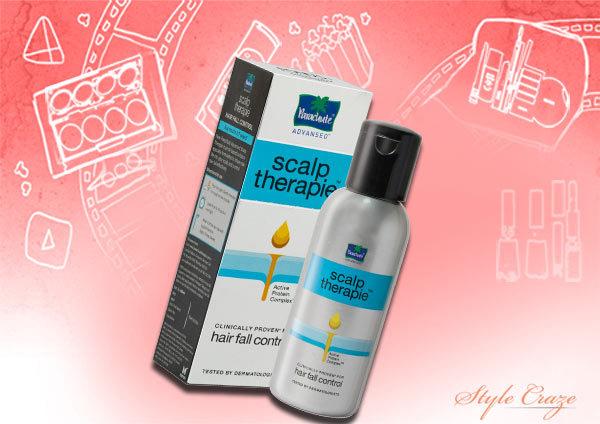 Directions for Use as per their website:
a. Pour 5-6 ml of Parachute Advansed Scalp Therapie into your palm. For longer hair, you may use 8-10 ml.
b. Gently massage it onto your scalp for about 4-5 minutes.
c. Leave it onto your scalp overnight or at least 8 hours
d. Parachute Advansed Scalp Therapie should be used at least 3 times a week, and for best results should be used daily.
20. TRESemmé Hair Fall Defense Shampoo:
Very reasonably priced, this shampoo from TRESemmé has gained a lot of attention as it has been found to be useful against hair fall. It is gentle enough for daily use; it strengthens and restores health to damaged hair and prevents hair fall caused from breakage, thus giving smoother hair.  Here is a detailed review of Tresemme Hair Fall Defense Shampoo.
Directions for Use as per their website:
i. Apply to wet hair, gently massage and work into lather.
ii. Rinse thoroughly.
iii. Use with TRESemmé Hair Fall Defense Conditioner.
iv. For optimum results use the TRESemmé Hair Fall Defense range. Style using your favourite TRESemmé styling products
[ Read: Henna Treatment for Dandruff ]
21. TVAM Henna Anti-hair Fall Hair Oil: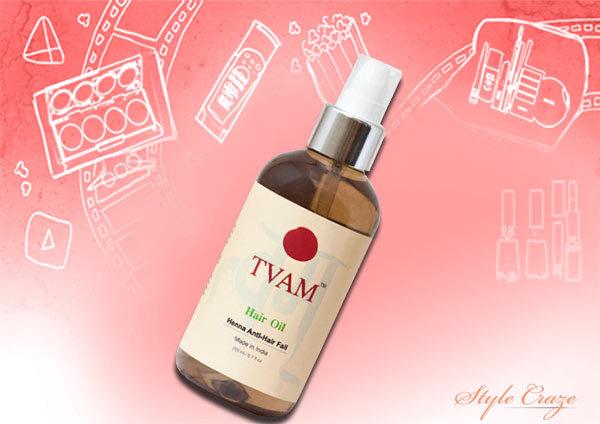 Enriched with the goodness of natural ingredients such as Henna, Brahmi, Baheda, Fenugreek, Jojoba Oil, Amla, Bhringaraj, Olive Oil, Wheat Germ Oil, Sesame Oil, this nourishing hair oil helps to fight and prevent hair fall.
[ Read: Best Anti Hair Loss Lotions and Oils ]
It encourages new hair growth by stimulating the follicles of the hair, strengthens hair, and reduces thinning of the hair and baldness with regular use.
It, however, is expensive for the quantity you get in one bottle.
Directions for Use as per their website:
Massage oil gently onto the scalp. Leave it overnight or at least for an hour before wash.
Hope this article on Hair fall will help you like it helped me. This may answer your every question on how to reduce hair fall. Let me know your own tips to stop and prevent hair fall in the comments below.
If You Enjoyed This Post, Sign Up For Newsletter
(And get your daily dose of Beauty & Wellness tips straight to your inbox)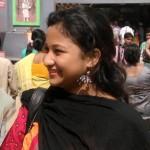 Vibrant, lively, fun-loving, talkative, caring and an independent thinker!