There may be a few lucky ones who did not ever suffer from the skin menace called acne. For the rest of us, this trouble often becomes challenging. Well, with multani mitti or fuller's earth, your battle against acne becomes a simple one. This natural herb is rightly prescribed as a perfect remedy for treating and curing acne. Found in plenty in the vales of India, multani mitti has been used as a prime mode of skin care since the time of Veda.
[ Read: Multani Mitti Benefits for Dry Skin ]
Multani mitti – clay for a flawless skin
While many of you might have applied multani mitti or fuller's earth before, very few know what actually multani mitti means. The scientific name of this natural miracle is calcium mintmorillonite. This natural substance has always been popular for making various beauty products in ancient times. It is heard that people used to apply multani mitti on their bodies while taking bath when soap was not invented. It is evident that its power of removing dirt and oil was acclaimed by the ancestors as well.
Making it simpler, multani mitti is a sedimentary clay component that is mainly available from natural resources. This sediment is a rich source of silica, water, magnesia, alumina, oxides, and iron. All these components together make a fine combination for curing acne naturally without using any chemical substance. In most beauty parlors today, multani mitti is used as a popular drying agent.
[ Read: Remove White Spots on Skin Naturally ]
Known for its manifold utilities and healthcare benefits, the most stubborn acne and pimple scars remove easily if you use this magical clay with deidication. There are of course various ways to apply fuller's earth or multani mitti on skin. Let us explore how you can get rid of such a scary skin issue within an unimaginable time frame.
Key benefits of multani mitti:
Multani mitti is in use for treating a wide range of skin problems since the time when cosmetic products were not in fashion. So, what was the secret of naturally flawless skin? The answer is surely, multani mitti. This natural herb along with some other wonders of nature happen to be some of the best skin care remedies for problems like acne, pimple, blackheads and scars.
Some of the sure-shot benefits of multani mitti include
Multani mitti is rich source of magnesium chloride that helps to reduce the spate of acne and blemishes to large extent.
Most times, acne erupts from oily and dirty skin. Applying multani mitti removes extra oil from face. It also helps removing dirt naturally.
Tanning and pigmentation are often considered as causes of acne. Fuller's earth is a very effective remedy for lightening skin tan and pigmentation as well.
For those who have oily skin, multani mitti is the best type of face pack. It helps absorbing the excess oil from face and clears dirt from the clogged pores.
Multani mitti is also quite effective as a natural scrub and is best element to remove blackheads and whiteheads naturally.
Last but not the least, like most of skin care ingredients; multani mitti has no side effects.
Making a face pack with multani mitti for acne
As said earlier, multani mitti is a fantastic drying agent; you can pick up this natural clay for making a face-pack for treating acne and oily skin. Dermatologists often recommend keeping skin oil-free for avoiding problems of acne.
[ Read: How To Use Multani Mitti on Face for Oily Skin ]
For making a home face pack with multani mitti, you would require
One table spoon of multani mitti
One table spoon of sandal powder
One tea spoon of honey
One tea spoon of oatmeal
A pinch of turmeric
Rose water for making a paste
Mix all the ingredients and apply this paste for half an hour and wash off. Repeat every alternate day if the acnes are many in numbers. Keep on applying this paste for some weeks, and you will rediscover a flawless skin very soon.
[ Read: Multani Mitti Face Packs ]
Start using this wonderful clay to get rid of those stubborn pimples and blemishes. Ask anyone, multani mitti for pimples and multani mitti for acne acars is thee answer you will get! Don't forget to leave us a comment.
Recommended Articles:

The following two tabs change content below.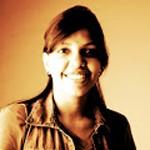 Latest posts by Shruti Goenka (see all)