Top 10 Hula Hoop Exercises And Their Benefits
Hula Hoop workout has been in existence since ages and today, it is one of the most fun-filled exercise regimes. It is one of the best ways to burn calories along with fat in the stomach and waist area.
What Is Hula Hooping All About?
Hula hooping is actually a physical activity where you need to twirl the hoop around your waist, belly, arms, and legs. The average hula hoop for adults has a span of about 45 inches in diameter and weighs about 2 pounds. It helps to burn as many calories as you get to burn in a kickboxing or aerobics session. According to The American Council, hula hooping helps you in burning about 420 calories in an hour. So all you need to do is play the music, twirl the hula hoop for an hour and you have burnt 450 calories.
Hula hooping is not a newly discovered way to stay fit. There is evidence the ancient Greeks and Egyptians twirled hoops around their belly in order to have fun and maintain their fitness.
Hula hooping not only keeps you fit and in shape but also helps in uplifting your mood and fighting depression. It has a very positive impact on our body and mind. Kids and people of all ages from all over the world enjoy this immensely, as a form of playing as well as a form of exercising.
The most important factor that any other exercise like treadmill and morning walker does not have is 'the happy factor'. People don't realize the time while they are hula hooping.
Where To Do Hula Hoop?
Nowadays there are many hula hooping classes available that one can join to work out and lose weight. Some gyms and fitness centers also conduct hula hoop dance sessions. These are mostly hour long sessions which are fun and helpful in staying fit. Many people also practice hula hooping at home as it doesn't require any special set-up or environment. All you need is a hoop and enough room to swing it. Having a music system around your hooping area would be an added benefit. This is the most inexpensive, effective and fun way to exercise.
The Hula Hoop Exercises
1. Standing Twist
The hula hoop can be quite an effective way to work on your abs. The standing twist forms a really good workout for the abs. Hold your hula hoop at two sides and twist towards left, keeping your lower body straight. After a hold of 5 seconds, twist to the right-hand side and hold again for 5 seconds.
2. Rolling Reach
The rolling reach is an efficient exercise for your back and legs. The exercise quite resembles driving; it's just that the steering here is pretty big. Hold on to the hula hoop in front of you and bend forwards, once you take the position just roll over the hula hoop from left to right.
3. Arm Circles
To work out the arms and shoulders with a hula hoop, you may need to perform the arm circles. All you need to do is hold the hula hoop up in the air and circle it between your palms and forearms. While bending your elbow, you can easily feel the pressure in the shoulders and arms.
4. Tree Press
In this exercise, you make use of the hula hoop like a dumbbell. All you need to do is balance as you have to stand straight on one leg as the other stick out with a support of the other leg. Hold your hula hoop, behind your head and slightly lift up and bend down. Repeat the same procedure for 10 times.
5. V- Sit
The V-Sit is an easy task but helps to develop strong abs muscles. Keep the circumference of the hula hoop in mind, raise your feet together at one end of the hula hoop and let your hands hold the other end. This position pressurizes your abs muscle.
6. Wide Squats
Squats are an apt exercise for the hips and the thighs and adding a hula hoop aids in losing the extra fat on the hips. Just as you perform the hula hoop circles, bend down your knees outwards and balance the hula hoop.
7. Hoop Boot Camp
A hoop boot camp is a trail of step by step performance with the circular ring. It is vigorous and helps you to shape the thighs, hips and lower back.
8. Hula Hoop Dance
The hula hoop dance workout can be just like aerobics, where you make use of the hoop instead of dumbbells. All one needs is good music to groove and let yourself free as you dance to the rhythm and shake your booty.
9. Knee Hooping
Knee hooping is good workout session for your thighs and the backside of your knees. Just try balancing the hoop between your knees and avoid it from falling off as you hula hoop.
10. Hula Hoop Torso and Chest
The hula hoop doesn't only give your hip and booty the firmness and shape, but can be used for the torso and chest too. Just circle the hoop around your upper body and leave it loose in circles without letting it fall off.
Benefits of Hula Hooping
Here are some common fitness and health benefits associated with hula hoops:
You stay fit and in shape.
You will be able to lose weight in just a few weeks as it helps in burning up to 450 calories in an hour.
It tends to strengthen your muscles as they are involved in hooping.
It works on abs and core too.
Helps you fight depression.
Makes you thin and slim with a flat stomach.
Makes your body more flexible.
As it's a fun and spirited activity, it makes you cheerful and maintains positivity.
It fortifies your concentration level.
No doubt hula hooping is a new fitness trend. Long and exhausting gym sessions can sometimes be difficult to maintain. Instead, hula hooping is a fun and exciting way to stay fit and in-shape. All you need is a 1.5kg weight hula hoop and a little bit of practice!!
Recommended Articles:

The following two tabs change content below.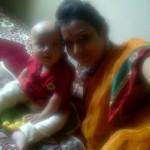 Latest posts by Khushboo Mehta (see all)