They say that what's old is gold. And we kinda agree to it. At-least when it comes to hair. From Twiggy's elfin crop, Marilyn Monroe's pin up to Brigitte Bardot's bangs, a look at these coiffures and we wouldn't mind being transported back to the '20s or the '80s.
So, here we chart the top ten iconic hairstyles of all time that we have fallen in love with!
1. The Twiggy:
The late 60s were all about Lesley Lawson's (a.k.a Twiggy,) strong, androgynous look, big eyes, twig-like eyelashes and those sexy elfin crops in blonde. A fan of low-maintenance styles, it was celebrity hairdresser Leonard Lewis who worked his magic on the British actress at the time when hot rollers, voluminous curls and piles of bobby pins were ruling the hair scene!
2. Brigitte Bardot Bangs:
From the sixties and seventies, Brigitte Bardot's legacy knew no bounds: signature bouffant, bangs, winged eyeliner, undone updo, and even her sexy pout. The French fashion model, actress, singer and animal activist's, artfully ruffled updo with the allure of her face-framing bangs is hard to deny. Popular ever since, this perfect balance of sexy bedhead with blunt bangs gives a timeless appeal.
[ Read: Popular Vintage Hairstyles ]
3. Mia Farrow's Pixie:
We can never forget the iconic pixie hair of Mia Farrow from Rosemary's Baby, can we? Chopped by master cutter, Vidal Sassoon, the innovative, drastic and iconic pixie cut defined her career. Best suited to oval or heart shaped faces, the hairstyle will accentuate your facial features well.
4. Louise Brooks's Flapper Hair:
She defined an era, and now Louise Brooks' sexy attitude and flapper hair with clean bangs are bewitching the world once more. The American dancer and actress' look was a dramatic departure from the upswept hair, and it was soon recreated by everyone, including, A-listers like Coco Rocha, Nicki Minaj, and Natalie Portman.
5. Marilyn Monroe's Pin Up:
If we could turn back time, we'd certainly be rocking Marilyn Monroe's '50s-era dreamy, pin-up curls. A perfect hairstyle for a big night out, Marilyn's disheveled curls made waves in the beauty world throughout the '50s and '60s, and inspired women tacking up their locks in salons for their hairstylists to recreate.
[ Read: Short Hairstyles From The 60's ]
6. Audrey's French Twist:
If there's one icon who defines glamour and sophistication in one look, it's our favorite Audrey Hepburn. In the year 1961, when Hepburn wore her long hair in a French Twist – a hair style that is still going strong today – she took the fashion world by storm. Paired with flawless makeup, a slick of liquid kohl and peachy lips, Holly Golightly's look was a perfect match between comfort and style.
7. Liz Taylor's Wavy Bob:
There is a handful of hair trends that remain iconic, and Elizabeth Taylor's wavy bob is certainly one of them. Wearing her dark, soft curls in a short bob, matched with clever accessorizing and classic makeup, Liz epitomized a life of glamour, elegance and rebellion in Little Women.
8. Lucille Ball's Poodle Cut:
Look up 'glamourous', 'sophistication' and 'elan' in the dictionary, and you'll see a picture of Lucille Ball and her poodle cut from the mid-50s. Lucille's red curls, her striking looks and trademark red lips only added to her beauty and amped up her entire demeanour.
[ Read: Classy Headband Hairstyles To Inspire You ]
9. Veronica Lake Waves:
Considered to be one of the greatest actresses of all time, actress Veronica Lake is known for her shoulder-length finger waves peek-a-boo bangs. To recreate her look, add a lot more volume and movement. A perfect hairstyle that can work for both day and night, red carpet and the real world.
10. Farrah-Do:
Who knew the combination of full bangs and wild feathered waves would be a perfect 10? Well, bombshell Farrah Fawcett did. Elegant and classic – it was not until her 1976's red bathing suit and feathered flip poster that had women scrambling for their hot rollers. To recreate the look, apply a volumising mousse to washed hair and blow dry your hair. Now take a flat iron to create a slight bend in the hair. Finish off the look by spritzing a light hair spray and run a large paddle brush through the flick at the front.
Still every inch as sexy – we hope you found your hair inspiration with our most iconic hairstyles. If you have any suggestions, please feel free to write to us by commenting below.
Recommended Articles:

The following two tabs change content below.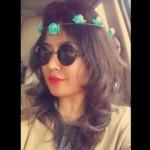 Latest posts by Anisha Pradhan (see all)