The holiday season is right here, and by now, your social calendar might be filled with a number of family get-togethers, parties, and outings. Are you ready to be the life of the party? If you are worried about makeup flaws, fret not – we've come up with some hacks that will make sure your makeup lasts all day long.
Holiday Makeup and Beauty Tips
These top 21 makeup hacks will make your life much more easier, and ensure that you need not spend hours in front of the mirror to look picture-perfect:
1. DIY Gel Liner
Turn your regular kajal pencil into a gel liner by holding a kohl eyeliner under the flame for a second or two. Let it cool for a few seconds. Then, apply it on your lashline. This will make the application easier and smoother.
2. Make Your Lipstick Last For Longer Hours
Grab a tissue paper and hold it over your lips after applying the lipstick. Then, lightly dust some translucent powder over the tissue. This will help your lipstick stay longer than usual.
3. Use A Bobby Pin For The Perfect False Lash Application
Applying false lashes is really a big pain, especially when you're running out of time. To make this process easier, use the tip of a bobby pin to apply glue to the false lash. This will avoid excessive glue on your eyes.
4. Look Better In Pictures With This Easy Trick
Holidays are all about partying and capturing the beautiful moments. Why spoil your memories by looking tired and oily in the photographs? Just apply a thin mineral veil of face powder on the center of your face with a fluffy brush. It will help take away the shine from the oily parts of your face, and make your face look fresh.
5. Use Baby Powder For Thicker Eyelashes
For naturally thick eyelashes, dust a coat of baby powder after applying a coat of mascara, and then seal the powder with a second coat of mascara. The baby powder will make your lashes appear thick.
6. Get Rid Of Dry And Flaky Lips Within Seconds
If you have dry and chapped lips, take an old toothbrush and gently scrub your lips to brush away the dry flakes and reveal soft and smooth lips.
7. Make Your Eyes Appear Wider
To make your eyes appear big and wide, instead of sweeping your mascara upwards, sweep the brush towards your nose. It will help your lashes look fuller.
8. Make Your Own Lip Gloss
The next time you notice broken eyeshadow, think twice before you throw it. You can make your own lip gloss by crushing the eyeshadow and mixing it with petroleum jelly. And there you go ­ a lip color of your choice.
9. No More Lipstick Stains On Your Teeth
To avoid lipstick stains on your teeth after the application of lipstick, make an "O" shape with your lips, put your index finger in your mouth for few seconds, and then pull it out. All the extra lipstick stuck on your teeth will come off on your finger.
[ Read: How to Keep Lipstick Off Your Teeth ]
10. Curl Your Lashes Faster Using A Blow Dryer
Hold your eyelash curler in front of a blow dryer and heat it for a few seconds. Then, use this slightly warm curler on your lashes. It will give them extra holding power.
11. Running Out Of Blotting Paper? Toilet Seat Covers To The Rescue!
Yes, you read that right. Toilet seat covers are made up of the same material as blotting papers. You can use them to blot away the excess oil over your skin.
12. Try This Hack And Get Rid Of Split Ends
You notice split ends just before starting for the vacation destination, and you don't want to risk your new look by getting your hair trimmed. Don't worry, we have a solution for that as well.
Part your hair into multiple sections. Then, twist those sections together till the end. Pick a good scissor and start trimming the little pieces sticking out of the twisted strands. This will help eliminate split ends.
13. Use Peppermint Oil For Plumping Your Lips
Mix a little peppermint oil or cinnamon oil with your lip gloss. It will instantly plump your lips.
14. Apply Perfect Eyeliner With A Lash Curler
You want to apply eyeliner, but you do not consider yourself a pro in that area. We have a hack that will help you master the act of applying perfect eyeliner.
Take your lash curler and draw a thin line of eyeliner right along the edge of your curler. Hold the curler for a few seconds, press its base against your skin, curl your lashes, and voila! You're done.
[ Read: Different Ways to Apply Eyeliner ]
15. Got A Foundation That Is Too Dark On Your Skin? Try This!
At the last moment, you find out that the foundation you bought is too dark for your skin tone. Such a depressing moment, right? Wait, we can help you.
Add a bit of moisturizer to your foundation. This mix can help lighten your foundation.
16. Whenever Running Short Of Time, Use One And Done Philosophy
Whenever you're running short of time, always prefer the one and done philosophy. Play with either your eyes or your lips. Avoid doing both.
17. Too Lazy To Remove Your Makeup At Night? Keep Cleaning Wipes By Your Bed
If you're tired after a long day, and do not have patience to wash your face and remove the makeup, just keep ready-to-use cleaning wipes by your bed. You can remove your makeup with the wipes and have a tight sleep.
18. Treat Your Cracked Feet And Get Yourself A Foot Healing Treatment While You Sleep
Holidays can be tiring. To relieve the stress and wake up feeling fresh the next morning, apply a moisturizer or Vaseline to your tired feet and wear some comfy socks. Head to bed, and wake up with soft and smooth feet.
19. Make Your Hair Look Thick Instantly With A Little Eyeshadow
This hack works like magic. You can make your hair appear thicker instantly by slightly dusting an eyeshadow (that is of the same color as your hair) along the partition of your hair and on the scalp.
20. Skip Showering, Just Wash Your Roots In The Sink
The hair roots are where all the dust and grease collect. So, why not skip the shower this time and shampoo only the roots? Bonus: It takes only half the time to dry.
21. Going Through A Bad Hair Day? Just Tie A Pretty Scarf Or Turban
If you're really not happy with the way your hair is, tie a pretty turban or a scarf to amp up your look.
Now that you are aware of these simple makeup hacks, all you need to do is prepare to make an entrance! Hope you enjoyed reading this article. Drop your views in the comments box below.
Now that you have these hacks, try out these looks!
Holiday Makeup Looks
Here are 19 show-stopping looks that will get you all spruced up for the holidays!
1. Get Smokey Eyes
Smokey eyes are the best choice for any season. For the holidays, make them more fashionable by adding dramatic and graphic shapes. How about exaggerated wings?
2. Roll Up Your Hair
Roll up your hair into an interesting and traditional updo, and pair it with a stunning strapless dress.
It looks contemporary and retro at the same time.
3. Play Matchy – Matchy
Here, we're talking about perfect pairing.
Your look becomes far more interesting when your lipstick shade is coordinated with a matching, complementary eyeshadow.
4. Wear A Loose Side Braid
Wear a loose braid cascading over one shoulder. This is one hairstyle you can't go wrong with.
Add a sexy touch by pulling the braids apart slightly.
5. Highlight The Inner Corners Of Your Eyes
Apply a hint of glint to the inner corners of your eyes and draw attention to them.
Choose a metallic shade that is very close to your complexion.
6. Try A Traditional French Twist
Give your plain bun a retro twist by pinning your tresses into a braided bun just above the nape of your neck.
This is an elegant and sleek styling option and does not take more than five minutes.
7. Swipe A Nude Gloss On Your Lips
Want a break from colors?
Go neutral on your pout with a creamy, high shine nude gloss.
8. Go For A Loose Top Knot
Brush your strands, loosely wrap them around on your crown, and secure with an elastic band and some bobby pins. Give it a messy look by leaving the ends.
9. Exaggerate Your Lashes
Wear a fierce, but flirty look with spidery false lashes and accentuate your eyes.
10. Lighten Your Tips
Going permanent can be risky, so try some temporary sprays and add some dimension to your hair.
11. Wear Ballet Slipper Pink Lip Gloss
Want extra oomph?
Add a girlish glamor to your face by wearing a glossy soft pink lipstick. It complements any look, be it a no-makeup look, or a heavy smokey look.
12. Rock A Bold Blackberry Lipstick
This one is especially for strong-hearted attention seekers. Wear an eye-catching lip color and stand out from the crowd!
13. Braid Your Hair Into Something New
You need not always be picture perfect while pulling off hairstyles. You can create several plaits in some new styles.
To give a messier look, don't hide your bobby pins inside. Make sure they are visible.
14. Line Your Lids In Inky Black
Turn your lids inky black using a liquid liner. Keep it very thin and close to the lash line. Gradually start thickening, and then flick it out from the outer corners.
15. Twist Your Strands Off Your Face
Twist your bangs with a simple two-strand plait. It is the best way to keep the fringe off your face.
16. Wear Orange Lipstick
Looking for a shade that is very close to bright red? Try tangerine.
This is a trending hue that adds a totally refreshing touch.
17. Braid Along Your Hairline
Braid along the entire hairline and secure the end with a band, or you can even pin it up. Add a creative twist to the look – use a section of the hair and loop it around the braid.
18. Sport Neon Pink Lips
Step out sporting a neon pink lipstick and become the center of attention. Pare down the makeup with neutral tones for the rest of your face and eyes. A neon pink color enhances any look and suits all complexions.
19. Sport Your Ponytail
Turn your patent standby ponytail style into something funky. Perch it high on the head, or add some more drama by adding some clip-in extensions, or sling it over your shoulder.
There are so many looks that you can experiment with. Try some of these looks and share your experience with us in the comments box below.
Recommended Articles
The following two tabs change content below.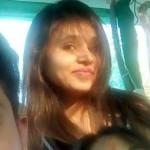 Latest posts by Jyotsana Rao (see all)