Braids are the 'in' look these days, and if you have medium length or long hair, you've probably tried a lot of different looks with your braids already. There is a lot to play around with when it comes to braids. Whether it's the French braid, the Dutch braid, the fish tail braid or a simple messy braid, you can never go wrong when you're working with a look that's got a braid in it. While you may have mastered the different styles of pleating your hair in a braid, another great way to accentuate and highlight your hair, and braid, is by trying out the decorative braids style.
What Are Decorative Braids?
Decorative braids are basically hairstyles that will let you accessorize your hair, and your braid, without using any additional hair accessory. This is one of the most popular styles of hair braiding in the world. With decorative braids, you can make a head band to go around your hair, wrap it around a pony or just use it to pull your hair back from the face. The fun and best part about these braids is that they let you keep your hair open and yet allow you the option of keeping your hair away from your face, without using any additional accessory. Here is an easy to do pictorial guide that will help you create the decorative braid in just a few minutes:
[ Read: Simple Dutch Braid Tutorial ]
Lace Braid Tutorial:
A lace braid is basically a one-sided French braid. In this kind of a braid, you need to add sections only on one side of the braid, instead of on both the sides.
Pictorial 1. Just as you do with a French braid, start with a braid of 2 cycles. Here, we are naming the sections as L (for Left), M (for Middle), and R (for Right) to make it easier to understand. 2. Now, pull a section on one side, as shown in the image 3. Next, combine the pulled section with the R section and braid it nicely
[ Read: Simple Fishtail Braid Tutorial ]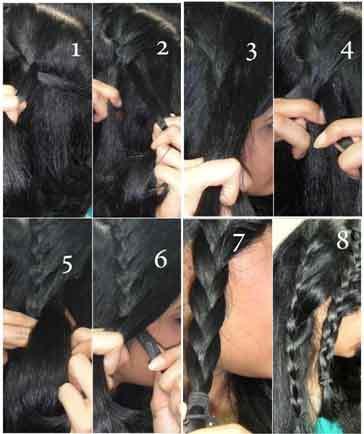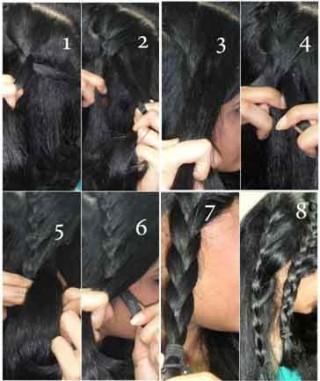 4. Keep continuing with the same steps, till you reach the ear 5. Remember, you always need to add sections diagonally and loosely, as shown in the pictures 6. The pictures numbered 4,5 and 6 show how the braid looks while you are doing lace braiding. 7. Also, it is advisable that you keep checking in the mirror to adjust the position of the braid as you reach towards the ear. 8. Once you have reached the ear, braid the hair normally till you reach the end 9. Now secure the braid with an elastic 10. Your braid is almost done now 11. In this image, 2 braids have been created 12. For the second braid, it took about 2 3 trials to get the proper positioning. 13. In case you're finding it difficult, just try and practice 3 4 times and you'll be able to create the braids soon
[ Read: Waterfall Braid Picture Guide ]
So this was a simple to do yet fun and easy look. Now that you know how to lace braid, let us know if you'll give it a try. Do tell us your experience and let us know if you found it easy or not.
Recommended Articles:
The following two tabs change content below.