Have you ever practiced meditation at home? If not, then it's time you start practicing it and experience the magical difference it leaves behind every time.
StyleCraze offers you assorted and the best information on the various types of meditation along with the different ways to practice it and its benefits.
It is most important however to keep in mind that meditation is nothing but concentration. It doesn't matter what kind of meditation you do, concentration is what will get you results. It can be done anytime and anywhere. All it takes is a quiet place and time.
Check out these top 10 how to meditate videos from youtube.com and experience the difference yourself.
Youtube Meditation Videos
1. This meditation video is among the most popular ones on the youtube.com and has over 50,000 views. The video explains each and every aspect and the basic requirements of performing mediation. It begins with describing the importance of a good posture in mediation. It should be very comfortable and stable. Any physical activity or chattering is the activities which should be stopped, to relax our mind and soul.
2. This particular video of meditation has over 1lakh views and hundreds of likes, talks about the spiritual reality. It is a program on meditation and meditational experiences. While watching this video, the narrator asks us to relax and just go with its flow, without analyzing the video. The various phases of meditation are well explained and also state that "mediation is the journey of consciousness towards our inner self".
3. This video is the first part of the deep relaxation mediation- stepping inwards by "Brahma Kumaris" With over 1lakh 30thousand views. This is indeed on e of the most popular videos on youtube.com. It starts with explaining the importance of relaxing our body, mind and stepping into inner self and disconnect yourself from the things around us, before we start with the meditation. With a soothing background tune and description, this video is ideal if you want to relax our mind and body for some time.
4. The video is particularly known as t he "brain massage video", which is not typically a mediation video. It aims to soothe and relax your brain with the soothing frequencies that the video produces and will help our mind to reach a relaxed state. It is enriched with the "binaural beats", which claims to deepen our relaxation process. This video is quite helpful to reduce and eliminate stress and headaches.
[Read:Power Yoga Workouts]
5. The video is known as the guided meditation, which clearly explains the importance, benefits and very intricate details about meditation. This provides a deep blissful relaxation for your body and mind. It focuses specially on the various breathing techniques to calm our mind. With a soothing background tune (sound of the waves) and description, this video is ideal if you want to relax our mind and body for some time.
6. A very quirky yet realistic mediation video which has gained around 7 lakh views, making it undoubtedly one of the most popular mediation video. This is an animated video which explains the various reasons due to which person may not be able to mediate, even if he wishes to do so. It introduces us to the technique of one moment mediation.  It firstly explains you the 1- minute mediation and with practice, you can reduce the time and finally reach the one moment meditation.
[Read:Top 10 Power Yoga Videos]
7. The video provides you with a deep mediation experience with its enchanting and extremely soothing music. It creates a relaxing and pious atmosphere around you, calms your nerves and soothes your mind, which will help in your mediation. However it does not provide you with any information regarding the procedure of the meditation.
8. This video has been put u by the famous "Yuttadhammo Bhikkhu" and explains how to practice meditation peacefully and effectively, without the requirement of any religious code of belief.  This informative video explains the meaning of mediation and also the origin and foundation the mediation practice.
[Read:Ananda Yoga]
9. A continuation of the 6 art mediation series by "Yuttadhammo Bhikkhu", this video focuses on the technique of "walking mediation". This is a unique technique has the same benefits as the sitting mediation and also helps us to indulge in the physical activity along with mediation at the same time. Walking mediation is slowly gaining popularity all over the world.
10. The last video is a 4-minute mediation focusing specially on the students. This video is quite helpful for the beginners in mediation as it provides some quick and useful tips. With regular practice, it helps in sharpening the memory, keeping clam and increase the concentration power amongst the students.
Hope you've enjoyed these top 10 videos from youtube.com. We will be back with some more meditation practices. Do keep visiting.

The following two tabs change content below.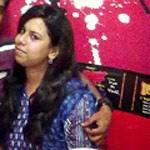 Latest posts by Ankita Biswas (see all)