36 Mehandi Designs For Hands To Inspire You – The Complete Guide
Mehandi is something we girls simply adore! It is quite impossible to picture an Indian wedding without Mehndi clad hands and feet. Mehndi is not just loved for its beauty; it is an important part of the whole ritual and is believed to bring fortune.
Mehndi used in India is derived from mehndi plant. The stems and leaves of the plant are dried and grounded into powder. This powder is mixed with water into a thick paste and then filled in a conical shaped applicator. The sharp end of the applicator is then used to draw designs on the hands.
Usually in India, the traditional mehndi is used but now a days, you can also find red mehndi as well as black mehendi being used. Black mehndi is very popular in Arabic mehndi designs for hands or feet and now is being used to draw borders of the designs to make them prominent.
Here are 36 amazing Mehandi designs for hands:
1.The first mehndi design is apt for Eid and similar ocassions where women love applying henna on their hands. The occasion calls for application of simple yet beautiful mehndi. The above design looks pretty on hands and is not too messy or intricate. It can easily pass off at work without any problem. Use Black Meh ndi for the best effect.
2. How about some unique designs to relieve you from those boring traditional mehndi patterns? Here's one we love and though it has traditional motifs, the whole design looks very modern.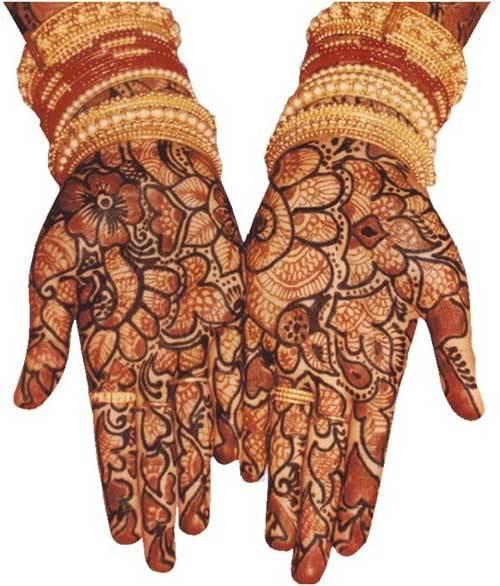 3. Here's another mehendi design for those who want a more filled up look on the hands. The hands are filled with intricate designs and patterns. The flowers and butterfly patterns also make this a great choice for bridal mehandi.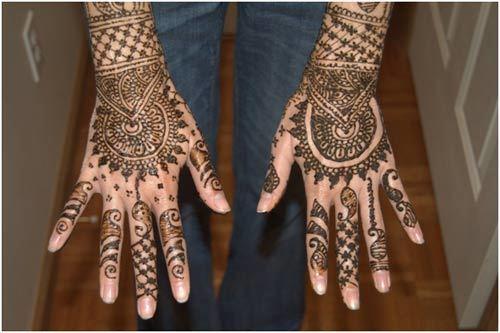 4. Here's how you can be traditional and modern at the same time. This design shows how beautiful patterns can be included on the back of your hands too. The weave patterns and floral patterns make this style traditional yet modern and very apt for weddings.
5. Weddings are incomplete without beautiful mehndi clad hands of the bride. If you love traditional motifs and patterns on the hands, then try this style. Using the red mehandi makes this very beautiful on the fair hands of the bride. The fingers are and  palms are filled with designs but they don't look messy at all.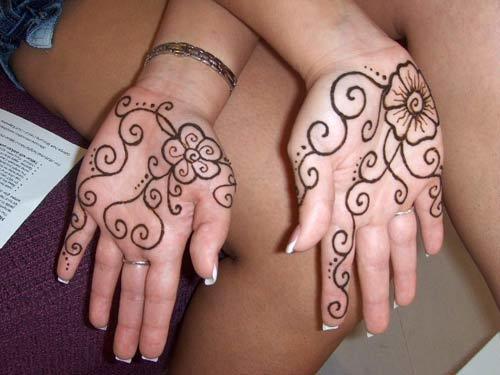 6. Love mehendi designs for hands but don't want your hands to be filled completely with the design? Don't worry this style is just for you. Keep the hands plain and simple but still give them touch of mehndi This is very apt for those who have too many obligations at work to wear heavy mehendi .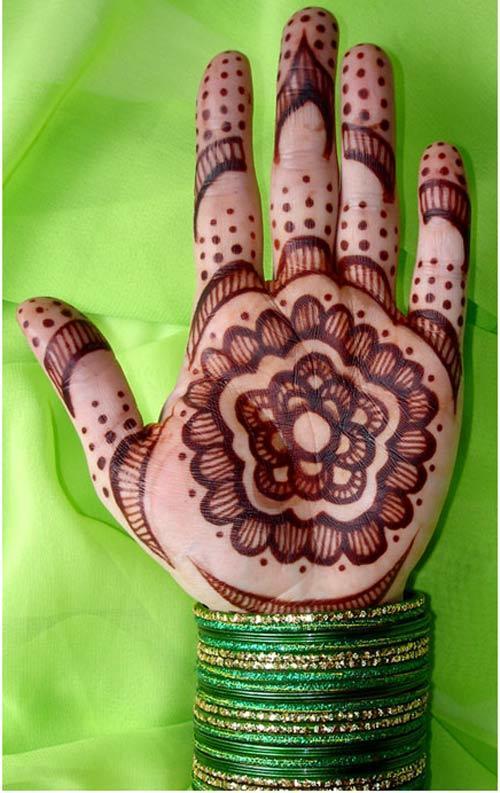 7. This one is for those who want a simple yet traditional mehndi designs for hands!
This mehndi design for hands is very easy to do and one can do it themselves. This is great for any occasion and age. The use of very less mehndi makes it very apt for those who desire minimum patterns and motifs on their hands.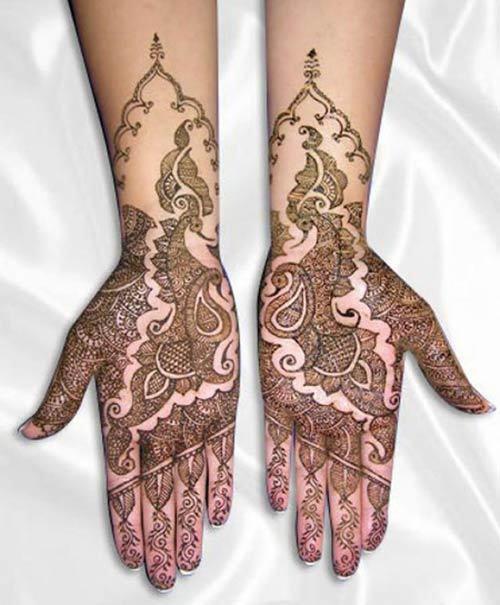 8. How about getting mehandi done on karva chauth? Here's one design we loved. It is very beautiful with very fine designs all over the hands. The gaps in between the designs add to its beauty. This full hand design will also suite brides and occasions of weddings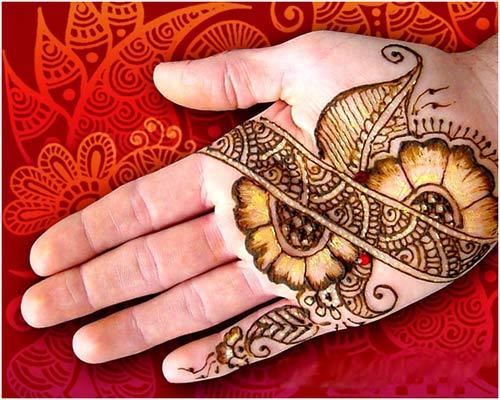 9. A simple yet beautiful design for those who want the mehndi to be minimal yet beautiful. The design is perfect for Eid and small functions.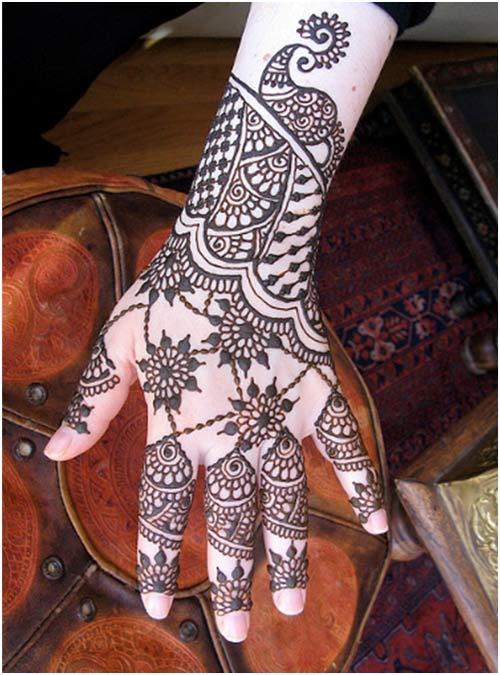 10. This is a very simple yet feminine design which will look great on any occasion as well as on the hands of the bride. The use of Black mehandi design here makes the design more prominent and beautiful.
11. Here is another sweet design. The design only adds a little mehandi on the back of the hands. There are not much intricate designs or shading. Simple yet beautiful designs like this suit all occasions like Eid, weddings and more.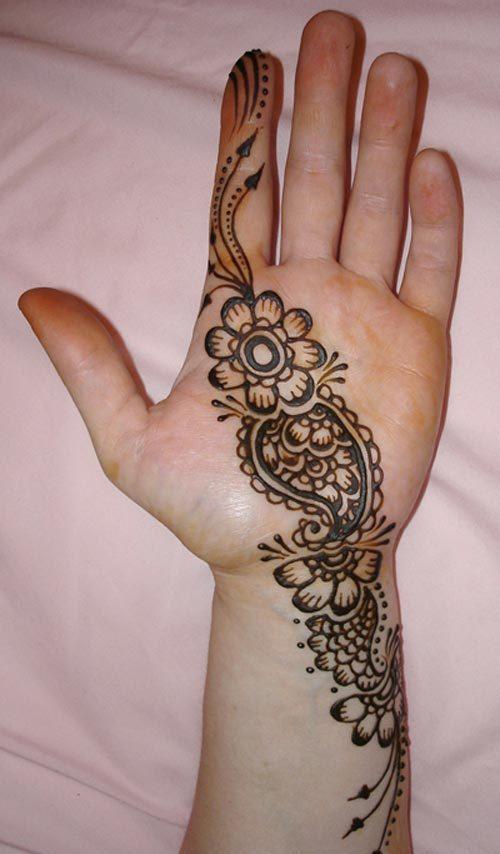 12.Looking for simple mehndi designs for hands? This design looks very simple yet it fills the hands where required. The diagonal design makes hands look beautiful and can be done on any occasion. This particular design will look good on children too, on whose tiny hands, large designs just don't sit well.
13. From some simple modern patterns, we move onto a full hand mehandi design for the wedding occasion. This extravagant design and motif will make anyone jealous. The intricate designs are traditional and are very microscopic and the pattern on the fingers is quite unusual. The whole patterns used have a modern touch to them.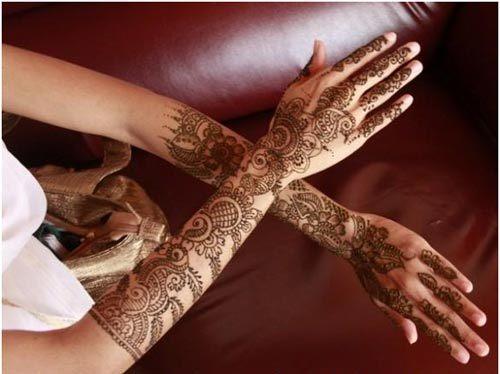 14. This pattern again is suitable for brides who want simple yet beautiful mehndi designs. This design is devoid of any messy feel. The patterns are quite modern and the gaps between them make this a classy choice for the modern bride.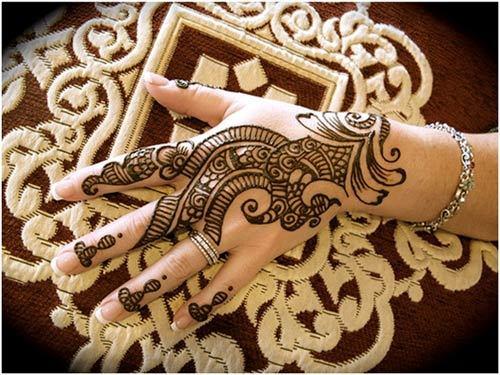 15. This is apt for occasions like Karva Chauth and engagement parties. On the day of engagement, the whole attention will on the back of your hands so this pattern will be so apt for the day.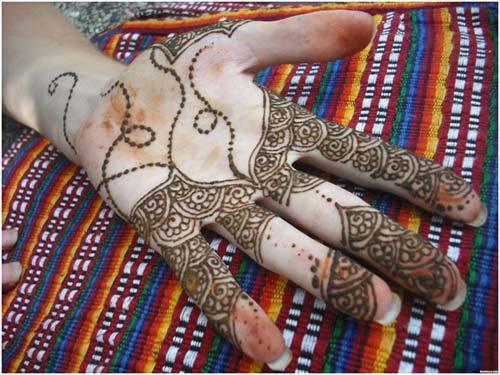 16. Want some Arabic mehandi designs for full hands? Then try this modern Arabic design with very less patterns and is very easy to do yourself.
17. Another great mehendi design for the Bride. This design will adorn the hands of the Bride to be and make them look very beautiful. Traditional motifs and patterns make this a great choice. The inclusion of symbols of the marriage and love like peacock makes this quite unique.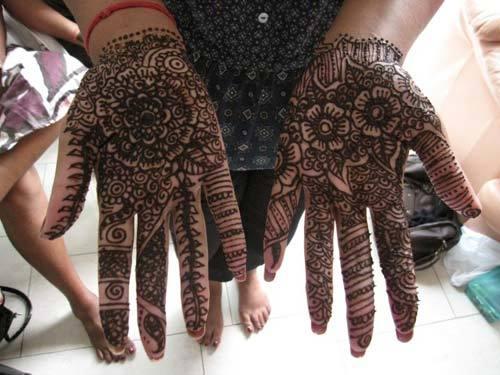 18. Here the use of black mehandi on the palm makes the designs more prominent. The different patterns on the fingers make this design unique.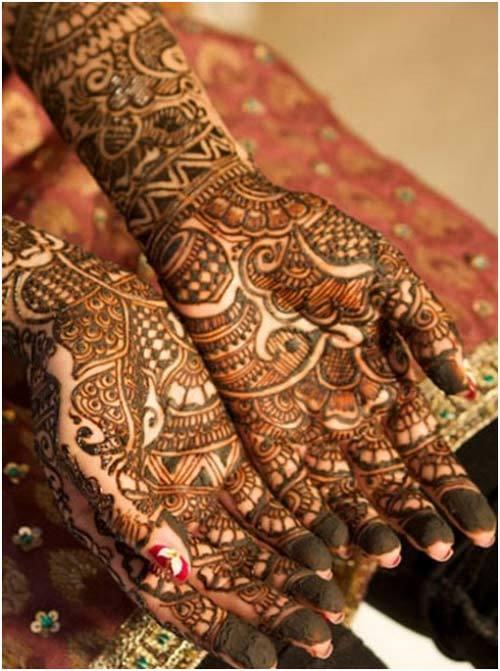 19. This is also very apt for the bride. With traditional mehandi used to draw the design, this looks very traditional and beautiful. The whole palm as well as the back of the hand is filled with beautiful motifs.
20. Here is a very simple yet chic bridal mehandi design for full hands. The design is for those ladies who do not want fussy designs. It is ideal for Eid and other occassions.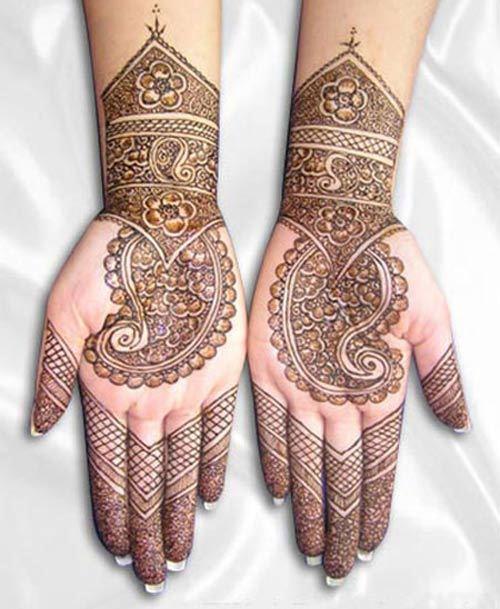 21. Here's a simple but gorgeous design. The large pattern on the middle of the palm as well as the designs on the fingers and wrist makes this design unique. This design is fit for any occasion and for those who want traditional yet unique designs.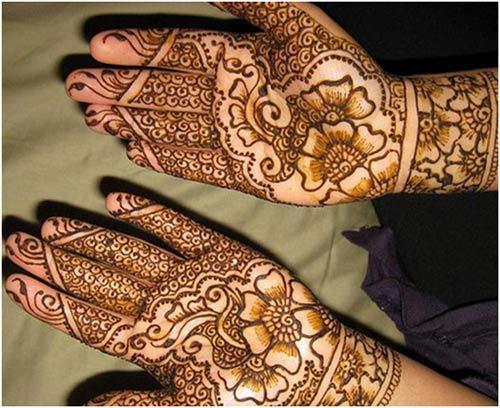 22. Here's a mehandi design with shading and traditional patterns. The design is not tough but none the less it looks great on any occasions.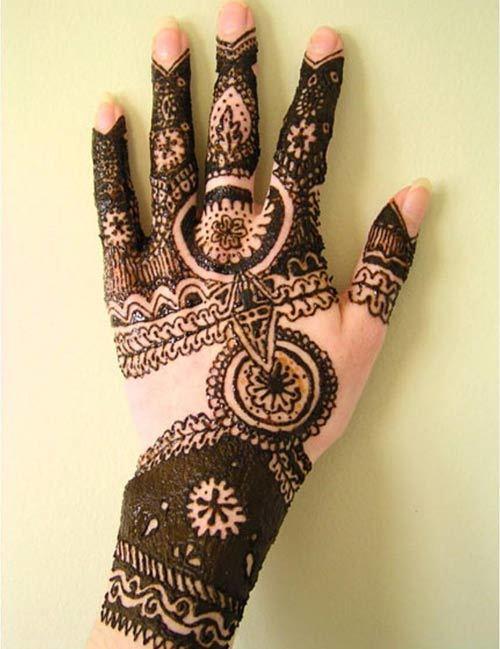 23. This design looks very unique and fresh. It is not at all a common pattern and will look great on any occasion. The intricate designs on the fingers and the open space on the back of the hands gives this design a fresh look.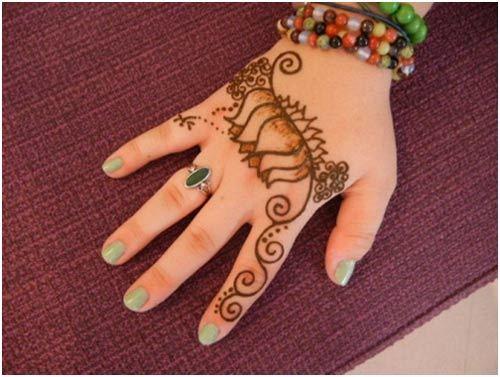 24. Love modern designs or are you just venturing into mehandi? Anyone can choose this unique design with the lotus as the central idea. The uniqueness as well as the simplicity renders this design its specialty. If you are just new to the concept or want some unique simple design on the back of the hands, try this one.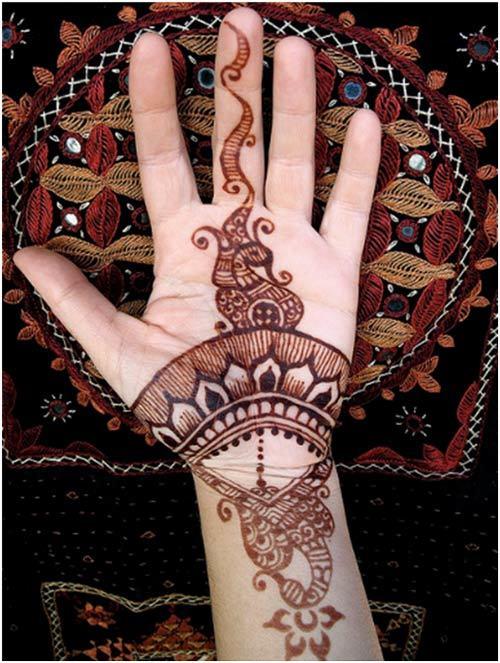 25. Here's another very simple design inspired from the Arabic mehandi trends. The use of black mehedi makes the design prominent and beautiful. This simple design can be carried off by anyone and can be used on any occasion. If you are in need of a less messy and simple mehandi design, this will be your favorite choice.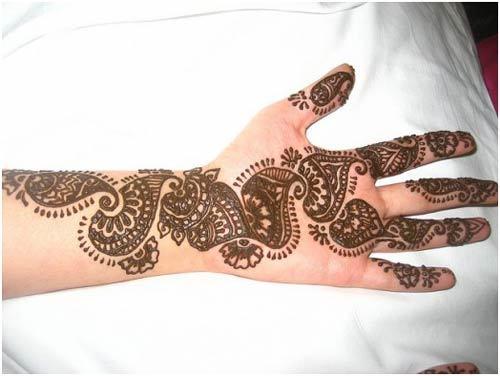 26. Here is a simple yet very traditional design for the hands. It consists of traditional Indian mehendi designs and can be used by anyone. The design contains less complex motifs which makes this a good and simple bridal mehandi design.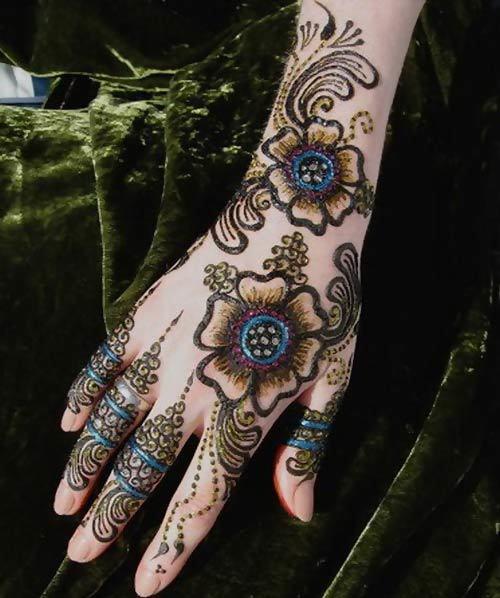 27. Bored of the same old colours on your mehandi? Then here's a way to add some colour to your hands with this Glitter mehandi design. The designs are drawn using normal mehandi and the motifs and patterns are filled using Glitter from the tube. This is a new way of using mehandi and is very popular for parties and casual occasions. Even the modern bride may try this type of mehandi design.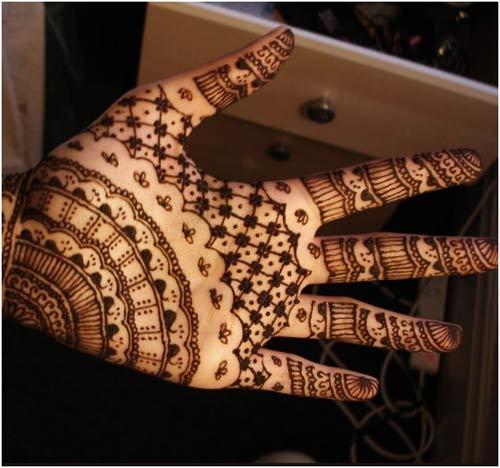 28. A very beautiful design using weave patterns and lace patterns on the hands. These patterns look great for marriage occasions. This mehandi is very apt for the bride on the wedding as well as on the occasion of engagement. The design is simple yet beautiful.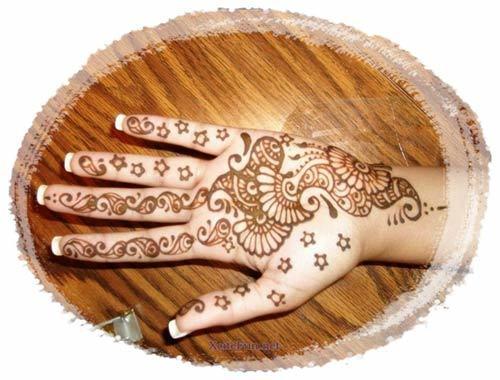 29. These designs like some of the previous ones can be done by yourself. The designs have a touch of modernity making it a nice choice for you are tired of sporting the same old patterns.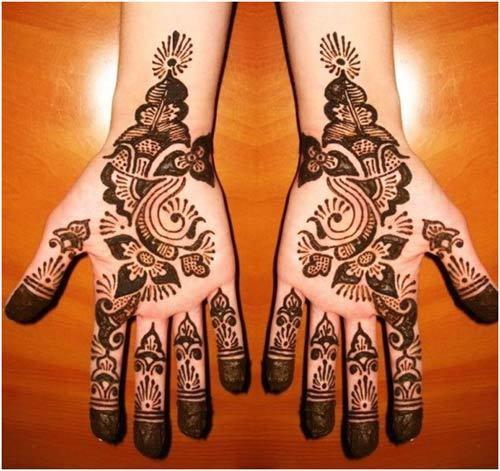 30. Here's another simple design for those who want simple mehndi designs for their hands. Designs like these do not look cluttered and give the hands a good appearance. This design is modern with a traditional touch making it a good choice for the bride.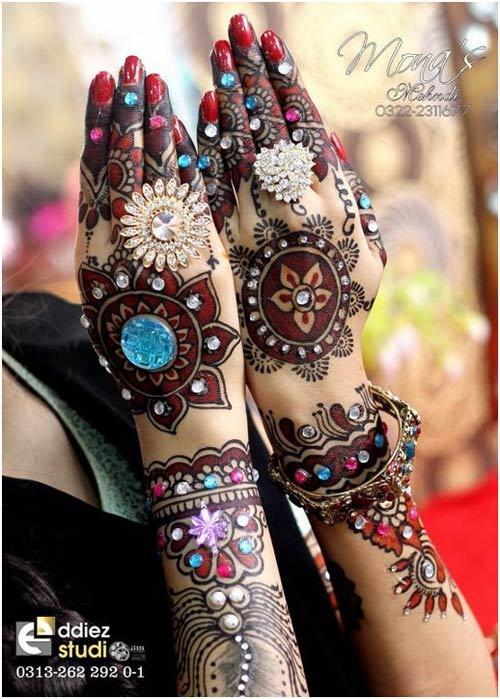 31. If you want to have a truly colorful mehandi design, try this style with multi coloured glitters and minimal designs. The diferent colors surely bring out this design and make this apt for the modern age. These can be worn on any occasion and will not look boring or old fashioned. The patterns are also quite unique and modern. A total hit for youngsters.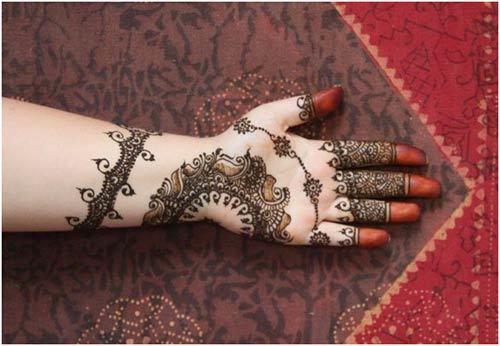 32. You can see the use of both red and black mehandi in this design. The fingers are done with red mehandi while the rest of the patterns are done with black mehandi. The design is kept minimal and open portions of the hands add to the design's beauty.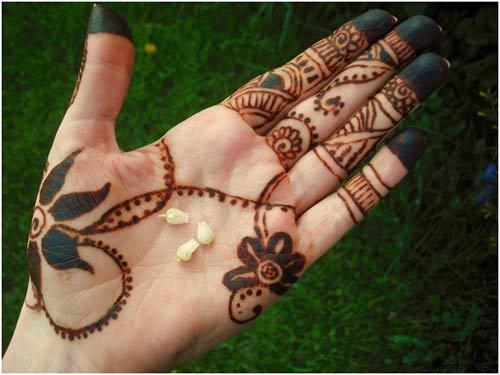 33. Do you love doing mehandi yourself? Then try this super easy pattern which is ideal for eid or any other small occasions. The patterns are kept minimal and simple. The tips are filled in and curved lines as well as floral and geometric patterns are used.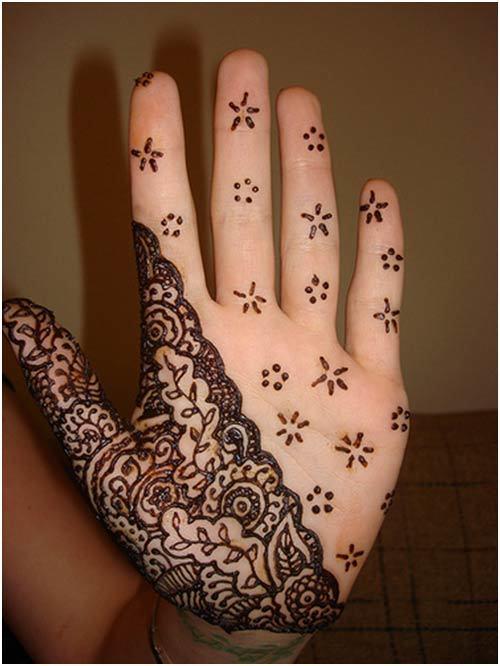 34. Here's a modern and simple design for anyone looking for a beautiful and simple design for their hands. This pattern includes floral patterns and curved lines. The tips of the fingers are kept open.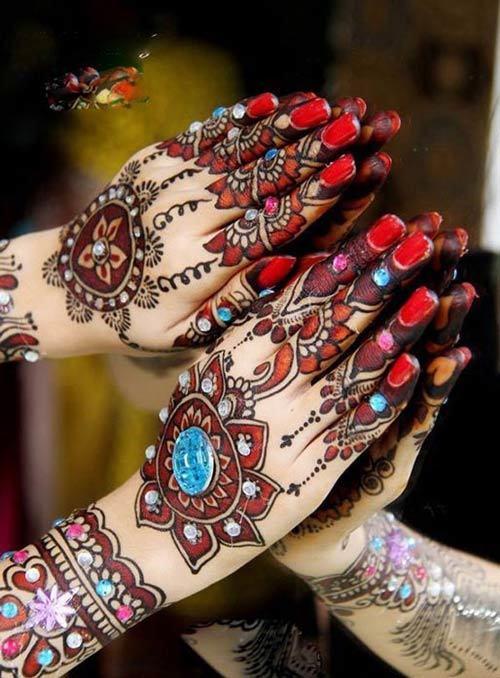 35. Here's another glitter mehandi design with added beads. The design is kept simple and the inclusion of multi colored beads gives this a modern feel. It is very apt for parties and for the modern bride. The stones used are of different sizes and colours and the glitters also differ in colour.
36. The last one we want to present is a modern day Indian mehandi design for the back of the hand. The use of black mehandi makes the design more prominent. Also this design involves very little congestion of designs and patterns. The patterns are unique, especially the pattern on the fingers are quite unique. The design will suit anyone and will also be apt for the brides.
Images: Google, Pinterest

Now Watch: 2 Simple Arabic Mehndi Design Tutorials For Beginners
If You Enjoyed This Post, Sign Up For Newsletter
(And get your daily dose of Beauty & Wellness tips straight to your inbox)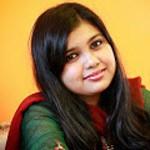 A Blogger, a writer, Makeup hoarder and makeup fanatic- I love writing and love love trying new products and sharing my makeup ideas with the world. .