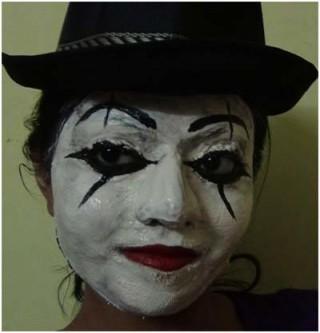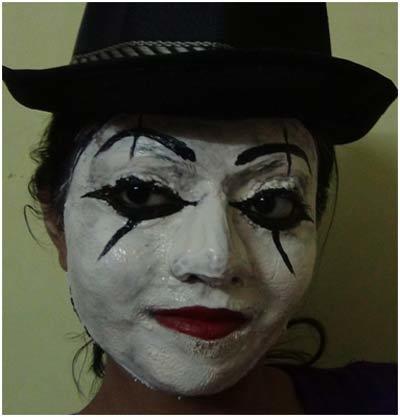 Mime makeup is a very popular stage character makeup. Almost everyone at one or another point of their lives has tried copying a mime artist. Many of us may have also tried mime face painting with talcum powder mixed with water to create a white mime face.
Actual stage mime makeup is done with white face paints.  And these paints are definitely not good for your skin and should be avoided. So today we'll show you an innovative way to do a temporary white mime face which will not be harmful to your beautiful skin. But remember don't expect this makeup to last for very long on the face since with minutes passing by, it will get drier and drier and will start to crack. But nevertheless this is good for a temporary costume party or stage appearance of about 1 hour to 1 and a half hours.
Our Version of the Mime Makeup
Things you will need:
This is what we like to call our own little mime makeup kit!
1. Talcum Powder (any of your choice)
2. Body Lotion (any of your choice)
3. Skin ointment for acne (for oily rash prone skin which is sensitive to body lotion)
4. Foundation (just a pinch)
5. Water (for dilution)
6. A small spoon.
7. Liquid Eye liner
8. Red lipstick and
9. A lip brush.
10. Kajal
Mine Face MakeupTutorial
Step1: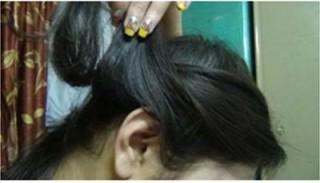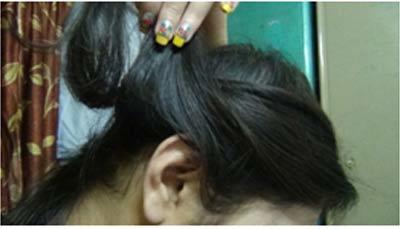 Firstly clip your hair backwards so that it doesn't get covered in any paint.
Step2: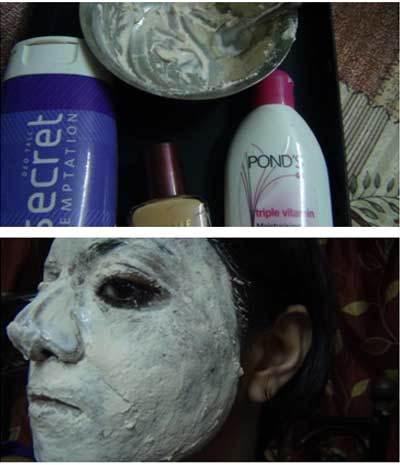 Mix about 5 heaped teaspoons of talcum powder with half a teaspoon of foundation and 2 heaped teaspoons of body lotion. Now mix enough water to the mix and make a semi-thick face pack. Apply this evenly on to whole of face covering even the eyebrows and eyelids.
Step 3: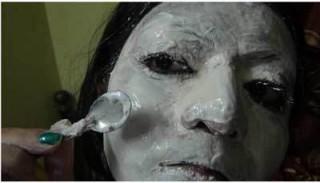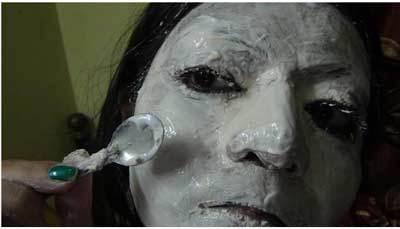 Pour some lotion on a palette and take it bit by bit on to the back of the spoon and smoothen out the texture of the face pack. It will give you a glossy paint like finish.
Step4: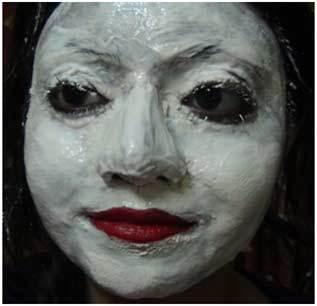 Use the lipstick with the help of the lip brush dipped in the lotion. This is important because the lips are covered with talcum powder and foundation mixture which will not allow you to apply lipstick perfectly on its own.
Step5: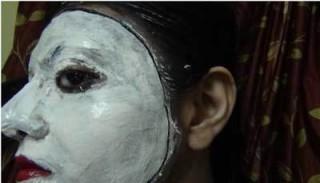 Now take the applicator of the liquid liner and paint the border line of the face paint.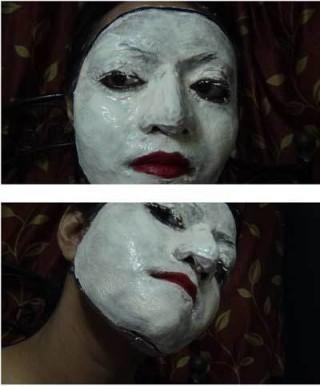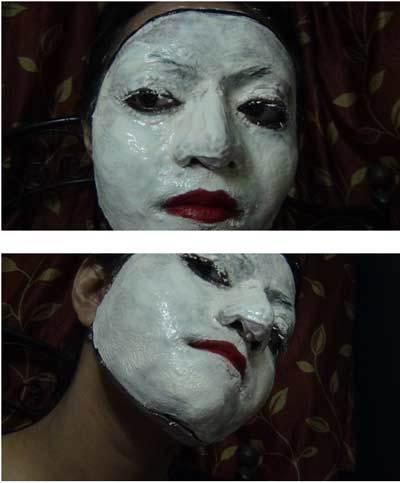 Scrape the makeup which sticks outside the border line. Ultimately you should look something like below.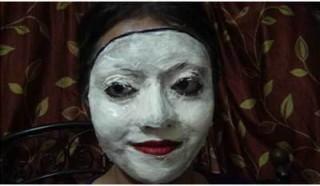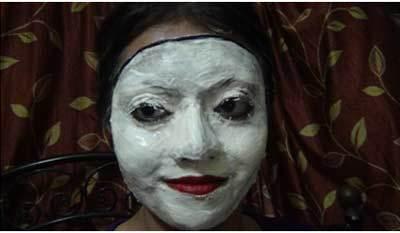 Step 6: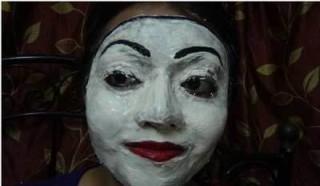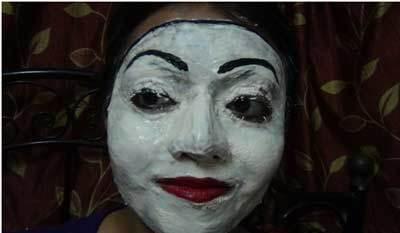 Now use the liner and paint eyebrows above your actual eyebrows in a curved fashion. Remember to be very precise else take the help of someone.
Step7: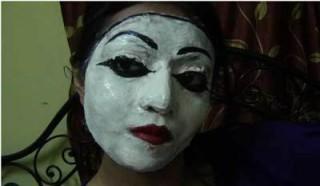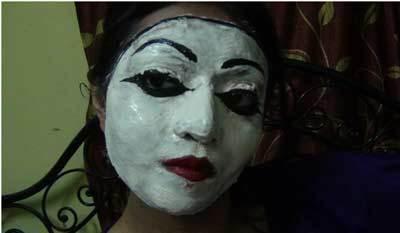 Use the liquid liner to draw the eyes and extend the exteriors and interiors to create a dramatic effect.
Step8: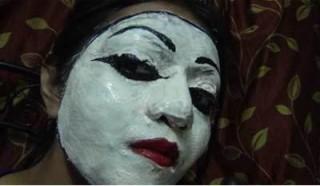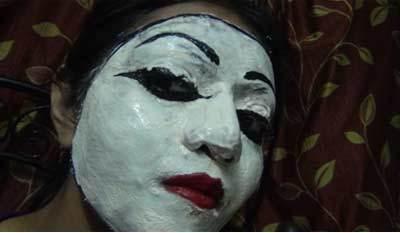 Use kajal for the lower rim of your eyes.
Step9: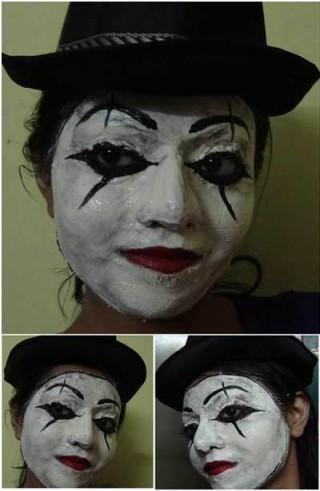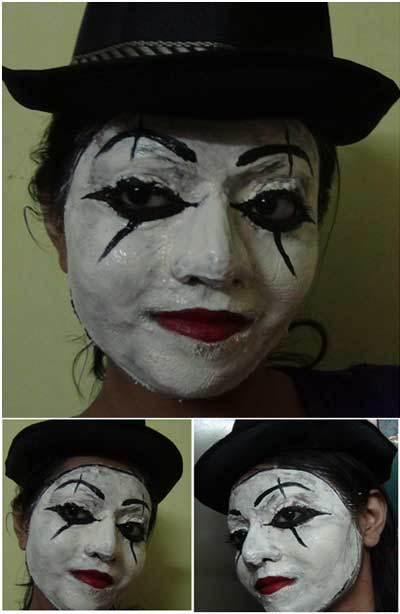 Your mime make up is completed with some added decorations with your liner in vertical form
Step 10: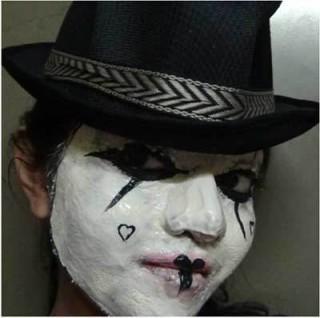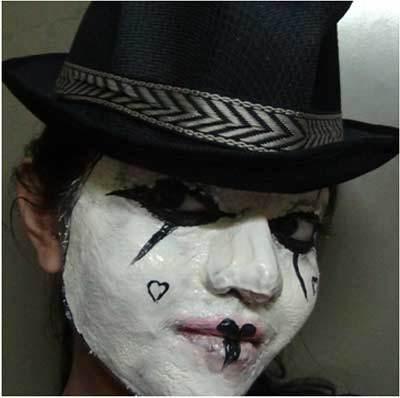 You can also use your kajal or your liquid liner for added decorations like small hearts on the cheeks and black small lips instead of full red lips. Wear some accessories like a hat or a black cap to cover your hair and some white gloves to cover your hands .You are all ready for your act. Invite your friends over, create your own show and set the stage on fire with your mime act and mime makeup!
If You Enjoyed This Post, Sign Up For Newsletter
(And get your daily dose of Beauty & Wellness tips straight to your inbox)
The following two tabs change content below.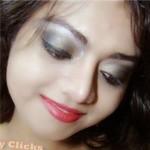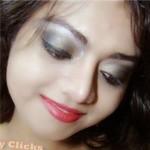 I love makeup,dance,dressing up,singing,writing ,acting (stage drama),eating and nail arts. I live life to the fullest and enjoy every moment as it comes.