Some people think doing nail art needs more patience and it is quite messy. But if you organize things before starting to paint your nails, then the process of painting your nails becomes less complicated: Start practicing basic nail art designs.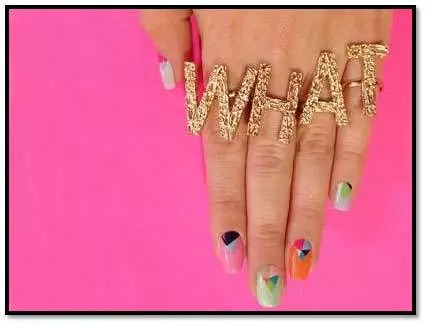 Wash your hands thoroughly before starting any nail art, be it a basic nail art design or a complicated design. And don't forget to dry your hands before starting.
Basic Nail Art Things to know
1. Plan your design in advance:
Decide in advance what effect you want. Once your decision is made, stick to that and don't change your mind again and again. Usually nail painting job takes around 30 minutes to 45 minutes and if you change your mind in between, you will not get the desired effect and thus you may probably get bored and ruin your design. I personally first plan my design on a practicing wheel or fake fingers. If you don't have such practicing tools, then you can plan your design on paper.
2. Prepare your tools:
Keep all the things ready before starting painting your nails. Lay everything before you. While painting you may need tissue papers, cotton swabs, orange wood stick/toothpick, your polishes, dotting tools, acetone, embellishments, brushes etc. In short everything you need to create your designs. If in case you didn't lay down your tools in advance and instantly you need something and then you try to fetch it with your wet nails,you may ruin your nail art.
3. Don't challenge yourself:
If you are a beginner in nail art, then don't challenge yourself for doing hard nail arts. This will make you desperate and you will give up. Start doing simple nail art designs like making dots with dotting tools or start doing nail arts using glitter nail polishes. Don't be afraid of uneven or messy work, practice as practice makes your work better and better.
4. Take advice:
Never feel shy to ask or seek basic nail art ideas from those people who are good in this field. Take tips to create different looks using different nail art designs, stickers, stripping tape, rhinestones, toothpick etc. You can also subscribe good youtube channels and follow good nail art blogs.
5. Raise your bar:
This is for those people who are painting their nails from quite sometime. They must raise the bar of their work to improve the standards of their work and don't forget to get neat results.
6. Get inspired:
Look around yourself there is so much inspiration around you. You can take inspiration from anything like your rooms wallpaper or try polka dot nail art inspires from your mom's polka dot dress etc. Just think creatively.
These are some of the most useful basic nail art techniques you can follow while making a nail art.
After you finish your nail art design, don't forget to seal it with top coat and allow sufficient time for it to dry.
If I have to summarize this whole article, I would say PRACTICE, PRACTICE & PRACTICE. As the old saying says practice makes the man perfect …..Here I would say practice makes you good nail designers. Also I recommend buying a few practice wheels to practice your designs and this will also make your hand neater and you can record your nail designs.
The following two tabs change content below.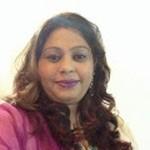 Latest posts by puja malhotra (see all)