Ciate has recently launched a number of colorfoil kits recently. This kit is used for adding shiny foils to your nails. These kits include one ciate nail polish, foil glue, Different foils etc. The kits comes in 2-3 variants .
[ Read: Amazing Nail Art Designs For Beginners ]
Things Required:
Nail art using this technique is quite easy. To do this, you will need:
Now question is what exactly are nail foils? Nail foil is a sheet of foiled paper which can be transferred to your nails by using craft glue or top coat. It comes in many different finishes and colours. They also come in holographic textures and in gradient colors. They are easily available in good crafts stores, eBay and born pretty store. The cost of these depends on where you are buying them from – but roughly they cost around Rs 180 for 113 cm role.
Some pictures of nail foil:
You have to cut them in small squares (1-2 are enough) before starting your manicure. Also you will need 3-4 colors of foils for this manicure.
Top coat /fevicol (I am using top coat)
Nail polish (any color of your choice but these looks best on dark colors and here I am using black color nail polish)
Base coat
Tooth pick / orange stick.
[ Read: Studs Nail Art Tutorial ]
Steps for foil nail art:
Step 1:
Prep up your nails by applying basecoat and when it is fully dry, apply your base colour. Here I am using black color as base:
Step 2:
Now apply topcoat here and there in small stokes and let it semi dry, so that it is still sticky to touch and in case you are using fevicol, then you have to wait for it to become transparent and sticky to touch.
Step 3:
Then put the foil on your nail as shown in the picture below: (the colour of the foil should be facing the nails and you should be facing the shiny side of the foil. Mostly foils have silver colour on the backside)
[ Read: Trendy Nail Art Designs ]
Step 4:
Slightly rub the flat side of your orange stick or tooth pick on the foil for attaching it firmly to the base. Then pull the sheet of foil like you usually do using a waxing stripe and voila you got the foil on your nail.
Step 5:
Now repeat the above step on all your nails with one color of foil first.
Step 6:
Now repeat the steps with more colors. Use one color foil at time.
Step 7:
Now apply topcoat and you are done.
[ Read: Konad Stamping Nail Art Tutorial ]
This is the very basic tutorial for using foils. You can also use it to make intricate designs by making these designs using fevicol or topcoat and then foiling it.
How do you like this nail art tutorial using foils? Please leave your feedback in the comments below.
The following two tabs change content below.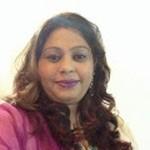 Latest posts by puja malhotra (see all)