Waking up early in the morning to rock a complex hairstyle? Don't worry, girls. We have got your back. From wavy hair, messy topknot to undone fishtail and half updo – perfect these ten quick hairstyles that are easy to create for your hectic mornings. And the best part is – you will still look gorgeous the whole day.
Well, there is no need of expensive hair styling tools or fancy hair accessories to look beautiful in your school uniform. All you need to do is modify the basic hairdos and look super stylish.
Read on for the secret to look stylish…
1. Wavy Hair:
We love this elegant, streamlined take on the wavy hair from Selena Gomez. The gorgeous singer created classic hairstyle by using rollers just after blow drying and setting them with a medium hold hairspray. However, you could also use a thick-barrel curly tong to create subtle waves. Once done styling, add a shine serum to give your hairdo a glossy sheen.
2. Low Chignon:
It's official: actress Emma Watson's low chignon is this season's must-do hairstyle. The incredibly sleek chignon is created by applying a volumizing spray to give cover girl-style volume to the hair. Then, blow dry you hair smooth and frizz-free. Once done, apply a good smoothing hair product to get gloss sheen. Take your hair into a low ponytail and pull it through a chignon shape and secure it with elastic.
3. Sleek And High Ponytail:
Wild Child actress Emma Roberts knows one of the chicest tricks to follow: sleek ponytail, stud statement earrings and oh-so-wow makeup. To get this look, blow dry your hair and smooth on a strong hold gel on your crown to tame flyaways. Next, pull it high and wrap your hair around bobble.
4. Half Up, Half Down:
A classic look and one of the easiest hairstyles to pull, actress Debby Ryan's half updo looks professional and chic at the same time. The actress wears her hair in a slightly off-centre and sports face-framing sections of hair on either side.
5. Side-Parted Bob:
Not one to shy away from short or long hairdo, Taylor Swift is all about the elegance with this rough textured, deep side parted bob. The Shake It Off singer paired her fab hairstyle with Monique Lhuillier's two-piece ensemble and signature bold red lips. It's a great look to copy for prom night. Thumbs up from us!
6. Half Updo With Crown Braid And Bangs:
If a simple updo is just not glam enough, why not try your hand at actress Lydia Hearst's crown braid half updo? Leave your choppy bangs loose and create a braid at the crown of your head. Once done, spritz a texturizing spray to add an extra edge to your entire look. Et Voilà!
7. Messy Fishtail:
There's nothing about Modern Family actress Sarah Hyland's ponytail we don't love: glam on the sides and messy all over. With this textured look, Sarah proves that a fishtail braid needn't be super-boring and ultra-sleek to look great. This braided hairstyle works well with both short or long and straight or curly hair.
To recreate this look, begin by fishtail plaiting your hair until you reach your neck and finish it with securing with elastic. Gently pull the plait apart for an undone look and spritz with a
8. Twisted Hair:
Yes, it does help if you look like Chloe Grace Moretz, but rocking this twisted hairstyle is all we need on those rushed mornings. To achieve this easy-to-do hairstyle, make an off-centre parting, and gather the top section of hair from both the sides to your crown. Next, roll the side hair away to form a tight twist, pin the ends of the twist and leave the rest of your hair loose.
9. Twisted Bun:
American actress Britt Robertson looks strikingly beautiful with her locks in a casual twisted updo. She sports a messy hairstyle that has been twisted and pinned to one side, keeping hair out of her blue eyes. Match your hairstyle with studs, pink lip-gloss, and blue eyeliner as a finishing touch.
10. Messy Topknot:
Best known for her role as Sally Draper in Mad Men, actress Kiernan Shipka is right on trend with her messy topknot. To create this off-duty look, pull your tresses up into a high ponytail and wrap it around the hair tie and secure with another band for a tight, yet dishevelled look.
11. Casual Side-Parted Blonde Waves:
If you have silky golden blonde hair with soft wavy layers, nothing can be better for you than keeping them loose. Just brush it nicely by parting to one side and tuck the smaller section behind the ear.
12. Half Pinned Hairdo With Side Bangs:
Straighten your soft black hair with brown highlights and give it a smooth polished look by applying serum. Now, leave the bangs and pin the upper section at the back with a wide hair clip. Simple!
13. Wavy Layered Ponytail With Hair Wrap:
Create gentle waves on your long layered hair with subtle brown highlights. Now, pull all the layers at the middle of the back and make a semi-high ponytail. Lastly, wrap its base with a thin section of hair.
14. Messy Topknot Bun With Thick Wide Fringes:
Add height to your cute round face by sporting a large fluffy topknot with slightly messy finish. Large thick front fringes swinging over your eyebrows will balance off the look perfectly.
15. Short Side-Parted Bob With Wavy Bang and Ends:
Maintain your tomboyish look by wearing this short chin-length bob with simple side part. A little wavy hair with outward curly ends and a casual wavy side sweep will add a touch of softness to the style.
16. Simple Waves With Spiral Front Sections:
Show your love for loose locks with this sweet and cute hairstyle. Part your long thick hair to one side and curl up the front sections into soft spirals. That's all!
17. Straight Thick Layers With Long Fringes:
Give yourself a pretty Chinese look by wearing a medium-length fringed bob. Section the long front fringes off the top and middle-part rest of your thick straight layered hair for a beautiful Asian hairstyle.
18. Half Ponytail Hairdo With Twisted Front:
Half hairdos are one of the most beautiful hairstyles for school and this nice high half ponytail with long loose flowy curls can make you look like a true fashionista. For an added zing, twist up the front section and secure it at the side with bobby pins.
19. Low Fishtail Braided Ponytail:
Say a perfect hairstyle for teen girls with a neat yet fashionable look and fishtail braid will come to the top of the list. Just make a low tight pony at the nape of the neck and braid it up in the fishtail way for a flawless braided ponytail look.
20. Double-Parted Loose Waves With Braided Top:
Pair up a textured braid with loose wavy locks and stun your friends completely. Part your highlighted waves to both sides and leave them loose. Now, braid up the textured top section loosely and secure it at the crown.
[ Read: Hairstyles For Girls ]
21. Straight High Layered Ponytail With Hair Wrap:
Get a super chic look for your school just by straightening your long layered hair and turning it into a tight high sleek ponytail. Wrap it with hair and apply lots of serum to give the whole style a polished look.
22. Side Braided Textured Curls:
This side braided hairstyle can take your high school fashion to a whole new level. Just part your blonde hair to one side, braid the small section tightly and secure it at the back. The ends of the larger section of hair should be curled up and textured to complete the look.
23. Side-Parted Medium Bob With Outward Curly Ends:
If you prefer a lovely girl-next-door look for your school hairstyles, this would be your favorite pick for sure. Create a side-part on your medium-length blonde bob and curl the ends outward. Here you go!
24. Tousled Side Braid With Subtle Waves:
A tousled braid can help you get a true feminine look without making your hairdo too fussy for your school time. For this, sweep your side-parted wavy hair to one side and turn it into a loose regular braid.
25. Messy Ombre Waves With Pinned Back Top and Bang:
Not only a tiptop look, but a messy hairstyle can also make you the center of attraction in your school. Pin the top hair at the back roughly and let the remaining blonde ombre waves flow down your shoulders. A wavy side bang will balance off the look just perfectly.
26. Hair-Wrapped Braided Ponytail With Puff and Bang:
Jazz up your simple braided ponytail with a thick wide side bang and a volumized crown. You can even make the look prettier by wrapping the base of the braid-cum-pony with a thin section of hair and giving the whole style a little tangled finish.
27. Semi-High Side Ponytail With Side Part:
A side ponytail can always give you a smart and chic look, especially for your school time. So, part your layered waves to one side, brush it back to the other and finally, come up with a semi-high pony behind your ear.
28. Low Side Textured Ponytail With Puffy Crown and Bang:
Well, this is a low curly and textured version of the previous side ponytail. You can spice up the look even more by adding volume to the crown, sweeping the front section to the side and highlighting the dark ash brown hair with golden blonde shade.
29. Wavy Locks With Pouf and Highlighted Ends:
When it comes to looking cute and adorable in your school uniform, nothing can beat the appeal of a small pouf. Keep your light brown waves with highlighted ends loose and secure the pouf at the back with bobby pins.
30. Messy Textured High Bun With Headband:
How to keep your long wavy hair organized during your school time? Just pull all the locks at the back and create a high messy bun at the crown by keeping the top a little puffy. Add texture to the bun to avoid flyaway's and adorn it with a simple headband.
31. Segmented Ponytail With Long Fringes:
Get rid of that boring ponytail just by segmenting it by using multiple elastic bands at uniform distances. The long front fringes sectioned off rest of the hair has complemented the style perfectly.
32. Side-Parted Braided Pigtail With Puffy Top:
How can we miss out pigtails, while talking about the best hairstyles for school girls? Check out these super long braided pigtails with side part and puffy rolled back top. Simple and stylish! Isn't it?
33. Front Braided Half Hairdo With Loose Waves:
Here is an awesome half hairdo on light beige blonde wavy locks. All you need to do is get your hair parted to one side, braid up the front sections separately and pin them together at the back. Let the loose hair flow down your shoulders elegantly.
34. Low Side Ponytail With Side Braid and Puffy Crown:
You will totally fall in love with this side braided ponytail hairstyle, the moment you will see it. Part your long sleek highlighted hair to one side and add volume to the crown. Now, braid up the front hair at the larger section and turn it into a low side pony at the other wide by wrapping it around the head.
35. Wavy Half Braid Half Ponytail With Long Fringes:
How about sporting this half-n-half braided ponytail to look different from all your school buddies? Section the long front fringes off rest of your tresses, start creating a low braid right from the nape of your neck and lastly, turn it into a wavy pony by using an elastic band halfway.
36. Super Straight Loose Hair With Headband:
Do you like to keep your long blonde hair loose? Just get it straightened, part it to one side and allow it to flow down your back freely. A dark shaded headband will give your style a new dimension.
37. Simple Loose Textured Curls:
You can simply part your blonde hair in the middle and create tight curls in the front. The rest of the layered tresses should be waved up and texturized in order to get a distinct look.
38. Side-Parted Loose Waves With Pinned Front:
A simple hair clip can make your long highlighted waves look awesome and give you a cheerful makeover instantly. Part it to any one side, roll up the front section of the larger side to some extent and lastly, secure it with the hair clip.
39. Twisted Topknot With Face-Framing Fringes:
If you don't mind to look a bit edgy in your daily school hairstyle, here is a good choice for you. Twist up all your hair into a high folded topknot and let the long fringes frame your face nicely. You are ready to go!
[ Read: Stylish And Trendy Long Hairstyles For School Girls ]
40. Sleek Low Straight Ponytail With Side Sweep:
A low ponytail looks great on straight sleek layered hair. So, create a side part on your blonde straight layers, sweep the larger section over the ear and make a low pony right at the nape of the neck by taking all the locks together.
41. Curly Side Hairdo With Twisted and Pinned Front:
Here is a simple hairstyle for school that you can give a try even when you are in hurry. Part your locks to one side, sweep them nicely to the other and then, pin them near the ear after twisting a little. Curling the loose section of hair will make you look outstanding.
42. Sleek High Braided Ponytail With Hair Wrap:
Wondering how to look ultra-modish while getting ready for your school? Try this tight high braided ponytail with a sleek and polished finish. The half braid-half pony look and the neat hair wrap are two biggest features of this style.
43. Half-n-Half Hairdo With Beautiful Accessory:
This long half braided highlighted ponytail is sure to win your heart with its nice shape, sleek texture and contemporary finish. Braid up your hair tightly up to the nape of the neck and then, turn it into a pony. Also, use a classy accessory to keep the elastic band covered.
44. Low Side Fishtail Braid With Top Rolled Back to One Side:
Look absolutely elegant in your school uniform by opting for this low side fishtail braid. Roll your side-parted hair back to the other side of the part and turn it into a thick wide fishtail braid right at the nape of the neck.
45. Thick Four Strand Braid With Bang and Curly Ends:
Ditch your regular three-strand braid and look enviable in a super long and super thick four strand braided hairdo. Twisted ends, casual side bangs and a touch of highlights will give you a truly amazing look.
46. High Twisted Braided Ponytail With Texture and Hair Wrap:
Just take a look at this unique high braided pony and you will understand why wearing this in your school will give you an exceptional look. Twisted braid, extreme texture, curvy shape and braided wraparound, each and everything has contributed equally to this super stylish look.
47. Messy Tousled Braided Pigtails With Free Ends:
If you can pull off this messy hairdo, you can pair it with you typical schoolgirl look too. Center-part your long blonde locks at the top, add volume to the crown and finally, turn them into two tousled braided pigtails with free ends, textured side bangs and tangled finish.
48. Fringed Hair With Curly Ends and Braided Headband:
Who says that styling medium-length hair for school only means making ponytails and plaits? You can get your hair fringed in the front, leave the curly locks loose and beautify them with a thick braided headband.
49. High Textured Braid With Wispy Ends and Puffy Top:
Add volume to the roots of your hair and give it a nice texture. Now, roll the top-front section to the back and secure the pouf with bobby pins. Start making plaits on rest of your hair and turn it into a nice side braid resting on your shoulder. The ends of the braid should be made wavy and wispy.
50. Loose Wavy Side Braid With Side Bang and Fringes:
We have already shown you how a loose wavy side braid can make you look highly fashionable even in your school outfit. You can jazz up the style by adding long front fringes and thick side bangs to it.
51. Curly High Pigtails With Hair Wraps:
As said before, pigtails are an indispensable part of the school hairstyle practice for girls. So, give these high, curly and extra-light golden blonde pigtails a shot and look totally traditional. The zigzag part and the hair wraps have added a twist to the regular hairdo.
52. Low Wavy Pigtails With Fringes:
This is a low and wavy version of pigtails in which the hair is kept a little loose and the hair wraps are skipped. Short front fringes have given the style a cute and charming look.
53. High Fishtail Braid With Hair-Wrapped Topknot:
How about going a little complicated and combine a high topknot with a fishtail braid for your new school-going look? Wrapping a twisted section of hair around the topknot will provide proper hold to the braid.
[ Read: Popular Funky Hairstyles For Girls ]
54. Middle-Parted Loose Waves With Twisted Front Sections:
This is one of the simplest hairstyles for schoolgirls that can be worn in less than 5 minutes and that too effortlessly. Part your subtly highlighted hair in the middle and leave it loose. Now, twist up the front sections separately and secure them at sides with bobby pins.
55. Messy Side Braid With Waterfall Braided Side Sweep:
Side-part your long wavy light brown hair and gather it to the other side to form a loose wide regular braid with hair wrap. Now, create a waterfall braid with the long front side sweep and secure it into the back portion of the braid at the side. Extremely sophisticated look for a perfect school-going teen.
56. Loose Blonde Waves With Waterfall Braided Front:
If you are in no mood to put so much effort as shown in the previous style, simply side-part your thick blonde waves and create a waterfall braid with the front section of the larger side. Finally, secure it at the back of your ear with bobby pins.
57. Luscious Curly Layers With Braided Headband:
Create large flowy luscious curls on your long layered blonde hair. Now, add a little volume to the crown area and secure a braided headband from one ear to the other with some bobby pins. Extremely easy and classy!
58. Neat Center-Parted Fishtail Braided Pigtails:
Simple braided pigtails are quite common among schoolgirls these days. If you want to get a slightly different look, just part your long smooth hair neatly in the center and create two low side fishtail braids with polished finish.
59. Low Side Braid With Braided Wraparound:
The diagonally created braided wraparound is the most innovative part of this hairstyle. You may gather all the hair to the nape of the neck and turn it into a low regular braid resting over one of your shoulders.
60. Middle-Parted Loose Hair With Braided Pigtails and Fringes:
From a new school-goer to a high school teen, this cute hairstyle can suit almost each and everybody. Let the fringes swing over your forehead, while keeping rest of your middle-parted hair loose. Now, turn two thin sections of side hair into braided pigtails and let them move freely around your face.
Hope you find cute and easy hairstyles for school in the most stylish way. Do let us know how the hairstyles came out on your hair.
Recommended Articles:

The following two tabs change content below.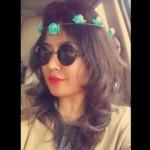 Latest posts by Anisha Pradhan (see all)