Use of mehandi is considered to be auspicious for weddings and other occasions in most Eastern countries. It has therefore become an inseparable part of the rituals. You will see a lot of women in India, Pakistan and Bangladesh wearing this as temporary tattoos on their hands and feet! Mehandi is in most cases is mandatorily applied by the brides during weddings, as it is said to be a sign of prosperity that bring happiness and good luck.
There are a lot of types of mehendi like the red and black, and some mixed versions, and it all depends on your choice in application Similarly there are lot of designs you can choose from like Arabic style, simple styles or even Marwari styles.
Watch a How to Make Mehendi Designs video from our StyleCrazeTv
Extraordinary Bridal Mehndi Design For Wedding
Here I have chosen 25 Bridal Mehndi designs especially for you:
1. Intricate designs are very common in mehndi for the dulhan, because it's her special day and she would most definitely want to amaze everyone present! This style is great as it features a picture of a bride on one hand and the picture of the groom on the other. This design which draws inspiration from Indian temple art and works looks very elegant and is apt for a bride.
2. Mehandi is not just to decorate your hands, but also your feet. Brides are also known to apply mehndi on the feet featuring various Mehandi designs. The design featured here is ideal for the dulhan who will be performing certain rites where her feet take the center of attention. The pretty motifs will make her feet look even more beautiful.
3. This one of the bridal mehendi designs is another example of the beautiful extravagant designs that can be done on the hands of the dulhan. It has been designed to make everyone curious and leaving them speechless! Here again we see motifs related to ancient temple paintings and designs surfacing. These traditional motifs will certainly bring out the beauty of the bride!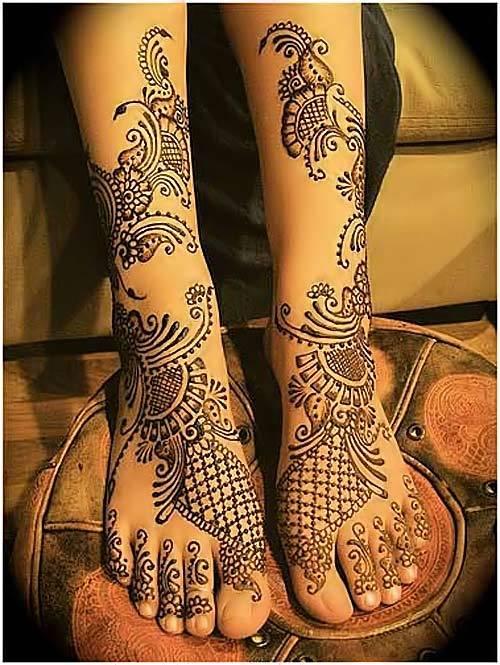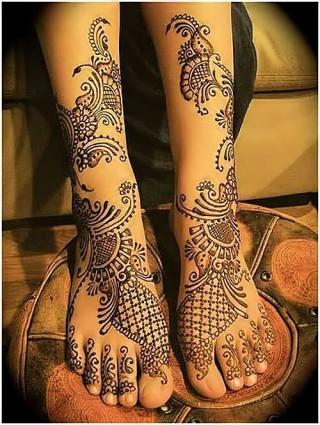 4. This design for the feet is also a pretty way to dress up your feet when you're getting married! Here the design extends up to the half of the lower leg. The use of shading and the traditional motifs make this a beautiful choice for the dulhan.
5. When the front and back of the hand needs to be covered in beautiful bridal mehandi designs, and the next design is meant to do just that. The intricate designs are purely traditional and have floral patterns throughout the hands.
[ Read: Mehndi Back Hand Designs ]
6. There are some who prefer bridal mehandi designs that are simpler and that which cover a smaller area. But nevertheless there are many beautiful designs for them too. Here is one of them.
7. This design covers the palm and just a little part of the arm. This design has small details in it, with the total area of the design kept minimal. The intricate and magnificent details in the fingers and other portions make this design very apt for bridal mehndi.
8. Some like elaborate mehndi designs for weddings and other special occasions. After all weddings are a one time celebration and every bride wants not only to look great but also to get all the attention. So if you are one of those who prefer slightly elaborate designs with intricate and small details then try this one. It is very bridal and will suit any bride's hands beautifully. There is mix of small as well as big motifs. The design is traditional and yet has a bit of uniqueness.
9. So you don't want to spend hours on those intricate designs and instead prefer something simple and unique, you may choose this design as it's perfect for the bride. It is totally clutter free with simple mehendi designs and would look lovely on the hands of the bride.
10. Are you thinking of using black mehandi instead of the traditional red? Black mehndi looks beautiful on hands of the bride and makes the mehndi designs more prominent and beautiful. Usually now a days mehndi artists use black mehndi on most occasions to draw outlines of the designs. This one looks great with the weave pattern and has very minute and intricate designs which add to its beauty. This will look unique and extremely gorgeous on the bride's hands. For those who want unique designs to cover the back of the palm this design works best.
The following two tabs change content below.