Who doesn't love gorgeous, bright eyes? And what other than Pakistani eye makeup can help achieve it? So, here I am with an exclusive Pakistani eye makeup tutorial just for you. Read on to learn the step by step process of doing this eye makeup.
Pakistani eye makeup is identified by the bold and bright eye shadow colors used. The eye makeup is very dramatic and requires a thick kohl liner. I have created a dramatic Pakistani eye makeup look using a dark purple, turquoise blue and gold eye shadow.
Tutorial:
The step by step Pakistani eye makeup tutorial explained below:
Step 1: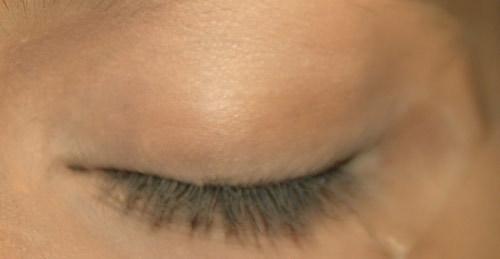 Let's begin the eye makeup with concealing the eyes. I have used my Mac foundation and applied it as a concealer. If you have dark circles, you should use a corrector before applying your concealer.
Now, use a cello-tape to mark a guideline for your eye makeup. Remember to remove all the excess glue from the tape by sticking it on your hand first. Then, stick it at an angle extending your lower lash line. You can draw the line with a free hand too if you are good at it.
Step 2: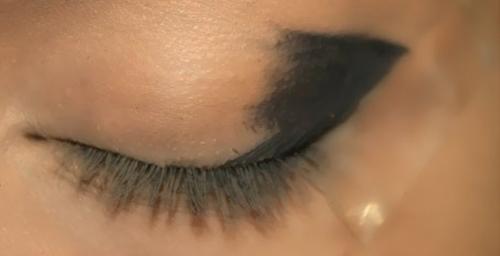 Now, create a small angle at the outer corner of the eye. Remember to create maximum color intensity here. Please be very careful not to go beyond the crease area and not to move inside the lid area. I have used a matte black gel liner here to create the small outer angle.
[ Read: Arabic Eye Makeup ]
Step 3: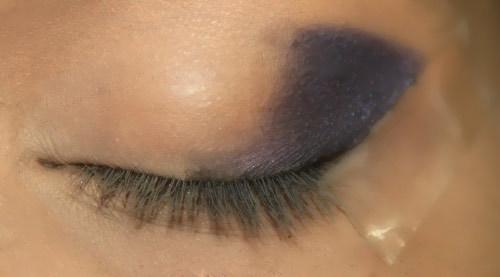 The next step is to apply a dark purple eye shadow (metallic finish) over the outer corner of your eye lid, just above the gel liner. I have used the Lakme eye shadow quad in Tanjore Rush. Here, carefully pat the eye shadow over the outer portion of your eye lids instead of sweeping it as is usually done. The patting motion will help to apply the color uniformly and cover the entire area.
Step 4: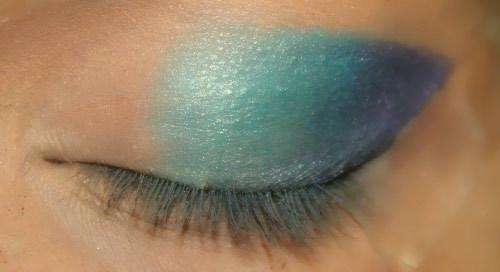 It's time now to apply a bright turquoise blue on the moving area or the center of your eye lid. I have used the Claire eye shadow in the shade 0543. I use this brand repeatedly because it's really affordable and stays for a good amount of time.
Step 5: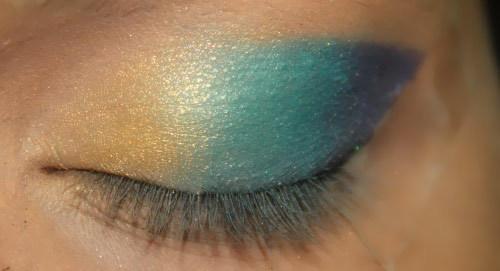 Now, apply a bright gold eye shadow on the inner corner of your eye lid. Applying a light eye shadow on the inner corner of your eye lid will open up your eyes. Hence, it will give an illusion of bigger eyes. I have used the Lakme eye shadow quad, Tanjore Rush here again for the gold eye shadow.
[ Read: Everyday Eye Makeup Tutorial ]
Step 6: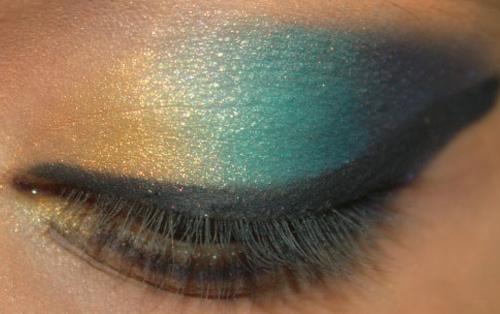 Now, take a blending brush and blend all the 3 shades softly and gently so that no harsh lines are seen. Do not over blend it. Pakistani eye makeup has a strong cut crease look. The finished look is important. It should not look like there are various shades used but a perfect blend of shades, merging seamlessly into each other. At the same time, do not swipe too much, so that the metallic finish of these shadows are not lost and mixed. There should be a soft gradation of colors.
Step 7:
Apply the same purple eye shadow on the lower lash line to give your eyes a smoked effect. This will complete the whole look and help balance out all the colors on the eye lid area. Remove the cello-tape carefully.
[ Read: Smokey Eye Makeup Tutorials ]
Apply dark kohl, a bit thicker than usual on the upper and lower lash line.Extend the eyeliner to create a wing at the outer corner of the eye. Here, I have used a gel liner to create maximum color intensity; you can even use a liquid liner.
Remove all the fall-out of the eye-shadows below the eye with the help of a cotton swab.Apply a light concealer to highlight your eyes.
So, this is the final look. Amazing! Isn't it? This is quite a dramatic eye makeup and just perfect for weddings and parties. If you want it to be a little less dramatic, just use one bright eye shadow and thinner kohl.
Try this stunning eye makeup and flaunt your style. Please don't forget to drop us your valuable feedback via the comments section below.
The following two tabs change content below.