If you have always been the cute girl with a baby face, round and soft; everybody just wants to pinch your cherub cheeks, then you have a round shaped face!
Having a round face means that you inherently have a lovely and youthful look that does not fade with time no matter how old you grow. Though this is a blessing in a way, sometimes the round shape also prevents you from looking sophisticated and classy.
One of the easiest ways to counter this problem is to get a long hairstyle. Since a round face is essentially the same shape in length and width, you need hairstyles that add depth and dimension without creating additional width. Wearing your hair long cuts the roundness and lengthens the face. There are a lot of variations in long hairstyles for round faces that are really simply and yet very graceful. In other words, simply perfect hairstyles for girls with round face.
Best Hairstyles For Round Faces:
Style 1: Sleek Straight Long Hair
One of the best choices when it comes to picking a hairstyle for round face, is the long sleek look. Such a hairstyle for round face has a great face framing effect without adding much hair volume at the cheekbone area.  Since a round face lacks any length or dimension, opting to wear long hair in a sleek and straight manner is an ideal choice because it tricks the eye by creating the illusion of length and definition. This hairstyle is also great for fine hair because of its ability to move and you can add volume at the crown with just a little teasing and shaping.
Style 2: Long Hair with Layers
Whether you have straight or curly hair, when you decide to go for layering, make sure that the layers don't end exactly at the chin line because if they do, they will draw attention to the roundness of the face instead of giving it an elongating effect. Longer layers give the face an oval shape and thus help in decreasing its width.
Style 3: Long Hair with Fringe
If you don't want to go for layering, getting a fringe is another option to break the monotony. But don't go near a short blunt fringe – it will only increase emphasis the roundness.
On the other hand, a long wispy fringe will look great and suit fine hair. And if your hair is thicker, a longer fringe that you can sweep to the side will lengthen your face. This is definitely the most viable of the latest hairstyles for women with round face.
[ Read: Bridal Hairstyles for Round Faces ]
Style 4: Middle Parting
Many hairstylists agree that a middle parting of hair makes your face appear longer and slimmer. So make sure you keep this in mind when you are in a mood for a casual and effortless long hairstyle for round face.
Style 5: Curly Hair
If you have curly hair with the round face then your best bet is to let your hair grow in length to avoid overwhelming your face.
When you going for layering, try triangle layers, meaning that your stylist pulls hair from your crown straight up and cuts straight across. Then she pulls hair from the side outward and cuts it at a downward angle. Choppy layers through the back and bottom of your hair is another good option as a round face hairstyle.
Soft curls on the other hand look great with a round face but the curls need to be below the chin line.
Curly hair looks a bit heavy if left short but can work really well if they are styled into a long hairstyle.
Style 6: Long Layered hair with natural Sea wave curls on long bangs
When you getting a combination of layers and bangs for a round face shape it is very necessary to be certain that it doesn't accentuate the roundness even more! You need to make sure that you have a heavy bang from one extreme end or even better would be a double sided bang with a middle sectioning at least 2-3 inches below the earlobe or close to the jaw line with the layers starting from where the bangs end.
If you hair is already wavy then it's perfect or else you can try Velcro curlers or even big iron curlers but curl for just 1-2 mins and leave it be. Its not curls that we want here, just waves. This is certainly a very trendy hairstyle for round faces to sport!
But what if your not a big fan of long hair? Don't worry! Having a round face does not mean that you have to have long hair. We have a few options you can try to keep it short and yet sexy. A short hairstyle will leave an impression of a women of today's times, no matter what your age and it can take away the chubby look that makes you look like a school kid!
[Read:Best African Hairstyles]
Style 7: Short bob hair style
The short bob is a classic! The only time that it goes wrong is when people with round face shape try this look. What they don't realize is that the classic look that just isn't for them. The look accentuates the roundness and you end up looking like a ball.
The classic bob is not the only kind of bob that exists. On the other hand, the angled bob is a great option for a round face. In this hairstyle, the layers in front are dramatic sweeping the chin while the back layers are short. The hairstyle gives a structured look and the hard lines of the bob balances the soft lines of the round face and makes it slimmer to look at.
Style 8: Modified pixie hairstyle
One of the problems of short hairstyles is that most end at the chin emphasizing the roundness of your face. A modified pixie with long layers that run across the forehead with cropped sides and a couple of stacked layers down the back of the head draws attention to the forehead, which makes the your face look thinner when compared. The multiple layers draw emphasis on the eyes and cheekbones.
If your hair is not so heavy, keep the very top layers longer and while the hair is damp, style the top layer it with a volumizing mousse to give the top layer a lift. This is definitely the boldest haircut for round face that you can try!
Style 9: Close cropped hairstyle
Closed crop cuts for round face hairstyles combines the stylish looks of the trimmed hair with a very feminine allure! Even though it looks asymmetrical, it still maintains the neat texture of the hair. This style can be easily sported as it gives you a lot of space to play around with your looks. The longer bangs  help in creating an illusion of length by reducing the overall width of the face making it look slimmer.
If your somewhere in between the long and short in terms of length and your tried of the straight look then waves are certainly something you can try.
[ Read: Hairstyles For Indian Round Faces ]
Style 10: Wavy Mid length hair
Since for a round face the major objective is to hide the roundness, you can try a middle parting and after washing just scrunch it up. Another alternative is to get some real big Velcro curlers overnight or you can always blow dry, to add those lustrous waves to your hair. You hair should be cut plain in length and not in layers. Most importantly it should be 2-3 inches below your jaw line.
And middle parting is not your only option!
Style 11: Easy Waves
Now this is a style for sure!  The Swedish Canadian actress Malin Akerman's subtle waves bring in a great deal of interest while not adding volume to the sides of her face. This hairstyle brings the volume up to the crown of your head instead. The bangs that sweep at an angle across the forehead very nicely break the rounded curve of  the hairline, lending her face angles. If you are looking for a shoulder length medium hairstyle, then this definitely the one!
Style 12: Hot curls
If your a lover of the short hairstyles for round face , then this definitely one to try! Curls are definitely in and always will be!
If you're hair is already shoulder length then you should not go for wild total curly spirals, you can tame up your hair with some serum and then go for soft curls which will flow with the wind. If you have hair longer than shoulder length, then you can apply serum if you hair isn't that silky and then go in for totally spiraling curls with hot iron and then ease them up with a strong hold hair spray to keep them from flowing all over the place .
[Read:Best Hippie Hairstyles]
Style 13: Ballerina Buns and Palm tree ponies
Are you someone who likes to keep long hair, but still prefers to avoid too much styling? Don't like curls much but would definitely want to make your face seem less roundish? Then give yourself this new hair style! You can keep to your long hair length and go for high buns or ballerina buns . All you need to do for this is take your hair high up as high as possible and then secure with bobby pins in a spiral motion and lastly add on some strong hold hair spray to prevent it from sliding down. Or you can go in for high pony, in such a way that the lengths of the hair falls on the two sides of your face and this will make you face look leaner and longer and give it a sexy style.
With so many options, mixing and matching is most definitely not a difficult task. But there are a few things to keep in mind and a few to most definitely avoid when picking a style.
Never ever tie your hair tightly back in a pony tail as it will make your face look wider than it actually is. If it cannot be avoided give it curls making it the focus of attention.
A total no for chin length hair cuts with rounded edges as they will make your face heavier than normal.
Always remember to choose a hair style that will make your face longer and less rounder which also highlights your best features.
Try and add some height to your hairstyle at the crown of your head as it will only make your face seem longer than it is which is the soul purpose of your getting a style anyway.
A round face isn't a bad thing at all. Just draw your inspiration from Drew Barrymore and her experiments with hairstyle – if she can do it so can you.
Recommended Articles:
If You Enjoyed This Post, Sign Up For Newsletter
(And get your daily dose of Beauty & Wellness tips straight to your inbox)
The following two tabs change content below.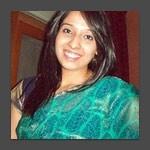 Latest posts by Aparajita Chattopadhyay (see all)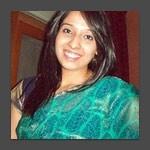 Hey I am aparajitha. A Delhi based bong. The face behind the blog Colors Of My Life. I am a Research analyst by profession and now a blogger by passion. I love writing about make and beauty.