If you have always been the cute girl with a baby face, round and soft; everybody just wants to pinch your cherub cheeks, then you have a round shaped face!
Having a round face means that you inherently have a lovely and youthful look that does not fade with time no matter how old you grow. Though this is a blessing in a way, sometimes the round shape also prevents you from looking sophisticated and classy.
One of the easiest ways to counter this problem is to get a long hairstyle. Since a round face is essentially the same shape in length and width, you need hairstyles that add depth and dimension without creating additional width. Wearing your hair long cuts the roundness and lengthens the face. There are a lot of variations in long hairstyles for round faces that are really simply and yet very graceful. In other words, simply perfect hairstyles for girls with round face.
Best Hairstyles For Round Faces:
Style 1: Sleek Straight Long Hair
One of the best choices when it comes to picking a hairstyle for round face, is the long sleek look. Such a hairstyle for round face has a great face framing effect without adding much hair volume at the cheekbone area.  Since a round face lacks any length or dimension, opting to wear long hair in a sleek and straight manner is an ideal choice because it tricks the eye by creating the illusion of length and definition. This hairstyle is also great for fine hair because of its ability to move and you can add volume at the crown with just a little teasing and shaping.
Style 2: Long Hair with Layers
Whether you have straight or curly hair, when you decide to go for layering, make sure that the layers don't end exactly at the chin line because if they do, they will draw attention to the roundness of the face instead of giving it an elongating effect. Longer layers give the face an oval shape and thus help in decreasing its width.
Style 3: Long Hair with Fringe
If you don't want to go for layering, getting a fringe is another option to break the monotony. But don't go near a short blunt fringe – it will only increase emphasis the roundness.
On the other hand, a long wispy fringe will look great and suit fine hair. And if your hair is thicker, a longer fringe that you can sweep to the side will lengthen your face. This is definitely the most viable of the latest hairstyles for women with round face.
[ Read: Bridal Hairstyles for Round Faces ]
Style 4: Middle Parting
Many hairstylists agree that a middle parting of hair makes your face appear longer and slimmer. So make sure you keep this in mind when you are in a mood for a casual and effortless long hairstyle for round face.
Style 5: Curly Hair
If you have curly hair with the round face then your best bet is to let your hair grow in length to avoid overwhelming your face.
When you going for layering, try triangle layers, meaning that your stylist pulls hair from your crown straight up and cuts straight across. Then she pulls hair from the side outward and cuts it at a downward angle. Choppy layers through the back and bottom of your hair is another good option as a round face hairstyle.
Soft curls on the other hand look great with a round face but the curls need to be below the chin line.
Curly hair looks a bit heavy if left short but can work really well if they are styled into a long hairstyle.
The following two tabs change content below.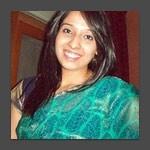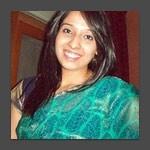 Latest posts by Aparajita Chattopadhyay (see all)