The gorgeous and bold beauty, Amisha Patel made it huge with her first movie opposite Hrithik Roshan. Showing off her uber cuteness in the movie, she charmed many among her audience. Her next big splurge was the numerous bags she owned right from Hermes being her favourite to Gucci, Prada, Louis Vuitton, Chanel and many more. Soon enough as she was done with her collection, she launched a new production house and made her directorial debut. But as they say, Amisha has always been adventurous and a risk taker. She soon switched to launching her eye wear brand called Glam. The beautiful lady may have been seen in some of the most outrageous clothes but yet when seen in her simplest avatar, she manages to make an elegant appearance.
Amisha Patel Without Makeup
1. With or without:
A before and after makeup look and yet you check the version with no trace of even gloss. This definitely says a lot for our Amisha Patel without make up campaign. Better tied than left loose, the woman has the best hair ever seen among the current lot of actresses.
2. Simpleton:
Spotted heading for a prayer meet of late Feroz Khan, Ms. Patel made a stunning appearance in a white salwar kurta and blue floral dupatta. The simple attire had the grace of the perfect Indian girl and an innocent charm which she carries every time she steps out.
3. Travel wear:
She may choose not be the glam doll like always, but Amisha will never ever give her bags a miss to complete her look. As mentioned, her bag wardrobe owns Berkins, Guccis and many more desirable names on it.
[ Read: Aishwarya Rai Without Makeup ]
4. Cartoonization:
Well, when actresses chose to be caught without their bedroom favourites by paparazzi, Amisha chooses to don it as she travels. Smurfs are her favourite and so pairing them with her skinny denims with a tied up hairdo makes her look perfectly cute.
[ Read: Amisha Patel Beauty And Fitness Secrets ]
5. Mall Affair:
The beautiful Amisha Patel without make up photo was clicked when she was away with her friends doing her favorite thing – shopping. Well as they say paparazzi follows stars so they followed her every. The American flag glitter embossed tee just makes her the perfect girl next door.
6. Tracksuit outing:
Well velvet may be out but with no makeup, Amisha Patel can always look gorgeous in the luscious material. Donning a track suit in pink velvet and accessorizing it with a golden bag, she was spotted browsing in a five star hotel checking out some of their luxury stores.
[ Read: Celebrities No Makeup 2013 ]
7. Injured fashion:
This picture was clicked while going back home from the hospital. The gorgeous Amisha stunned the paparazzi with her short LBD and her bright orange Dior bag. Who says eye shadows and lip glosses can't light your face up when you have a fashion sense like Amisha.
8. Casual look:
The fun loving actress chose to keep that snob look on her face, but still stood beautiful in the bright pink top. Amisha knows her trends so well that even when out with friends she knows how best to accessorize oneself aptly.
[ Read: Bollywood Actresses Without Makeup ]
9. Red Carpet De glam look:
It's said you must be pretty diva on red carpets, but Amisha believes in flaunting her cute smile and pose for the camera. And so clicked was Ms. Patel in the most de-glam look of hers at a jewelry brand launch.
10. Gymwear:
When not shopping or roaming, Amisha Patel chooses to work out and get the fittest body. But one must be presentable even while sweating and though no makeup, she still manages to look her best with those dumb-bells.
[ Read: Kareena Kapoor Without Makeup ]
Tell us what you think of these Amisha Patel without makeup photos! We would love to read you feedback!
Image source: 1 , 2 , 3 , 4 , 5 , 6 , 7 , 8 , 9 , 10
The following two tabs change content below.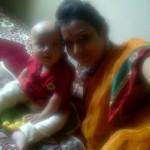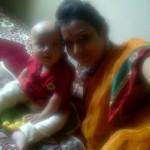 Latest posts by Khushboo Mehta (see all)