Tall, dusky and beautiful, that's Sameera Reddy aka sexy Sam for you. Hailing from the city of Rajamundry, Andhra Pradesh, Sameera shot to fame with her simple character in a music video. This kick started her career in bollywood and our black beauty appeared in lot of movies back to back thereafter. Her flawless beauty makes her a favourite amongst millions of her fans. With makeup anyone can look gorgeous, but trust our sexy Sam to bring down the house sans makeup too!
Sameera Reddy Without Makeup
1. In a rush:
We spotted our dusky beauty sprinting through the airport. She sure seemed in a great rush but that did not stop her from being stylish. Extra points for pulling off that black dress with a cross bag, scarf and brilliant smile. With no trace of makeup on her face, just a little puffed front does the trick for Sameera.
2. Behind the lens:
Spotted without any trace of makeup, Sameera managed to look naturally beautiful during one of film shoots as well. The unkempt look of the hair and the casual short-sleeved top add a lot of reality to her character.
3. Inaugural:
Sameera inaugurated designer Mandi in the year 2009. She must have been some 10-11 movies-old in bollywood then. She sure has come a long way in terms of her styling. However, she believed in keeping it natural then the way she does it now.
[ Read: Amisha Patel Without Makeup ]
4. Fashionista:
Sameera gave our fashion police a run for their money with this uber cool and classy attire. Her high waist denim and white tee may not be exclusive, but we give thumbs up for sporting that black long overcoat and the gold neckpiece to go with it. Stunning is the word for this picture.
5. Cricket fever:
No one in our country is spared from the cricket fever. Sameera too follows the bandwagon. Supporting Chennai Rhinos at the celebrity cricket league, our dark beauty wears minimal makeup and still looks attractive.
[ Read: Images of Bipasha Basu Without Makeup ]
6. Fitness freak:
The sultry beauty was snapped while being trained by Leena Mogre at her Bandra gym in Mumbai. She does not even shy away from the camera because she knows, there is no makeup secret behind that beautiful skin. Her gym sessions result in that beaming skin.
7. Indian side:
Simple half clipped hair, nude lip colour teamed with red and green bandhani suit; that's Sameera at her casual best for you. Perfect Indian face we say.
8. Shying away:
Sameera kills it with her priceless expressions in this picture. She sure wins our heart as the girl next door. Simply clad in a white kurta and a blue scarf, Sameera looks gorgeous even with her eyes closed. That shy smile says a lot. We wonder what's on her mind.
[ Read: Celebrities Without Makeup Indian ]
9. Bong avatar:
Sameera has been praised for her natural portrayal in tollywood too. She beautifully adapts the look of a typical Bengali woman in 'Kalpurush', with this light pink cotton saree, black blouse and simple bun. Sameera you take our breath away, both with and without makeup.
10. Glamour eyes:
Our sexy Sam wears very little eye makeup in this picture and still steals the show with just those deep set of eyes. Didn't we alway say glamour lies in the eyes?!
So what do you think of Sameera Reddy without makeup? Do leave us a comment!
Image Source: 1 , 2 , 3 , 4 , 5 , 6, 7
The following two tabs change content below.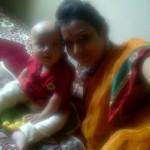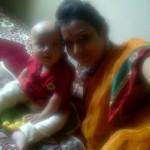 Latest posts by Khushboo Mehta (see all)