Top 10 Pregnancy Exercise Videos
The ability to bring a new life into this world is the most amazing thing that women are gifted with. When you get pregnant, your body undergoes a number of changes and therefore, you should exercise during pregnancy videos to ensure a smooth delivery.
10 Minute Pretty Positive Pregnancy Cardio Workout with Tiffany Rothe:
This video helps you to exercise during pregnancy without any complications or troubles. It begins with warming up the body and then slowly performing vigorous exercises that will benefit you a lot in recovery and also during birth.
Pregnancy Body Weight Exercises:
These safe and effective moves are a blessing to any pregnant woman. They are more suited for the first and second trimester and also for post delivery months. These exercises don't use any weights and function solely with body movements.
Pregnancy Yoga – Main Routine:
The best thing about this video is that you can perform the shown exercises at any given point of your pregnancy, i.e., be it your first, second or third trimester. The
yoga moves
are clearly demonstrated and the music is very soothing.
3 Favorite Core Pregnancy Exercises:
Besides making you aware of the muscular changes in your body during pregnancy, this video shows 3 core exercises for the second and the third trimester.
Pregnancy Pilates – 10 minute workout:
This form of exercise teaches your body and mind to be firm, balanced and flexible. This pregnancy exercise video features a lady who wonderfully demonstrates the exercise from different angles. This workout is complete workout for your body.
[ Read: Best Exercises For Pregnancy ]
First Trimester Fitness:
During the early days of your pregnancy, you should focus on doing core exercises. This will ease later stages of your pregnancy. The video shows you all the exercises that you need to perform during your first trimester.
Core Exercise Routine for Second Trimester of Pregnancy:
The second trimester is from the 4
th
 to the 6
th
 month of pregnancy. During this phase too, you should work out for restoring good health to yourself and your baby. The video talks about strengthening the abs and the back.
Best 3rd Semester Pregnancy Workout At Home:
This is the time when you have entered your 7
th
 month of pregnancy and have got all big! But if you still want to be in shape, then you have to shed the extra fat post delivery. You have to try the exercises shown in this video to achieve you ideal weight.
Pregnancy Exercise – Warm Up:
Warm up is very essential before starting any core exercise. The video describes how to warm up your body while you are pregnant, so that you can do the core exercises easily.
[ Read: Exercises during Pregnancy  for Normal Delivery ]
Best Exercises for Pregnancy – Pelvic Tilts and Raises:
Exercises during pregnancy prepare you for a comfortable pregnancy and an easy child birth. The video shows how to raise and tilt your pelvic muscles; performing this exercise will definitely help you to have a smooth delivery.
Hope you found the article informative. Do share your thoughts with us.

The following two tabs change content below.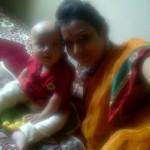 Latest posts by Khushboo Mehta (see all)