All of us have heard of stories when people experience the biggest trauma of their life – noticing white hair on their head. Films often refer to brutal shock in their story line, changing the character's hair fully or partially white. This is usually done by panning the camera onto the hair, focusing on the effect while an intense sinister music goes on in the background. Although you enjoy the scene in Hollywood movies, this is certainly the biggest nightmare of your life. Sadly, it's an inevitable fact of your existence. As you enter your 50s or 60s, you're bound to experience white hair strands on your head.
Ayurvedic Treatment for Gray Hair
1. Curry Leaves and Coconut Oil:
One of the most ancient and effective treatments for gray hair is to apply a blend of coconut oil and curry leaves. The treatment is pretty mild and you can do it on a daily basis. Just take 1/8 cup of pure coconut oil and ½ a cup of curry leaves on a sauce pan. Bring this mixture to boil at medium heat. Now, leave the pan aside and allow the mixture to cool down at room temperature. Next, tenderly massage this mixture into the hair roots and leave it for twenty minutes. Finally, wash your hair with a mild shampoo and lukewarm water.
2. Amla or Gooseberry:
Amla or Indian gooseberry does wonders for preventing gray hair and restoring the natural pigmentation of your hair. Just slice a few gooseberries into pieces and allow them to dry in shade. Next, boil the dried gooseberry pieces with pure coconut oil till they turn tender and gray in colour. Now, slowly massage this oil into your hair roots; make sure that the oil is completely soaked by your hair.
3. Curry Leaves and Buttermilk:
One more effective ayurvedic treatment for gray hair and pre-mature graying is using a blend of curry leaves and buttermilk. All you need to do is mix a cup of buttermilk with a handful of curry leaves. Apply this mixture on your scalp and massage softly. Leave it for thirty minutes and rinse your hair with a mild shampoo.
4. Sesame Oil and Carrot Seeds Oil:
One effective ayurvedic medicine for gray hair is a blend of sesame oils and carrot seeds oil. Mix 4 tablespoons of sesame oils with ½ tablespoon of carrot seeds oil. Massage this mixture onto your scalp and hair roots. Finally, wash your hair using lukewarm water and a mild shampoo.
[ Read: Tips For Grey Hair ]
Pre-mature Graying and White Hair
White hair generally invokes intelligence, wisdom, sound judgment, strong prediction power, common sense and unbiased thinking. This is a natural occurrence that takes place as we grow old; sadly, this may also happen in your youth or young age – shocking, isn't it? Gray or white hair occurs when the hair follicles stop oozing melanin – the pigment that imparts natural black colour to your hair.
[ Read: Homemade Hair Oils For Grey Hair ]
Now, if this takes place in your early 20's or 30's, then there's certainly something wrong with your health; perhaps you're suffering from poor nutrition or severe medical conditions. Quite often pre-mature hair whitening is also caused by a genetic trait. Unfortunately, in today's society, people think of hair colouring as the only way to get rid of hair whitening. They often forget the magical effect of ayurveda on almost all types of physical conditions – white hair or pre-mature hair greying is no exception.
Ayurvedic treatments help combat pre-mature hair graying and restore your natural hair colour. The natural pigmentation of your hair tends to vanish as a person grows old; over time, this turns into white colour. Nevertheless, if your hair turns gray at a young age, then it's possibly due to some medical conditions, nervous shock or hereditary traits. Instead of choosing chemical-based hair colours, try some ayurvedic treatment for remature graying of your hair.
[ Read: How To Prevent Premature Hair Greying ]
3 Ayurvedic Home Remedies To Cover Up Grey Hair
The following two tabs change content below.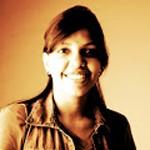 Latest posts by Shruti Goenka (see all)