If a girl is not obsessed with her hair, then she is obsessed with her nails.
Chipped nails are such a reflection of tardiness, they say. It wouldn't be an exaggeration if we say broken nails make to the list of most painful things in the whole wide world. While some of us are blessed with tough nails that are immune to regular breaking and cuts, many of us have brittle nails. But that's no stopping us from pretty hues on the nails now, is it? There are many alternatives to show off healthy nails. Unless you have serious, severe brittle nails in which case you should consult your doctor, you can indulge in artificial nail enhancements. They also come with added benefits of length and sturdy finish.
Acrylic nails are most common and popular artificial nails enhancements. They can be used over a full nail or just a portion to create tip. To create an acrylic nail, a mixture of acrylic liquid and powder is applied to the nail and shaped according to one's desire. The mixture hardens on its own in the matter of minutes. They provide very good canvases for doing nail art. You can do any kind of nail art on them. Since the nails are artificial and can be discarded, there is no fear over the number and amount of polish and other elements used in the nail art. In India, acrylic nails are getting popular day by day, from television actresses or movie stars to your next door girl, everybody is adorning these nails.
Over the time period I came to know that most of the saloons do not tell their clients the pros and cons of the acrylic nails. It is the duty of the nail technician or the owner of the nail salon to provide the complete information before starting. Before you go get yourself a manicure, arm yourself with proper knowledge to avoid mishaps. It's very important to know what happens when you are getting any kind of enhancements.
Pros of acrylic nails:
Acrylic extensions are good for women with brittle and weak nails.
Acrylics are good for women, who have a bad habit to chew their nails as they are very hard to chew off. What better way to ward off a bad habit than making the damage area as pretty as possible?
Acrylic nails have been around longer than their counterparts, so, most nail technicians at saloons and spas have a lot of experience about how to apply and remove these nails. You don't have to worry about side effects as such.
They are cheaper than their counterparts. The lighter on the wallet, the more the happiness. Agree?
The major benefit of acrylic nails is that if one of them breaks, it can be fixed at home by using right tools. You don't have to spend a bomb again to get them rectified.
They last longer than gel nails.
Cons of acrylic nails:
They can damage your natural nail underneath and it can be hard to grow out your nails with acrylic over them. Also, damaged nail is a breeding ground for fungus and bacteria.
As acrylic nails are artificial enhancements they present a fake look. You need a very talented technician who can apply your acrylics as close to natural ones.
Application of acrylic nails involves use of strong chemicals and formation of fumes. Some women may have an allergy to such chemicals.
You need refilling every month which requires spending extra bucks.
Thus, before taking a decision to use acrylics, you should carefully analyze the above pros and cons. Also check the experience of your nail technician.
How much do you love acrylic nails? Shoot a comment and let us know!
The following two tabs change content below.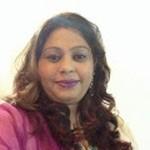 Latest posts by puja malhotra (see all)