It's the Music festival season — and they are in a league of their own these days where music, food and fashion are pushed beyond the end of things. Rave parties are no exception to this, attracting thousands of teenagers, loads of Mohawks and wigs, and a little bit of madness. But in all of this, let's not forget the power of beauty look, which can seal the deal.
Well, weren't we aware that half the fun of rave parties is planning your beauty look? So take a note and start prepping with these essentials that will inspire your next rave party look.

Easy Techniques To Do The Rave Makeup
1. Face
To achieve a matte finish skin without looking like cake frosting, follow the below tutorial.
Cleansing
In order to achieve matte finish skin, begin your routine by cleansing with a deep cleanser. We prefer Mario Badescu Glycolic Foaming Cleanser, for dull and congested skin. The glycolic cleanser further ensures in reducing minor discoloration that results in radiant and smooth skin.
Exfoliate
For a healthy and glowing complexion, find the right exfoliant for your skin, like Super Facialist by Una Brennan Rose Hydrate Brighten & Refine Facial Scrub. Packed with natural moisturisers, this gentle scrub busts breakouts, removes dull skin cells, and diminishes dark spots and scars.
Moisturize
Once done with exfoliating (and before applying a moisturizer), add moisture to your skin by applying a serum – we prefer OZ Naturals Vitamin C Serum.
Now, moisturize your skin with Mary Kay Intense Moisturizing Cream. This will keep your skin soft all day long without leaving them greasy.
Primer
Apply a face primer to avoid makeup faux pas, like redness, puffiness around your eyes, noticeable pores and obvious makeup lines. We recommend Benefit The Porefessional, a perfect skin primer that holds makeup in place all day without creasing. Another key point is that the oil-free formula makes large pores look less noticeable resulting in a fresh, luminous glow in an instant.
Foundation
Then comes our favourite, a tricky and essential part of makeup application – foundation. For a flawless, yet natural and matte finish, try Chanel Perfection Lumiere that mattifies the skin, improves skin clarity without any residual shine, and is suitable for all skin types.
Point To Note: Don't layer on a ton of foundation.
Concealer
Next in line is our secret best friend – concealer. This helps in getting rid of blemishes, dark circles and redness under eye circles. Try Clinique Advanced Concealer after you have applied your foundation and dab into your face for a natural and matte, powder-like finish.
Blush
Perk up your skin by applying the sexy flushed hue of Everyday Minerals Blush in Girl Friday to the apples of your cheeks. Natural and gorgeous!
2. Eyes
One thing we have come to expect from rave parties is that eye makeup will always be fun and vibrant!
Begin with applying Bobbi Brown's new Long-Wear Eye Base, a perfect eye primer that is a must when you're going all colourful with your eye makeup. Apply MAC Vivid orange and Maybelline Color Tattoo Pure Pigments in Pink Rebel across the brow bone.
Follow this by applying a yellow eyeshadow on the inner corners of our eyes. We prefer Shiseido Luminizing Satin Eye Color in Solaris. Next, apply YSL Ombre Solo Smoothing Effect Eyeshadow in Topaz Blue, just in the middle of the eye. Blend the colours well. Once done, take Giorgio Armani Maestro Eye Shadow in 21 and smudge it all the way across the lid, towards the temples and end it at the lower lash line.
Finish off the rave eye makeup look by sticking Andrea Strip Lashes, Black 45, and swiping double coats of Clinique Lash Power Feathering Mascara over it.
Tip: You can apply mascara before you apply the false lashes for thicker and super long lashes.
[ Read: Simple Tips To Do Rockabilly Makeup ]
3. Lips
The (b)right lip colour can add oomph to your makeup, create the illusion of fuller lips, and even make you look younger.
Just like your skin, begin preparing your lips by exfoliating and moisturizing with a lip balm. We recommend LaRocca Shield Multi-Active Lip Balm. Once applied, take a tissue paper and blot it about 15 minutes before you apply your lipstick. Next take a lip liner (try Colorbar Definer Lip Liner 003 Summer Pink) and fill in your entire lips. Lining your lips defines a fading lip, and this will also hold your lip colour longer. Now, apply M.A.C. lipstick in Flat Out Fabulous with the help of a thin brush. Blot your lipstick once again; reapply another layer of lipstick and line your lips to seal off the look.
Hope you liked this rave makeup tutorial! If you have any suggestions, please feel free to write to us by commenting below. We value your feedback.
The following two tabs change content below.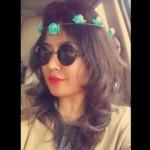 Latest posts by Anisha Pradhan (see all)