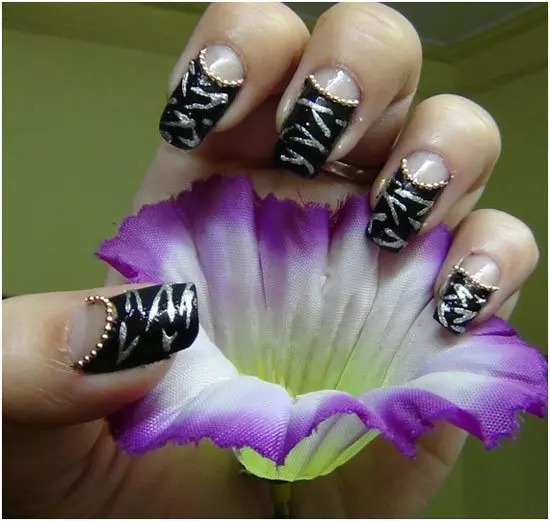 Reverse of the zebra french manicure designs are a total craze right now starting from young girls to even professional women. We love this fashion for the simple reason being that it is an out of the ordinary French manicure. It has something different and exotic to offer every time we try it. And the best part is that you don't need to have long nail tips to try this one out as the French tip is in reverse form here.
Here this nail art gives you a trendy feel along with a vintage look. It doesn't just stop here. It also has zebra patterns which look really cool with any animal print clothing. Animal print leggings are quite a trend now. So if you have the wild beast lurking inside of you who is crazy about fashion, then try this nail art out and give it some peace!
Zebra French Manicure
Things You Need:
A base coat
A black polish
Cotton bud and polish remover
A transparent good quality top coat
Metallic golden chains cut into small bits
A toothpick
A tweezer
A two way nail art pen in silver
Stepwise Tutorial:
Let's get started.
Step 1:
Put a nice layer of base coat on your nails, though this is optional but you can use it to protect your nail enamel. After all yellow and dry nails are never a pleasant sight and we can't be sporting a nail art or even a have a colour on at all times!
Next follow this up with by drawing a reverse French tip as much precisely as possible with a black polish.
[ Read: Bridal Manicure Tutorial ]
Step 2:
Now take the bits of golden metallic chains and put them on to the curves of the reverse tip with the help of the transparent polish. Take the help of tweezers to place them on. Take a toothpick to set their shapes properly.
Step 3:
In this step, you have to use your two way nail art pen's pointed tip which is mostly used for dotting purpose. If you don't own a dotting pen then you can go ahead and use a tooth pick too. Use it to make jointed "V" s and create a zebra pattern. Refer the picture below. It is really simple and easy to do and sport. It will give you a stunning look for your nails without much trouble.
[ Read: How To Do Manicure At Home ]
Step 4:
Now take a cotton bud dipped in makeup remover and clean stray polishes from the edges of the nails. Apply two nice layers of transparent polish over the whole of the nails to seal in your french zebra manicure design.
Step 5:
This is the final look. Just spectacular isn't it. Not to hard to try even if your a beginner and definitely a change from the regular dull french manicure. What do you think? Up for this nail art?
[ Read: Basic Manicure Tips ]
If your work environment doesn't allow you to use black then try a colour than wont cause you trouble instead. The sliver shade works well with most colours! Leave your sweet feedback below.
You can also download the best android app for nail art designs from where you can learn many more beautiful nail arts. You can also share your unique designs with the community.
The following two tabs change content below.