Have you ever come across occasions where you have wanted to try Ashtanga Yoga but backed out due to its extremely intense form? Do you want to try this physically demanding form in a simpler way? Your answer could be Rocket Yoga. The posture of Ashtanga Vinyasa makes the foundation for this yoga type, yet the script is entirely different. Rocket yoga aims to eliminate the rigidity involved in the classical Ashtanga practice. The form offers variations or there are sequences which comes sans of the complicated poses.
It is really intriguing, right? Do you wish to know more about Rocket yoga, its procedures and the benefits? Just delve into the write-up below…
What Exactly Is Rocket Yoga?
The Rocket Yoga is the brainchild of Larry Schultz. Conceived and developed in the 1980s in San Francisco, the yoga has its roots spread deep into the basic concepts of classical Ashtanga Vinyasa. It offers you a simplified blend of the Primary and Intermediate Ashtanga Vinyasa Series. It incorporates only the core asanas from the 3rd and 4th series in its practice.
Rocket Routines, as Schultz christened them, is a perfect blend of the sequence as well as flow of the classical yoga form. The advantage – even a beginner can try the advanced form of Rocket. There are numerous modifications to the classical asanas, without losing out on the benefits of each pose.
The yoga form gets its name from its ability to enable the practitioners to get into a pose in a quicker fashion. This yoga type awakens your nervous system and feeds it with the prana, while ensuring that your spirit is given sufficient space for transformation and freedom.
The Procedures Of Rocket Yoga:
You will be doing the two versions of Surya Namaskar – A and B, followed by various flowing movements that will ensure that your body opens up, strengthens your muscles, and give your balance a boost. Expect yourself to sweat till you reach Savasana. Here is a closer look at what you can expect from this yoga form:
Rocket I: A reordered Ashtanga primary series that retains the ethnicity in a modified way
Rocket II: The modified Second Series of Ashtanga
Rocket III: A 90 minute yoga practice that incorporates Rocket I and Rocket II comprising 90 energizing poses
Rocket Yoga does not follow the linear approach of practice. It actually allows the practitioners to experiment with the advanced Ashtanga poses. The key concept or the fundamental rule of Rocket Yoga is repetition. Only when you keep repeating, you will find success.
When you enter into a committed relationship with Rocket Yoga, you will master it in no time. Regular practice, over a period, will also enable you to guide yourself without depending on a teacher. You will find yourself indulging in a soul seeking journey wherein you do not have to wait for someone else to tell you what comes next.
Rocket I starts with Surya Namaskar A, followed by Surya Namaskar B. You then move into the standing Ashtanga series followed by arm balances. The sequence, quite often, is a modified version of the classical seated Ashtanga primary series. The session comes to an end with the authentic Ashtanga closing poses.
Rocket II also follows a similar pattern until you complete the standing poses. The seated poses comprises the back bending sequence from the intermediate Ashtanga series, followed by complementing forward bends.
Rocket III as mentioned earlier is a blend of Rocket I and II. The folds and twists involved in this series bestows you with better flexibility and strength.
Rocket Yoga Principles You Will Learn:
Here is what you will get to learn when you do a Rocket Routine course:
Breathing the right way
Forward bends and backward bends
Various scripting techniques
The Sutras of Patanjali – chapter 1
How to modify and make adjustments to each asana
140 Ashtanga asanas as practiced under Rocket system sequence
How to control and strengthen your abdomen
How to strengthen your full body
How to stack yourself for inversions
Arm Balancing And Inversions – The Core Of Rocket Yoga:
There are numerous arm balancing techniques as well as other inversions you can learn from Rocket Yoga. And, why not when all these bestow you with some really fabulous benefits, physically, mentally, and emotionally! Here are the various inversions and arm balances you can practice under Rocket Yoga:
Sirshasana – Headstand
Elbow stand
Vrischikasana – Scorpion
Handstands (multiple variations)
Kakasana/Bakasana – Crow Pose
Parsva Bakasana – Side Crow/Crane Pose
Eka Pada Bakasana – One legged crow
Ashtavakrasana – "Crazy eight" posture
Tripod Headstand
Mayurasna – Peacock Pose
Why Should You Do Rocket Yoga?
Here are some of the tempting reasons for doing Rocket Yoga:
A lighter, yet more energized feeling physically and mentally
Better flexibility, improved strength, lower fat levels, and better mobility
Higher metabolism and improved digestive fire
Better nutritional consumption
Higher levels of detoxification
A younger, revitalized you
Calmer mind
Better memory and concentration
Improved breathing
Lower levels of pain
Is Rocket Yoga Easy?
Well, this is definitely one the trickiest questions for which giving an answer is tough. Rocket Yoga, to be true, is an intense yoga practice. As mentioned above, it incorporates the three series of Ashtanga. So, you can expect yourself doing various classic Ashtanga asanas.
A Sample Rocket Yoga Sequence:
Here is a video that would give you an overview of what exactly you can expect from a typical Rocket Yoga series.
Here is an image that gives you a look into what exactly Rocket II yoga series would look like:
http://2.bp.blogspot.com/-T31ufSEa_j0/UbE-BaQ-MOI/AAAAAAAAAGo/A8zvfzlpZsw/s1600/page+1.jpg
As with any yoga practice, Rocket Yoga also emphasizes on listening to the cues your body gives you. Each day is different; the body reacts in a different way too. It is perfectly fine if you are not able to do a pose that you did yesterday. Just do whatever you can, but with complete awareness. According to Larry, "the way you do anything… is the way you do everything"! So, keep practicing and enjoy this modified Ashtanga yoga practice.

The following two tabs change content below.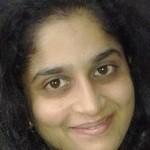 Latest posts by Nithya Shrikant (see all)