A round face is naturally youthful but can end up looking chubby when featured too prominently. The best way to add that much required edge and personality to the otherwise soft and childish features of a round face is to go for a short hairstyles. Short bob hairstyles for round face instantly add spunk and spice to a person's personality!
Short hairstyles for round faces aims to give a modern look that never goes out of style and look good no matter what your age is. At the very same time, short haircut is also easy to manage and style. So read on to check out some great options among the short haircut for round faces.
1. Short Bob Hairstyle for Round Face:
The short bob cut for girls is a classic short hairstyle for round face. The only time that it goes wrong is when people with round face shape try this look. What they don't realize is that there is more than one type of short bob to choose from, especially because this specific classic look is just not for them.
The angled bob is a great option for a round face. In this hairstyle, the front area has dramatic layers that sweep the chin while the back layers are shorter. The whole hairstyle offers a structured look and the hard lines of the bob balances out the soft lines of a rounder face and make it appear slimmer.
2. Short Shag Hairstyle for Round Face:
It is a no fuss modern hairstyle that adds a lot of glamour quotient to a round face. It can be easily styled without too much effort and looks great on both thin and thick hair. It helps in reducing the width of the face if paired with long bangs and lots of texture. This hairstyle looks best if the length is kept between the ear and the chin. To add a little more sharpness to the face, this hairstyle can be sported with flipped out ends.
[Read:Top 10 Red Carpet Hairstyles]
3. Modified Pixie Hairstyle for Round Face:
One of the problems with short haircuts for round faces is that most short hairstyles end at the chin area, emphasizing the roundness of the bottom of your face. A modified pixie with long layers that run across the forehead, with sides cropped and a stacked construction down the back of the head draws all the attention to the top of the forehead, which makes the rest of your face look thinner in comparison. The multiple layers that are an integral part of this hairstyle draw emphasis on the eyes and cheekbones, thus making the face look slimmer.
If you have hair that is not so heavy,keep the very top layers of your hair longer and while the hair are still damp, style the top layer it with a volumizing mousse to give the top layer a liftthat in turn adds height to your hairstyle.
4. Close Cropped Hairstyle for Round Face:
Closed crop hairstyle combines the stylish look of trimmed hair along with the feminine allure. Even though the whole hairstyle looks asymmetrical, this cut still aims to maintain the neat texture of the hair.
This style can be easily sported by women with a round face as the whole hairstyle gives you a lot of scope to play around. The longer bangs are one of the signature elements of this look and they look great on a round face as they help in creating an illusion of length. The longer bang also help in reducing the overall width of the face making it appear slimmer. This cut thus gives a best touch to the round face.
Short hairstyles for round faces take the youthful look of the face and add a certain star quality to it, but if not chosen correctly, it can also leave you looking chubby, thus making the cut look like a disaster. Just keep in mind that for a round face it is essential to avoid adding to much volume near the cheeks and chin area and you are good to go.
Most people believe that a round face looks best with long hair, but this myth has been broken time and again by celebrities like Cameron Diaz,Ginnifer Goodwin, Michelle Williams and Renee Zellweger. So it's time you try on these on you!
Hope this article on short hairtstyles for round faces does justice to your overall look.
Image Source : 1

The following two tabs change content below.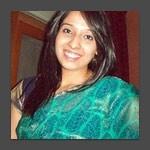 Latest posts by Aparajita Chattopadhyay (see all)