Do you have the habit of licking your lips every time? Then there is a great possibility that you might be suffering from dry and chapped lips. Chalky and dry lips are not just restricted to winters and can happen during any season.
The major factors which lead to chapped lips are-
Excessive licking of lips
Harmful sun rays
Dehydration
Smoking and drinking
Deficiency of certain vitamins and fatty acids
Particular medications
One of the best solutions for curing chapped lips is the use of chapstick or lip balm. This provides instant relief, but in most of the cases does not provide a long term solution.
Here are 10 Home Remedies For Chapped Lips:
1. Honey and Vaseline:
We know that honey has amazing anti-bacterial properties and is one of the nature's best healing agents. Vaseline or petroleum jelly is widely used to soften, nourish and protect skin from drying. By combining these two ingredients, we get a delicious and effective option of all the for chapped lips home remedies.
Apply a generous amount of pure honey all over the lips.
Then coat the lips with Vaseline and leave it for 10-15 minutes. This will let your lips absorb the honey and thus soften it. The Vaseline coating will provide additional hydration and prevent the honey from drying.
Remove the honey and Vaseline using a damp cotton cloth.
Repeat this procedure for a week for visible results.
[ Read: Best Lip balms In India ]
 2. Cucumber:
This cool vegetable becomes your best friend during summers, so utilise it to treat your dry and chapped lips. Cucumber also has skin lightening properties and helps remove tan. So it lightens your lips by reducing the dark patches on them.
Slice a cucumber and rub them gently on the lips.
Keep for 15 minutes and wash off with plain water. This would also make your lips soft and supple.
3. Rose Petals:
Rose petals have skin lightening properties and also make your lips hydrated. It helps to keep them pink and smooth, by retaining the natural colour.
Soak the rose petals in raw milk for a few hours.
Mash them into a smooth paste and apply on the lips.
Keep for 15-20 minutes and wash off with cool water.
[ Read: how to Get Soft Lips]
4. Lip Scrub:
Scrub your lips gently to exfoliate them and to get rid of dead cells. This reveals natural colour of your lips and also makes them soft and supple. The sugar scrub is a natural exfoliater and is suitable for tender lips.
In 2 teaspoons of brown sugar, mix a few drops of olive oil.
Then add ½ teaspoon of honey and mix well. Leave this mixture for 5 minutes, so that the sugar becomes softer and thus making it easier to apply.
Apply all over the lips and scrub gently. Wash off with lukewarm water.
[ Read: Beauty Tips For Lips ]
5.  Lemon Ointment:
Lemon and sugar are effective treatments for dark and chapped lips. Lemon acts as a natural bleach and honey protects the lips form harmful effects of the free radicals.
Mix 1 teaspoon of lemon juice and honey. In it add ½ teaspoon of the castor oil and mix well.
Apply onto the lips before going to bed daily.
Repeat the procedure for 10 days for best results.
6. Aloe Vera:
Aloe contains natural ingredients and amazing healing powers for chapped lips. It strengthens the thin protective oil layer on the lips and heals the dry and chapped lips.
Apply aloe vera gel on the lips before going to bed regularly, for cooling and soothing effect.
7. Olive oil:
Olive oil is the best natural moisturiser and lubricant. The fatty acids in olive oil help cure dry and chapped lips, making them soft and supple. Apply olive twice a day for best results.
8. Flax Seed Oil:
The fatty acids in flax seed oil have nourishing properties. They penetrate into the lip tissues, making then soft and smooth. For instant smoothening, apply flax seed oil directly onto the chapped lips.
9. Oils:
Both castor oil and coconut are high in essential fatty acids, which help in curing chapped lips. Apply twice a day for immediate effect.
10. Water:
Water is the most essential part of our beauty regime. It helps to keep our body well hydrated. And lack of water results in dry and chapped lips. Therefore one should drink at least 10-12 glasses of water daily, for healthy body and smooth lips.
Follow these simple steps for soft and supple lips.
Till then take care and keep it stylish!!!
The following two tabs change content below.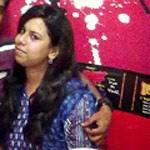 Latest posts by Ankita Biswas (see all)