Simple Nail Art Design – Step by Step Process for Creating Comic Pop Art
Girls love nail art, it gives a stylish yet different look and suits all kinds of nails. Here is a simple nail art step by step tutorial to create nail art designs for short nails.
For Today, we have chosen Comic-Pop-Art tutorial, which is very colorful, easy to do nail art.
Simple Nail Art Designs – Step by Step Process for Creating Comic Pop Art
What you will need to create this:
A base, a top coat, different bright color nail polishes, black and white acrylic paints, nail art brushes or a thin brush.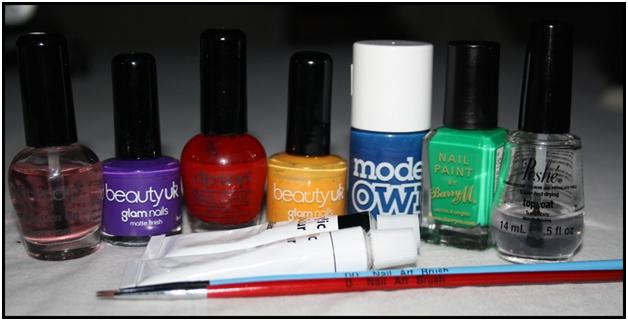 Acrylic paints with a top coat become long lasting and water proof.
So, let's start:
1. Apply a base coat followed by 2 coats of each polish on your nails, leave it to dry completely.
2. Apply a layer of quick dry topcoat that helps in removing acrylic paint without disturbing the nail color.
3. Take white acrylic color and mix some water in it, and draw spikes (marked as step 2 in below picture. Fill the spikes as shown in step 3.
4. Finally use a thin brush to outline with a black color (marked as step 4).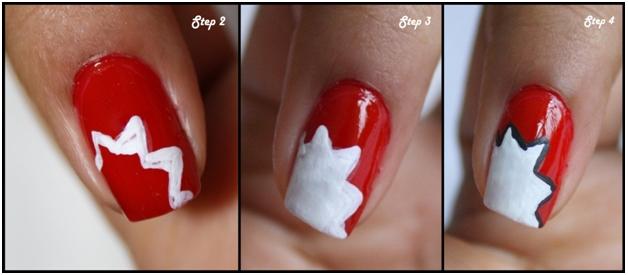 5. Do this on all your nails; be as creative as you can. Here's how it will look like: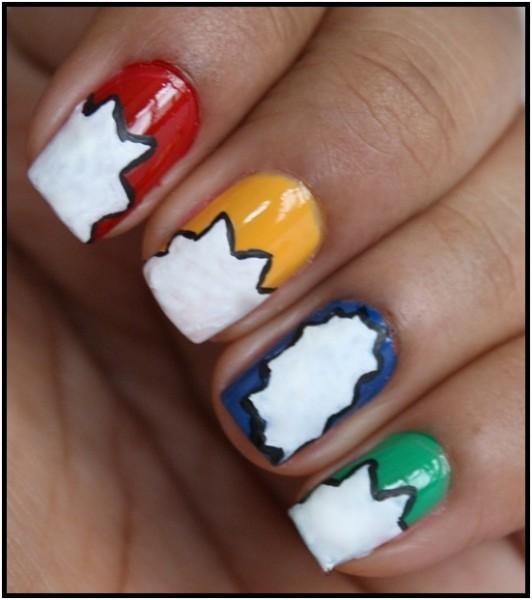 6. Write some words inside the explosions like BOOM!, WAH, BANG, Ka-Pow, CRASH!
7. Randomly place small white acrylic dots in the remaining area.
Do the clean up using water or nail polish remover and apply a layer of top coat. And Voila you have a funky and attractive nail art for your short nails!
Here is how it looks! Hope you will surely try this nail art designs easy.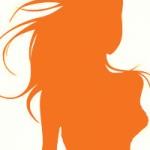 Hello, i am dimpal.. my blog is Crazy Polishes.. I am a software engineer cum house wife.. I am fun loving, easy going person who love exploring new places... Nail art actually started with simple rainbow polishing ... and now creating different nail looks is my passion.. i will try to show you most of my work here.. Feel free to buzz me anytime :)