We love Rangolis on any occasion. From the time we can remember, it has been a constant part of our tradition. Today Rangoli is done not only as a part of the tradition, but also as a form of art. There are many variations of Rangoli and it is done using various ingredients and objects, the most common being colors and flower petals.
Doing a Rangoli desogn right takes a bit of practice, but with a steady hand and a bit of patience it can be done by anyone. We love the fact that these Rangolis can make any boring place vibrant and there are a zillion designs from which you can choose a perfect one. But we also know many are not a pro at doing difficult designs of Rangoli. So we have assembled some simple yet attractive designs for all of you to try. We know some may look a bit difficult, but they can be manipulated into what you feel are comfortable enough to be done. Use any if these designs or just use these as your inspiration and create a new design to decorate your home.
Simple Rangoli Designs
So next time when there's a special occasion at home, you will know how to add that dash of colour to your house. Do share with us what you think of these easy rangoli designs.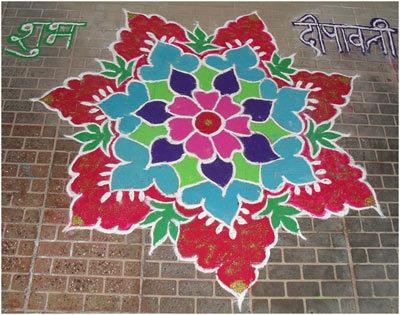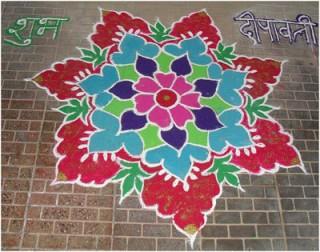 1. This simple rangoli design looks very vibrant with its beautiful colours. The red and the contrasting blue make it a colourful rangoli. The design too is quite simple. The contrasting colours of blue and red make this one a great choice for anyone. This one is apt for Diwali and will suit most occasions, for it is mostly flower patterned.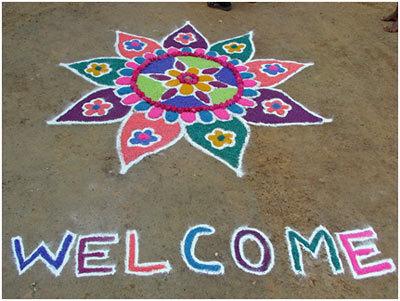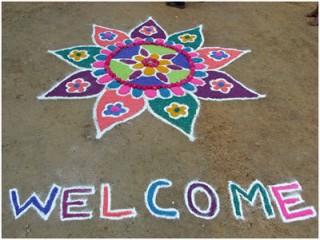 2. A multi-colored design in the 'Star' shape. This one of the simple rangoli designs for beginners can be done anywhere, like at the front gate, in the entrance to a room or any place. The words 'Welcome' done in different colors warmly greet the guests to your home.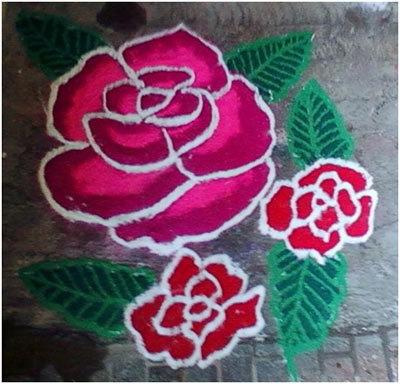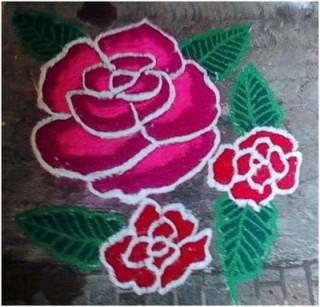 3. A beautiful rose design for you to do. The basic colors used are dark and light pink variations and the green in two different variations for the petals. The color red is used to do the small rose patterns and the border is done with white. This is a perfect way to give your house a beautiful makeover for Valentine's Day or anniversary.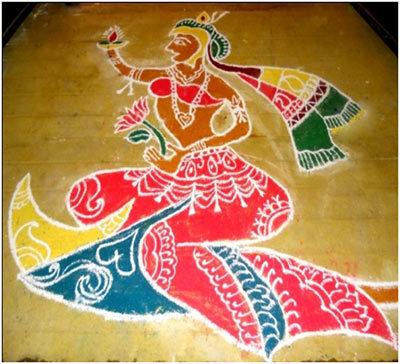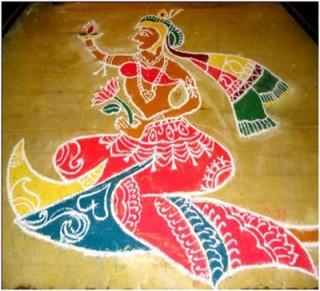 4. This one is a beautiful multicolored flower rangoli. We love how there are a lot of different colors used in this design. We also love how minute details are done with expertise. The contrasting colors like purple and pale yellow make the design more attractive.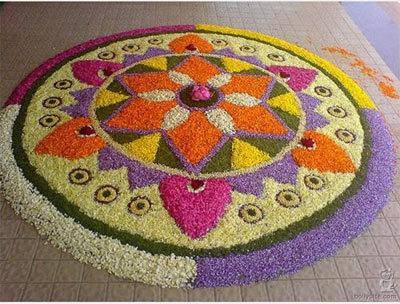 5. This design is very apt for any religious function or to do at the time of festive occasions. We love the unique pattern used and also the simple flowers used for making this rangoli. The petals of marigold are used in this design with the lotus bud in the middle being the center of attraction.
[ Read: Onam Pookalam Design ]
The following two tabs change content below.