Are you suffering from acne or other facial skin problems? Have you been wondering what you can do to get rid of those issues? Then you have come to the right place! This post talks about a wonder treatment – hydrogen peroxide – that can help treat your facial skin and bring back the glow it always had!
Would you like to know more? Keep reading!
How To Use Hydrogen Peroxide For Acne

Make hydrogen peroxide a part of your daily cleansing routine and it could clear up acne and the scars that come with it. Follow these simple steps to use this treatment:
Step 1
Make sure your face is clean. Gently wash your face with a mild, all-natural facial cleanser to remove makeup, dirt and oil from your skin.
Step 2
Gently pat your face dry with a soft towel. Wait for 5 minutes or so to make sure that your face is completely dry. Applying any product on damp skin that has acne will cause it to sting. Dry skin will also be able to absorb the hydrogen peroxide better.
[ Read: Ways To Use Baking Soda For Treating Acne ]
Step 3
Take a sterilized cotton ball and soak it with the peroxide. Gently rub it on your skin, concentrating on areas that are affected by acne. Applying it all over your face can ensure that future breakouts do not occur.
Step 4
Wait for about 5 minutes to allow the peroxide to do its job. You will know that it is time for the next step when the bubbling stops.
Step 5
Wash your face again with water. You do not need to use a cleanser this time. Leaving the peroxide on your skin will do more damage than good, so make sure that you always wash it off.
Step 6
Pat your skin dry and apply an oil-free moisturizer. Hydrogen peroxide has a drying effect on the skin, so always make sure that you use a moisturizer to prevent your skin from drying.
By using hydrogen peroxide every day, you can effectively treat acne and clear scars and other blemishes on your skin.
[ Read: Steps To Use Banana Peel To Treat Acne ]
Tips To Remember

For severe acne, use 3% hydrogen peroxide and if it is more on the milder side, use 1%. Like other antiseptics out there, hydrogen peroxide is cytotoxic. This is why it is important to avoid using large concentrations. When this antiseptic is used in small quantities, it accelerates the wound-healing process.
Needless to say, it is important to make sure that this antiseptic is kept away from your eyes. It could cause burning, and even extreme burning in some cases. You should also keep it away from your eyebrows and hair as it can bleach hair.
If you experience pain, irritation or very dry skin, it is best to stop using hydrogen peroxide at once. It could cause serious damage that can be irreparable to your skin.
When you clean your face before applying hydrogen peroxide, always use a mild cleanser or soap. Since it can cause skin dryness and irritation, it may be compounded with cleansers that are harsh on the skin.
Always use a moisturizer that has sunscreen in it. This way, you do not have to use an extra product that may make your skin oily. As you know, oily skin is more prone to acne.
[ Read: How To Use Multani Mitti To Cure Acne? ]
Hydrogen peroxide is a great option if you have tried other treatments unsuccessfully. It can give you skin that is clear and free of irritation, redness, scars and other blemishes. When you use it carefully, it can work wonders, giving you the skin that you have always wished for.
Have you ever used hydrogen peroxide for acne scars? How has it helped you? Do tell us by commenting in the space below.
Recommended Articles

The following two tabs change content below.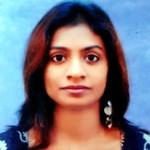 Latest posts by Maanasi Radhakrishnan (see all)