Appearance of red spots on skin is invariably the most common skin problem faced by people from all walks of life. These red spots can appear due to various reasons like bacterial, fungal and viral infections, wounds and cuts, symptoms, results and after effects of various diseases, etc. which are difficult to identify. The identification of the reason behind the appearance of red spots can be done by studying the location, colour and structure of these spots on the body. Red spots are sometimes characterized as being itchy, painful, swollen, fluid filled or just simply as spots and scars which do not hurt, neither change form nor have any other accompanying trait. One should always consult a doctor in situations of prolonged and worsened red spot issue. These small red spots on skin can commonly occur due to:
Acne and Pimples
Birthmark
Rosacea
Blood Spots/Petechiae
Hives
Cherry Anima
Rashes
Insect Bites
Measles
Allergy and chemical reaction
Since these red spots can be the result of any of the mentioned health conditions, proper identification of the exact cause is a vital key in determining the right course of treatment for curing this problem. Certain general ways to tackle the issue of red spots are:
Ways to Treat Red Spots on Skin
1. Using Good Cosmetics and Personal Hygiene Products:
Excessive and prolonged use of artificial cosmetics and highly chemical based personal hygiene products like lipsticks, powder, soap, lotion etc, especially the ones which are of an inferior quality, can be harmful for the skin due to the presence of corrosive and unhealthy ingredients. It is advisable to instead use nutrient and natural extract rich cosmetics as compared to their chemical packed counterparts in order to avoid the ill effects like rashes, allergies, acne, red spots etc. The expiry date of these products should definitely be checked before application to ensure avoiding harmful chemical reactions on the skin.
[ Read: Calamine Lotion for Skin ]
2. Exfoliation:
Discoloration and fading of red spots can be prompted by regular and proper exfoliation of the affected area. This helps to get rid of dirt, unwanted oil, dead and dry skin build up on the epidermis which act as a hindrance in the lightening process of these red spots, while also aiding in bringing the new and healthy skin surface and thereby creating spotless, flawless skin. Exfoliating and scrubbing can be done with natural and organic products, pumice stone, wash clothes, scrubs and also through chemical processes which remove these unwanted cells from the surface of the skin and make it look fresh and revitalized.
3. Medical and Clinical Alternatives:
Use of medicines, ointments, skin creams like calamines, laser treatments, surgical options and other medical and clinical alternatives are helpful in treating, lightening and removing these unwanted red spots from the body.
4. Avoiding Sun Exposure:
Red Spot on skin can deepen and aggravate due to harmful sun exposure as these rays can damage skin cells, promote excess melanin synthesis in the affected region, cause skin burns etc and thereby damage the skin and decelerate the process of fading and lightening of these spots. Hence, it is ideal to protect oneself from these harmful UV rays from the sun and use cosmetics containing SPF or other sunscreens.
[ Read: Home Remedies For Dark Spots on Face ]
5. Proper and Healthy Diet:
Maintaining a healthy and a balanced diet is a prerequisite for having a clear, red spot less and healthy skin. Having an unhealthy diet can cause allergies, digestive problems, acne, pimples, dryness of skin etc which can further initiate the appearance of undesirable red spots on the face and body. To avoid this, one should follow a protein, vitamin, mineral, essential oil and other nutrient rich diet that can help the body combat these diseases and boost the immunity.
Genetic Attributes
Some people by birth have red marks on skin like birthmarks etc which are a result of genetic factors. It is very difficult in such cases to fade or lighten these red spots naturally and surgery is the only way to remove these spots.
Natural Remedies
Use of certain natural products like liquorice extracts, kojic acid, Mulberry extracts, witch hazel, lavender oil, oatmeal, potatoes, tomatoes etc and Vitamin C and E enriched  products, that are excellent toners and astringents, are believed to be helpful in lightening and fading the red spots and soothing the skin to make it healthy and imperfection free.
[ Read: Skin Spots Treatment ]
Hope the article was informative. Please leave us a comment.
The following two tabs change content below.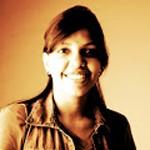 Latest posts by Shruti Goenka (see all)