Snow Leopard Nail Art Tutorial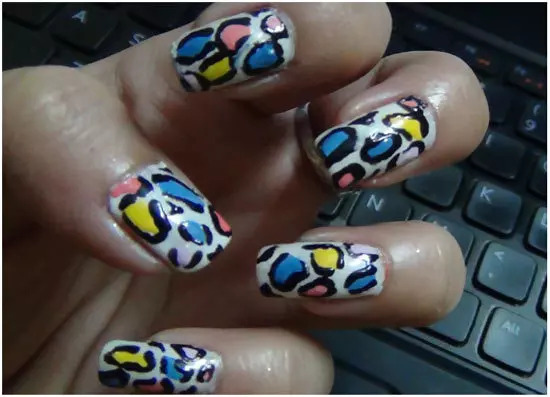 Do animal prints excite you? Do you like buying clothes in leopard prints or like seeing them on your nails? If yes then this exotic free hand nail art is definitely going to lighten up your day.
Today I present to you a beautiful and very easy snow leopard nail art. You don't even need a nail art designs brush for this.
So let's get started with the Snow Leopard Nail Art.
Things you will need are as follows:
2 or 4 tooth picks
A sky blue colour (I mixed two colours in a palette Hawaii From Tips and Toes and Blue Bell from Revlon Street Wear )
A light rose pink colour (I used Revlon Street Wear Rose Pink )
A very light pink colour (I Used Hong Kong from tips and Toes )
A bright yellow (I used Amarelo Sol From Colorama , you can also use Moscow From Tips and Toes )
A black polish (I am using black from Gaits )
A matte white polish (I am using Matte White from Gaits )
A top coat (I am using Transparent From Lotus )
A base coat of your choice (Optional)
Step 1:  
Apply a base coat of your choice if you have a base coat. Next follow up with 2 coats of matte white polish.
Step 2:
Now if you have the perfect blue, then you don't have to do any mixing, else mix Hawaii and Blue bell to get a light blue. Use the blunt end of the tooth pick to make random shapes which are a little oval to a bit curved like a crescent.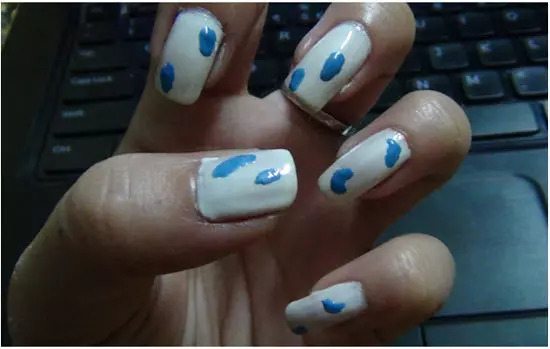 Step 3:
Now make similar shapes with the yellow and blunt end of the tooth pick. Don't make them too big or too crowded.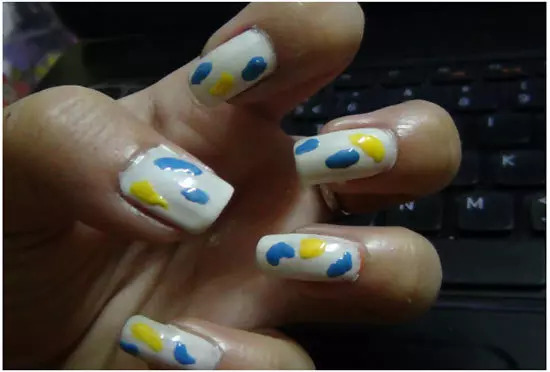 Step 4:
Do similar shape painting with the Rose pink and some light pink with Hong Kong.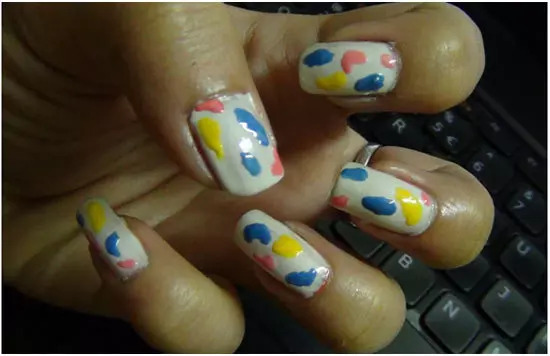 Step 5:
Now take black polish in a palette and pour out a little amount. Remember to keep the ceiling fan off during this time as it will dry out fast and not give you enough time for completion of the design. Now take the pointed end of tooth pick and apply black colour bordering the shapes in a haphazard manner. Cover from sides in uneven bordering and leave some shapes to be covered fully. Use some crescent dots of black at sides and also in places left out.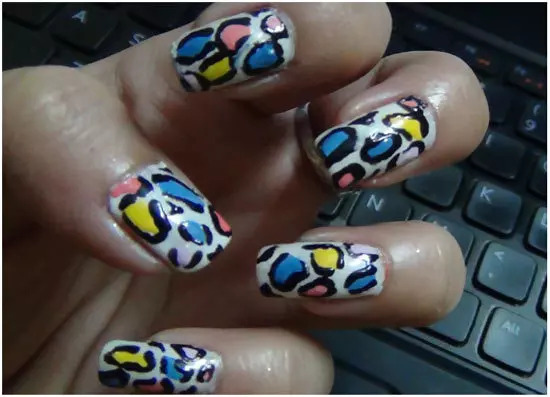 Step 6:
Use 2 coats of transparent top coat and seal in your Snow Leopard Design.
Here is the finished look. Hope you liked it. Leave your comments below.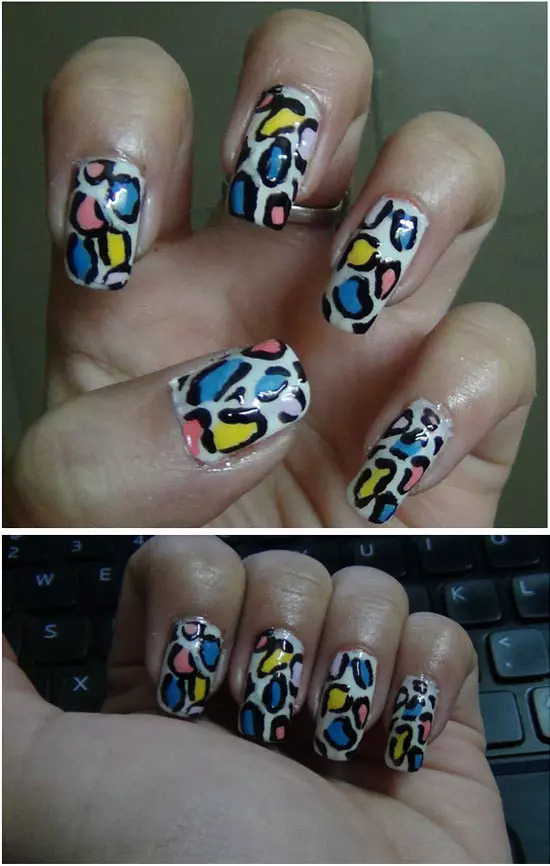 Like this post, then :
I love makeup,dance,dressing up,singing,writing ,acting (stage drama),eating and nail arts. I live life to the fullest and enjoy every moment as it comes.