Stained Glass Nail Art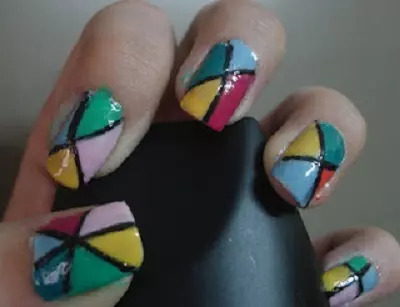 This is a very simple nail art that I made with my Base paint white, or shimmer white, Pastel Nail polishes, black polish, transparent polish, a tooth pick and my home made nail art brush made with an old nail polish brush by cutting it down to 2-3 bristles.
Step 1:
Put a white or shimmer white base coat.Then with black polish draw the lines and spaces that you wanna color later on with the nail art brush.(my lines are a bit uneven cuz my black polish is almost dry, gotta buy another one.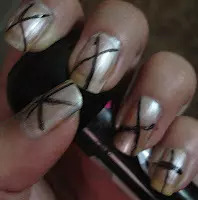 Step 2:
Now on a palette put one -2 drops of nail polish and with the blunt end of the tooth pick fill in the spaces , some will get mixed at the sides , don't worry.
Step 3:
Now redraw the lines that you drew previously to make the designs distinct and perfect. Seal off with a transparent top coat and you're done.
You can keep it simple with big coloring spaces like above or make more demarcations like below; I've added 1 extra demarcation on the 4 fingers not the thumb though.
Like this post, then :
I love makeup,dance,dressing up,singing,writing ,acting (stage drama),eating and nail arts. I live life to the fullest and enjoy every moment as it comes.
Featured Products