10 Stunning Braided Updo Hairstyles For Black Women
No matter what, the braided updo will always be our favourite. Why? Because regardless of what, a romantic or an edgy braided updo adds certain playfulness to anyone's look. Whether you prefer box braids, cornrows, topknot, or Heidi braids, there are loads of perfect hairstyles here just for you. We've chosen ten gorgeous looks worn by the hottest black female celebrities to inspire you.
Braided Updo Hairstyles For Black Women
1. Box Braids Half Updo
One of our favourite celebrities with box braids, actress and singer Keri Hilson looks strikingly beautiful with her glamorous half-up half-down hairstyle. The classic box braids are incredibly versatile, and you can experiment and find new ways to wear them – in a bun, in a ponytail, or in any other way you can think of.
Copy the style by getting a big box braid extension for a modern look and start weaving into a braid. Take the top braided portion of your hair back into an elastic. Easy! And with the hair out of our face while looking fabulous, we can totally imagine wearing this braided half up style to all sorts of casual summer events, from picnics to concerts in the park.
2. Box Braids Topknot
We were smitten when we first saw Eva Marcille sporting this voluminous box braids topknot at the pre-Grammy brunch. One of the hottest box braid hairstyles worn by Marcille, the gorgeous 'do is easy-to-do and maintain.
To recreate the look, brush the hair well to the top of the crown and secure it with a ribbon or elastic. Next, pick out a section of hair and divide it into two. Then pick a small portion of synthetic hair, apply little oil and begin with your braiding. Repeat the process until all the hair has been braided. Now grab the remaining ponytail, roll it round over the elastic to form a bun and secure it with a discreet hair pin. The end result? A highly stylish and edgy hairstyle that can be worn anywhere!
3. Halo Braid
Plain but powerful, Zoe Saldana's braided halo, which she wore with winged eyeliner and a burgundy lipstick, is perfect for a romantic summer wedding. Sporting this chic braided updo, the Star Trek actress shows us that medium-length natural hair can be both amazingly versatile and trendy too.
To score the angelic look, begin by parting your hair on the side, then braid a wide section across your hairline. Now, drape the braided hair toward each other at the crown, secure with crisscrossed pins low on the back of the head, and gather the rest of your hair into a messy knot. Heat styling can dry out your hair, so let hair air-dry for a natural finish and Voila, you're done!
[ Read: Easy To Do Braided Hairstyles ]
4. Braided High Bun
If you weren't team Queen B (which is unlikely) to begin with, braid-fanatic Beyonce Knowles's high bun, on display at the premiere of The News, is sure to act as your tipping point. A new twist on a high bun, the starlet's braided 'do is easy to recreate.
To copy Beyonce's glamorous braided high bun at home, start by securing your hair in a high ponytail. Take a small section from the pony, and braid it all the way to the bottom; next secure the braids with elastic. Now, twist the remaining larger section of hair until the entire ponytail is in a tight twist and wrap the twisted hair around the base of the ponytail to create a bun. Secure it in place with a hair tie. Next, take the small braid and wrap it around the bun and secure tightly with some discreet hairpins. Finish off the look by applying a mist of hairspray, and you'll be ready to head out of the door!
5. Braided Updo With Side Bangs
No stranger to beauty, actress Kerry Washington accentuated her J. Mendel's chiffon floral-printed gown with a deep hot-pink pout and tousled braided updo, showing that those with growing out bangs can still wear the trend.
The key to this look is the heavy, side-swept bangs that bring length to the front, while the braided half-updo with a bun brings height to the back. To copy the look, section out the bangs and gather the top section of your hair and start braiding. Make sure you adjust the bangs on your weave according to the width of your forehead – the narrower your forehead, the smaller your bangs. Secure the upper-section with a bobby pin and let the rest fall free. Use a light hairspray to keep your locks in place, and you're good to go.
A new take on a classic mix of half-updo and high bun style, this look works for days when you need to make a style statement or, you know, you just want your hair out of your way.
6. Heidi Braid
We love a classic Heidi braid and this gorgeous wraparound detailed one on actress Rosario Dawson is a red carpet hairdo to copy any weekend, anytime.
We love the versatility and effortless chic of Dawson's style — as cute at a fancy dinner as it is at the beach. Perfect for thin, medium-to-long hair, copy this look by creating an inch side part and smooth down to the ears with a mousse and pin it behind the ear. Create a French braid behind the parted section from one side of the head going across the crown to the other side. To hide the end of the braid, continue to braid until it reaches the nape and finally, secure it with a discreet pin. French braid updo hairstyles for black women can never go wrong.
Tip: Create that high shine finish by brushing the hair delicately all the way through the plaiting process.
[ Read: Braid Buns to Try This Wedding Season ]
7. Braids And Cornrows
We are constantly looking to jack the rad edgy and feminine appeal of Lupita Nyongo. Like at the SAG Awards when The 12 Years a Slave actress mixed things up with a braided bun updo and cornrows, she just gets that much more sensational.
To copy this hairstyle, start braiding your tresses into tiny sections moving upward from the front of the face and stopping at the crown of the head. Blow dry and comb out the remaining unbraided hair for extra volume, length and texture. Finish the 'do with gorgeous thick braids and wrap them around the centre of your hair. Secure the bun with bobby pins. Liberally mist strong hairspray for added shine and smooth out any flyaways and frizzes.
8. High Braided Ponytail
A ponytail can be simple and fuss-free—but it can also get a tad bit boring. So the best way to pump up a pony? Add some high braids to the mix a la actress Gabrielle Union. The perfect day to night hairstyle, the high braided ponytail will give your look the missing wow factor.
Do it yourself by brushing hair into a sleek high ponytail, smoothing as you go. Next, separate the ponytail into two sections, one twice as thick as the other. Follow this by braiding each section and securing with small clear elastics. Wrap the thinner braid around the base of thicker braid and tuck under; secure with discreet pins. Finish the look with shine-enhancing hairspray. The outcome? A gorgeous hairdo that is easy-to-do and loved by everyone.
9. Cornrows Pompadour
If there were an award for the most creative braid updo, we'd be tempted to give it to Jada Pinkett Smith, no debates. Pulling off different mixture of styles flawlessly, the actress shows us the cool girl way to do a cornrow – with a statement faux hawk pompadour down the centre of the crown.
To recreate this braid updo for black women, start by spritzing water on your hair and part the hair into three sections. Next, tightly braid thin cornrows and secure them with elastics. Take the top braided section and pin them at the centre of the crown for a pompadour effect. Thanks to the fauxhawk-inspired look, this is one ponytail that's both playful and punk, all at the same time.
[ Read: Braided Hairstyles That Are Perfect For Prom ]
10. Side Plait Ponytail
Here comes a simple braided updo for black women. If you're looking for a little hair-spiration for your next holiday hairstyle, look no further than singer Rihanna. The red-head beauty showed off a unique take on a braided ponytail. With super-long three-strand braid topping her tresses, this mound of braids was just as eye-catching as the star's red locks.
The intricate French plait acted like a headband and created a face-framing that is high on the trend list. There's so much versatility with this look, too. Try adding more or less braids to your style and switch it up whenever you feel like it!
So, the next time you're thinking of the perfect hairstyle for any cocktail soirée, and if you have long, thick, and straight hair, definitely turn to this great braided hairstyle as it's striking and very easy to style at home.
Hope you liked these natural braided updo hairstyles for black women! Take a look above for some braided updo inspiration and share your favourite one with us in the comments section below!
Recommended Articles

The following two tabs change content below.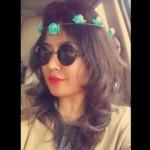 Latest posts by Anisha Pradhan (see all)