Styling your long hair was never so easy. Finding it hard to believe? Well, let us be a bit detailed. If you have beautiful hair with enviable length, you can style it in a number of ways. Straighten it, curl it, twist it, tease it, fold it, braid it, color it, and do whatever else you want to do. All you need is some fresh ideas to look exceptional.
Wondering how to style long hair? Here are some out of the box concepts to style your long locks and get a perfect celebrity-like makeover with your long hairstyle:
1. Waves with Curls and Bangs:
Waves look amazing on long hair. So, take a short break from your straight tresses and wave it up. For it, consider these golden blonde waves with dark brown lowlights, delicate bangs and spiral ends.
2. Fringed Side Fishtail Braid:
Fishtail braid is loved by every single woman and having long hair can be a good reason to try it. But go for a side and messy one with razored side sweeps in order to express your maximum styling sense.
3. Sexy-n-Shiny Beachy Waves:
Amp up your glam quotient hundred times by wearing these beachy waves on your super shiny locks! A smooth curve hiding one eye partially and a little puff at the crown will make the look super sexy.
4. Bridal Curls with Side Sweep:
Even though it is a bridal hairstyle, you can try it for any event. These intense curls with volume at the crown, twists on both sides and simple side sweep give a subtly mysterious look.
5. Simple Four Strand Braid:
Let us stick to something simple yet unique. Yes, it is a four strand braid with excellent thickness and subtle highlights. A few loose strands swinging over the face and a twisted end will be perfect add-ons.
6. Red Hot Waves with Random Curls:
This smoking hot hairstyle is not at all easy to sport. But if you have guts, give this fiery red hair a try. Undefined part and random curls are the specialties of these wavy tresses.
[ Read: Stylish Hairstyles For Long Thin Hair ]
7. Layered Straight Hair:
Long straight locks are always preferred by chic and trendy women. In this particular hairstyle, the off-center part has accentuated the highlighted layers even more.
8. Hair-Wrapped High Braid:
Give your hair a sleek look by using mousse generously. Now, make a high braid and wrap its base with a thin section of hair. Also, leave the end of the braid long enough to add an edgy flair.
9. Braid with Braided High Bun:
Make braid your ultimate choice for styling by sporting this exclusive hairdo. Create a tight high braid and fold it around its base a few times to get a braided bun. Now, keep the rest of the braid loose.
10. Cool and Funky Waves:
Braid up a thin section of hair by creating two parts on the top. Add volume to the larger section and give the rest of the loose hair a wavy finish. Also, choose a metal head chain to jazz up the look.
11. Sweet Girly Side Braid:
Get a layered haircut with rounded front fringes to master this flattering hairstyle. Keep the first wavy layer free and make a loose side plait with curly ends. You are all set to look dazzling.
12. Rough Voluminous Curls:
Give your natural curls a sensational look just by undergoing a thorough heat treatment. This center-parted layered hairstyle is quite interesting and mostly suitable for dry, rough curls.
13. Waves with Twin Braids:
Let your natural waves cuddle your smooth shoulders and toned back in a loving manner. For an added glam, create a middle part and come up with a couple of cute braids just like the ones shown above.
The following two tabs change content below.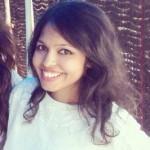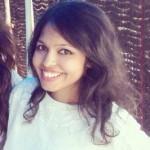 Latest posts by Karishma Sehgal (see all)