Textured nails look awesome and trendy. This year, many types of textured nails have been spotted on the runways. You can use different techniques to get the textured look on your nails and one such technique is sugar spun nail art. And you don't have to be a nail art lover to know that cool sugar spun designs were all the rage this season.
Creating these amazing sugar spun string is not only fun, but incredibly easy with a few simple steps. It really requires zero experience and you can get so much creative satisfaction. Also, you can save a few bucks which you will otherwise be spending on nail spas and salons.
We love how the designs are part glam and part trendy. With solid navy blue overcoat and a splash of turquoise green colours, the bespoke nails are just the thing our beauty game has been missing. So if you are one of those nail art junkie waiting to merge nail colours and sugar spun strings, read ahead and glam up your tips.
Sugar Spun Nail Art Tutorial
Tutorial Difficulty: Moderate
Things You Will Need:
I am using the following material to create this design:
Any two nail polishes of your choice
Toothpick or needle head dotting tool
A transparent top coat. We recommend, Umbrella Oxygen Raincoat Top Coat (it has a UV filter too – perfect for your nails while you are hitting a beach.)
Base coat.  Try: Essie Ridge Filling Base Coat
Old plate or your polish palete
Stepwise Tutorial:
Step 1:
Begin your nail art by applying a good layer of base coat on your nails to prevent dark colors from staining your nail beds and harmful effects of nail polishes. Once done, apply a solid colour of your choice, I have applied the blue colour.
Step 2:
Wait for them all to dry and then take a little nail paint (your other shade) on your plate, palette or a shit of plastic and let it air dry for a few minutes. Keep the consistency regular, which means let it become thick and gooey.
Step 3:
When the nail paint become thick, dip your toothpick or needle head dotting tool into it and pull it up, you will get a string like an effect, take a clue from the picture below:
Step 4:
Messy and a little tricky, slowly take this nail paint string on your nails as shown in the picture. You need to quickly move your toothpick over to the other side to create this string.
Step 5:
Continue doing same until your full nail is covered with such strings. You can also use two different colours to create this art.
Step 6:
Once donewith your sugar strings, use a cotton swab dipped in acetone to clean the mess a little easier from your fingers. And remember not to apply your top coat as it will help you nails get that smoother effect and not the textured effect. And voila, you are ready to go.
Bonus: Nail Art for Free Download with over 5,000+ Nail art designs and Nail art tutorials to choose from.
With a trendy nail art that easy, we'll be donning this stunning sugar spun nail art for days to come. And if you wish to see more prints or any other designs on your nails, leave us your comments below and we will cater to your requests. Also, if you are planning to try this nail designs do share your pictures with us. Hope you like this spun sugar nail art look. Do share your comments below.
The following two tabs change content below.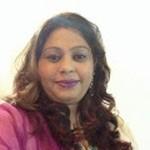 Latest posts by puja malhotra (see all)