"It's a smile, it's a kiss, it's a sip of wine… its summertime…" Kenny Chesney.
Summer represents fun, frolic and happiness! We women are happy as its time again to wear our summery, floral dresses. After the long, cold winter, we love summer for the warmth and joy it brings!
Every season brings in good news for some and bad for others. Summer is good news, rather great news for people with dry skin.
The high moisture and humidity levels help lessen drying out so no more peeling or cracking of dry skin. The dirt, grim, UV rays and pollution are however causes of worry as they make our skin dull and lacklustre. All the unprotected minutes in sun lead to more skin ageing – wrinkles, age spots and fine lines
Homemade face packs for dry skin in summers:
The mantra to keep you fresh and glowing is to diligently apply sunscreen and take the help of some homemade packs. Here are few face packs for you to try out this summer.
1. Papaya Face Pack
Papaya is a natural exfoliator which removes dead skin cells and has anti-aging properties too. It is known for balancing moisture content in dry skin. The best part is that it is a single ingredient mask which is very effective. So no more excuses
Method:
Mash a few pieces of papaya to form a smooth paste
Apply the paste on your face evenly. Take big pieces of cotton and place over the pack to prevent the paste from dripping
Relax for 15 minutes. Wash off with plain water
Alternatives:
Mix mashed 1/4 cup freshly mashed raw papaya and 1 teaspoon fresh, raw pineapple juice for a mask that reduces pore size
For an exfoliating mask – Blend papaya with warmed honey and oatmeal, leave on 10 -15 mins.
To lighten skin – Mash papaya and mix with honey , yoghurt and lemon juice
2. Yogurt Face Pack
Yogurt retains the moisture in the skin and revives dull skin. It also acts as natural bleach. Honey moisturizes and softens skin naturally.
Things needed:
Method:
Mix 2 teaspoons of yogurt with 1 teaspoon of honey
Apply it to your face and allow to dry completely
Wash off with normal water
Alternatives:
Mix 2 very ripe strawberries, 1 tsp raw honey and 1 rsp yogurt for a skin brightening mask
Mix 1 tsp yogurt, 1 tsp olive oil and ¼ avocado for a moisturising and hydrating mask
3. Sandalwood Face Pack
Sandalwood cools the skin while rose water tones it. This is an age old Indian face pack and both the items are easily available. This is the best face pack for dry skin in summer.
Things needed:
Sandalwood powder
Rose water
Method:
Mix 3 teaspoons of sandalwood powder with some rose water
Apply the paste evenly on your face
Wash off after 15 minutes
Alternatives:
Reducing Acne/Blackheads – Mix 2 tsps each of turmeric powder and sandalwood powder with warm water .Make a paste and apply on the blackhead prone areas and let it dry. Rinse off.
4. Oats And Cucumber Face Mask
Oats soothe and heal dry skin. Cucumber is a natural toner with cooling properties.
[ Read: Beauty Tips For Dry Lips ]
Things needed:
Method:
Mix 3 teaspoons of oats, 1 teaspoon of cucumber juice and 1 teaspoon of yogurt together
Apply the paste to your face and allow to dry completely
Wash off with normal water
Alternatives:
Blend yogurt and cucumber. Add honey and oats to make a thick paste. Apply and rinse off with warm water in 20 minutes. This is good for black spots and puffiness.
5. Almonds And Rose Water Face Mask
This royal face pack works wonders for dry skin. Almonds have natural vitamin E oil that prevents dryness.
Things needed:
Method:
Soak 10 almonds overnight and grind them into a smooth paste.
Add some rose water to this.
Apply it on your face.
Wash off with normal water.
Alternatives:
For a fresh and glowing complexion use this mask. Mix together 2 teaspoons of rose water, 2 tablespoons of honey, 2 tablespoon of almond oil and 3 drops of Vitamin E oil. Apply and leave it on for 20 minutes. Rinse off with warm water and pat dry
Hope you liked our article highlighting the best homemade face packs for dry skin in summer. Let us know which one worked the best for you. Go ahead and pamper your skin. Till then, keep it stylish!
Recommended Articles:
The following two tabs change content below.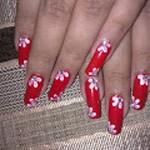 Latest posts by Neha Mane (see all)