Well, summer is here at its all time punishing peak, what with the sweltering day time temperatures and that sweaty feeling the minute you step out of the house, or even when you're in the house. This season is the prime time for all kinds of skin problems, especially for oily and acne prone skin.
Summers aggravate oil secretion for people with oily skin types. Coupled with sweat and dirt, its a sure shot invitation for breakouts and other skin problems to happen. And skin solutions and treatments can be so very expensive! How about a homemade Face Packs for Oily Skin in summer instead?
So here are some simple face pack recipes I've put together with easily available ingredients. These packs are great for controlling the oil secretion of the skin.
Summer Face Packs for Oily Skin
1. Neem, Rose Water And Orange Face Mask:
Ingredients:
Neem
Orange
Sandalwood
Multani Mitti (Fuller's Earth)
Honey
Lemon juice
Rose water
Method:
Mix equal quantities of neem, orange, sandalwood and multani mitti (fullers' earth) powder together. You can find them easily in any Ayurvedic store. I recommend blitzing them together in a mixer grinder to get an even mix. Store this in a jar for later use.
Take a tsp or two of this and add a quarter tsp of honey and half a tsp of lemon juice.
Lastly, add rose water to make a smooth paste.
Apply this on your face and neck for 15-20 minutes and wash off with plain water even if it isn't dry.
This pack is my personal favorite face pack for oily skin in summer as I have oily and sensitive skin myself.
2. Orange And Oats Face Pack:
Ingredients:
Fresh Orange
Oats
Honey
Egg White or curds
Method:
If you can find some fresh oranges, put them to use. Mix 3 teaspoons of oats, 1 teaspoon of honey, 2 teaspoons of fresh orange juice and 1 teaspoon of egg white or curd.
Use light, circular motions while washing off to get a mild scrub.
3. Rice Flour And Turmeric Face Pack:
Ingredients:
Rice flour
Turmeric
Honey
Cucumber juice
Method:
Mix 3 teaspoons of rice flour, pinch tumeric, 1 teaspoon of honey and cucumber juice as required to make a smooth paste.
This can also be made in larger quantities to get a body pack.
4. Almonds And Honey Face Mask:
Ingredients:
Method:
Soak about 10 almonds overnight and grind them into a fine paste the next morning.
Mix a teaspoon of honey into this and apply it on your face.
Wash off after 15 minutes.
This pack is good enough to eat !!! Can you get any more indulgent than this ???
5. Tomato Juice Face Pack:
Ingredients:
Tomato juice
Rice flour
Honey
Method:
Tomatoes also do a whole lot of good to oily skin.
Just mix some fresh tomato juice with 3 teaspoons of rice flour and 1 teaspoon of honey.
Alternately, if you're pressed for time, just rub half a tomato (flesh side) on your skin in a circular motion for 15 minutes.
6. Multani Mitti Face Pack:
Ingredients:
Method:
Last but not the least, the simplest thing you can do! M
ix together multani mitti and rose water and apply it on your face and neck.
Lie down and place cotton pads soaked in rose water on your eyes.
Just see how fresh you and your skin will feel after you wash it off!
Some Facts:
Rose water and cucumber juice helps to tone the skin.
Neem, turmeric and sandalwood have antiseptic properties.
Multani mitti, rice flour, tomatoes and oranges help to absorb the excess oil from skin and control its secretion.
Honey and lemon help to heal scars and dark spots.
Egg white and oats tighten the skin.
Almonds make your skin soft and smooth.
What a treasure house of goodness these packs are !!! Find the right pack for you and put skin troubles to rest this summer. Keep your skin clean always and drink loads of water. Remember, if you experience any tingling, itching or burning sensation, wash off the packs immediately and apply a mild lotion. Stay beautiful always !!!
[ Read: Homemade Beauty Tips for Oily Skin ]
The following two tabs change content below.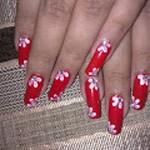 Latest posts by Neha Mane (see all)