The warm sun, the sandy beaches and the colorful clothes – summertime is the time for inspiration. And hair. Sporting great hair is never confined to a particular season. But, for now, let's just focus on summer and hair and inspiration. And keeping all of that in mind, here are hairstyles for summer to inspire you:
1. Simple Fishtail Braid:
Now you can enjoy your day at the beach without letting your hair get in the way. Start off by dividing hair into two sections. Taking the outermost strand from one section, tuck it beneath the other. Now do the same with the other section, and repeat till you get to the ends of your locks. Rather than tying the end off, you can use hairspray to keep the hair in place. Laid back and beach-ready – this is perfect for summers!
2. Super-Messy Bun:
The heat and the humidity making a mess of your hair? Work with it rather than against it. Pull your hair back and put it up in a messy, voluminous bun. Wrap the stray strands around the bun and set with a hairspray to keep your hair in place all day long.
3. The Fancy Ponytail:
Bored with the same old hair tied back with a scrunchie? Try this new take on the classic ponytail. Start with a half pony and secure with an elastic band, and then divide it into two sections. Taking a strand at a time, tuck it beneath the elastic and tie it off at the nape. Then wrap the final strand around your hair tie and pin it using bobby pins.
4. Beachy Waves:
Loose, flowing waves – they are perfect for summertime. All you have to do is spray your hair with a sea salt spray and scrunch as it dries.
5. The Perfect Ponytail:
Want a longer, layered pony? No, you won't be needing extensions. All you have to do is section off your hair and make two ponytails, one at the nape and the other at the crown. The ponytails, one on top of the other, give the illusion of longer hair.
6. Bubble Ponytail:
There is so much fun to be had with hair. So why settle for something ordinary? Start braiding a section of your hair till the very end and secure with a hair tie. Put all of your hair up, including the braided section, in a high pony. Tie off the ponytail at sections to make a bubble ponytail.
7. Top Knot:
What better way to beat the summer heat than to put all your hair up? A simple, slightly messy knot that is perfect for a day at the beach. Just pull your hair into a high ponytail, wrap strands around the base and secure with bobby pins.
8. Low Bun:
You don't need lots of hair to sport a voluminous bun. Recreate this soft, elegant style using a sock or a hair donut.
9. Intricate Braid:
Summer equals heat. But a little heat should never get in the way of fancy hair. To recreate this, first and foremost, you need to curl your hair. Take strands from the temple, pin them back and braid the rest of your hair. Secure with a hair tie.
10. Roped Side Ponytail:
An elegant hairstyle that is just perfect for summers. It requires no heat and no products. To recreate, section your hair off into two and tie one section off to a side. Divide the other section into three and twist and wrap each section around the pony. Secure the twists with bobby pins and top it off with a fancy scrunchie.
11. Rose Half-Pony:
A cute, girly hairstyle that is perfect for summer parties! Curl your hair with a large barrel curler. Take strands from your temple and tie back in a half-pony, and braid it. Loosen the braid and roll it along a side, so that the braided strands resemble a rose. Secure your hair in place with bobby pins.
12. High Pony:
Easy to make and extremely versatile, ponytails are the perfect summer hairstyle. To make your pony voluminous and textured, use sea salt spray on your hair before putting it up.
13. Take A Bow:
The hair bow was brought into limelight by Lady Gaga. It is an adorable style, great for school and outings. To style a bow, pull back the front section of your hair and tie. Fold the ponytail in half and keep it in place with an elastic. Divide the folded part in half and pull it towards the sides. You can wrap a strand of hair around the middle to complete the look.
14. Side Braid:
Side braids are the perfect way to keep your hair from getting in your way, and look cute at the same time. To make a side fishtail, sweep your hair off to one side, and make two sections. Take a strand from one section and place it beneath the other section. Do the same with the other side and keep repeating till the ends of your locks. Secure with a  hair tie, and loosen the braid for a voluminous, messy look.
15. Braided Headband:
A braided headband is a great way to show off your hair. Short or long, this works for all hair lengths. To create this style, start braiding a strand from one side of your temple to the other, and pin it back. If you want a more uniform look, braid another section from the opposite side.
16. Half-Braid:
Braids never really go out of style. Style your hair in a casual half-braid to keep up with the spirit of summer. To style, pull your hair back and start braiding at the crown. Slip in strands as you go along and secure the ends.
17. Low Pony With A Side Braid:
Spruce up your basic ponytail with a side braid. Not only does this hairstyle look amazing, but also helps you keep the hair out of your face. Start by parting your hair off to one side. Take a section and braid, all the way to your nape. Secure your hair in a low ponytail, wrap a strand around the base and tuck it in.
18. French Braid For Short Hair:
When it comes to sporting sexy styles for summer, length doesn't matter. To flaunt this fancy hairstyle, part your hair down the center and braid each side. Pin the braids back and put the rest of your hair in a low pony.
19. Slide-Up Braid:
This cute, medieval-esque hairstyle is far easy to execute (no pun intended) than it seems. You need to make a four strand braid with the front section of your hair, for which you place the first strand over the second, the third over the fourth and the fourth over the first. Keep repeating till you get to the end. Carefully loosen the braid by sliding the strands in an upward direction, and pin it back.
20. Wild Curls:
Loose, voluminous curls tumbling down your back – nothing is sexier. To sport this look, work a volumizing product through your hair and curl using a large barrel curler. Finger comb to separate the curls and finish with a sea salt spray.
21. Braided Crown For Short Hair:
Short hair can be extremely versatile. To recreate this stunning hairstyle, first and foremost, you need to section off your bangs. Twist back the rest and pin it at the back. Fashion your bangs into braids, loosen them and pin back to finish.
22. Pulled Back:
Simple and sophisticated, this hairstyle is perfect for a summer night out. To style, use a medium barrel curler and set with a medium hold hairspray. Taking strands from your temple, pull back and pin it in place.​
23. One Side Fishtail:
Here is a twist on the classic fishtail. To recreate, section off a portion of your hair and start braiding it by dividing the section into two, taking strands and placing one beneath the other. As you go along, include more and more strands from the other section till you reach the end of your locks.
24. Knotted Bun:
A ridiculously simple bun for the Girl Scout in you.  All this hairstyle requires is 4 simple steps – part, knot, wrap and pin.
25. Yarn Braids:
Yarn braids are a fun and a colorful way to play with your hair. To make a yard braid, take a piece of  string and plait it along with two strands of hair.
26. Tousled Updo:
A little messy and practically effortless, this is a great style for those hot summer days. Just gather your hair at the crown and using a scrunchy, fold your hair into a bun.
27. Greek-Style Braids:
Add more style to your day at the beach with this Grecian Goddess-inspired hairdo.  Make three small braids and incorporate them into a single one at the crown.
Summertime is the time for fun activities and fun hair. Beach volleyball or a trip to the mall, wherever you are, look great and seize the day!

The following two tabs change content below.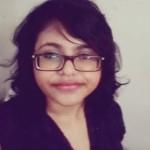 Latest posts by Bhavna Panda (see all)