Tips And Tricks To Make Small Eyes Appear Bigger
The shape and size of our eyes is determined genetically, and there's hardly anything that we can do about it. But using clever make-up techniques, we can always create an illusion.
Here are some tips to make small eyes appear bigger:
Start with groomed eyebrows:There is nothing more unflattering than unkempt eyebrows on a woman's forehead. Take a trip to the salon at frequent intervals, and keep the brows in good shape. Follow the natural shape of your eyes to guide you.
Conceal under-eye dark circles:Using a concealer to cover up the dark circles is preferred. It will not make your eyes bigger, but atleast the dark circles will not draw attention to them when some-one is looking at your eyes. So, this step is really important.
Use white eye shadow:This is the best tip from make-up artists. Using white/ other light coloured eyeshadow or white eye pencil near the tear dust, on the inner corner of the eye, will instantly give an illusion of opened-up eyes.
Do not over-do the eyeliner:When lining the eyes, do not make a full circle around the eye with the black eyeliner. Avoid applying kajal on the inner rim of the lower lash-line; instead keep it outside the lash line. Also, do not extend this line up to the tear duct. Start lining from outer corner, and stop after 2/3rd of the lash is covered.
Nude pencil above kajal:Remember Rekha's pictures from all award functions? She usually wears a white eye pencil on the inner rim of the lower lash line. Now, white eye pencil may not look too flattering on Indian skin-tone, so you may use a nude eye pencil to line the lash line. Nude pencil will also look more natural than white, and can be worn during day time too. Try Bourjois Khol and Contour Eyeliner Pencil- 08 Rose Fantaisiste, or MAC Chromagraphic Pencil.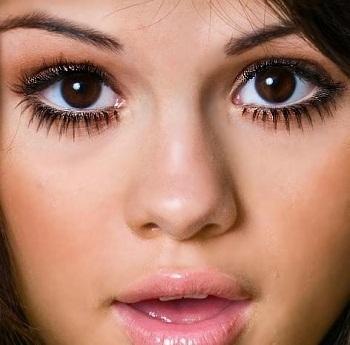 Mascara and/ or false eye lashes: use 2-3 coats of mascara, or apply false eye lashes, concentrating on the outer 2/3rd of the lash line, to make the eyes appear bigger.
I hope these tips were helpful!
Like this post, then :
Hi this is Ritu, I love writing about make up and beauty apart from the regular features such as product reviews, product launch posts, make-up tutorials, etc. I also also like sharing some home-made remedies and tips through our Sunday Pamperings feature.