A lot of people color their hair nowadays, from streaking with bright reds or highlighting them with blonde or a full coverage to make a style statement, or sometimes just to cover those grays. And for these, there are numerous hair coloring options available in the market.
But unfortunately, most of them contain Ammonia, a chemical bleaching agent,  which is responsible for making the hair dry and brittle.
We all know that regular use of chemicals in our hair can damage them in the long run. Hair colors are loaded with chemicals. Ignore the basic hair care steps and you can end up with dry and brittle hair that is similar to being fried!
Ammonia is important in hair color styles as it helps in the absorption of the color molecules by the cortex of the hair. But this, in turn, absorbs all the moisture from the hair.
To keep your color looking great and make sure your hair is in good shape, follow these simple hair care routines.
Most Favored Hair Coloring Tips
Here are some favored hair coloring tips for you to follow before getting your hair colored:
1. Shade Selection
Selection of the shade is the most difficult part of hair coloring. Especially if you are planning to do it at home. Because the color, as it appears on the color box and the way it turns out on your hair, is very different. For example, ash is flat, red is bright, gold is brassy. Your best bet is to pick shades that are neutral or warm. The softer the name, the softer will be the result.
2. Patch Test
Always do a patch test if you are coloring your hair at home. This will ensure that you are not allergic to that product. And if there is any reaction, then change the brand.
[ Read: Tips To Choose Best Hair Color For Skin Tone ]
3. Right Combination Formula
You must decide whether you want permanent or semi-permanent color. A semi-permanent color will wash off in roughly 20 hair washes or so. So be sure to read the color box carefully. Pay attention to the instructions to get the formulation right. The correct formulation will help you get the desired color for as long as you want it to last.
4. Pre-Color Care
There is a reason why for few people color lasts longer and better. You must pay attention to pre-color care too. Always deep condition your hair. Try some hair masks and do not use any chemicals for at least one month before coloring. This helps avoid excess color damage. It also helps renew and revitalize your hair from the damage it has already suffered due to heat, styling and so on.
5. Make Your Hair Manageable
Get a proper haircut or trim, so that your hair is manageable and you do not have any split ends.
6. Condition Your Hair
Deep condition your hair to boost proper strength and volume. Mix egg, banana, and yogurt in equal quantities. Apply this pack on your hair and keep it for an hour. Rinse off with a mild shampoo. This is an excellent home remedy for smooth and soft tresses and will condition them well.
7. Color On Non-Shampooed Hair
If you are planning to color your hair today, make sure you don't shampoo for at least two days in prior. This helps to let the natural oils secreted from scalp set in. This is simply done to protect our hair roots from severe color damage. You may say it controls the damage intensity.
8. Even Application
You want an even looking hair color. Always use a wide-toothed comb to apply color in sections evenly. Never make the mistake of dabbing the color on in lumps by spreading mixture here and there. Start from the roots and evenly go till the end. An even application is necessary to get a beautiful hair color. You will surely not want a dark patch here and a lighter one there.
9. Go For Professional Coloring
If possible, then always go to a salon or a get a stylist to color your hair as they know the best techniques to do so. Professional help is always better rather than doing it at home alone.
10. Avoid Mess
One of the drawbacks of hair coloring is the mess it creates. To avoid mess all over your back (while coloring hair at home), cover your back from shoulders with an old towel/cloth/old full necked t-shirt. No one would want to be left with a colored back, temples, and hands. So apply using a brush and always wear hand gloves.
[ Read: Simple Steps To Color Your Hair At Home ]
Post-Coloring Tips
Now taking care of colored hair is no more a tedious task. Let's have a look at the most favored tips on how to take care of colored hair.
11. Rinse Your Hair With A Protecting Shampoo
After coloring your hair, always remember to wash your hair with the special "color protecting" shampoo. This specially created shampoo will not wash away the color and will help the color molecules to set in better. These are meant to keep the color intact and make it last longer. Color protecting products will form a protective layer on your hair. This will help in minimizing the damage caused by the chemicals present in hair colors. Rinse the color thoroughly using cold water. Hot water will further damage your hair and take away the shine, making your hair dry. So remember to keep it cool.
12. Condition With A Color Protecting Conditioner
A good conditioner is essential to maintain the moisture balance in your hair. Since your hair has been treated with chemicals like ammonia, therefore always use a "color protecting conditioner". This will nourish it and provide its natural shine and luster.
[ Read: Makeup Tips For 8 Types Of Colored Hair ]
13. Wash Your Hair Twice A Week
Shampooing your hair too much strips the hair of natural oils. Restricting your shampoo routine to twice a week will ensure the hair color does not get washed away faster.
14. Get A Good Dry Shampoo
A dry shampoo is a great alternative for days when you may feel your hair is getting greasy. Using a dry shampoo ensures you can restrict your regular shampoo to about twice a week. It will help revive your hair in between two washes. This will help keep your hair looking fresh and clean. Alternatively, you can use baby powder to absorb all the oil from the head. Massage it lightly on the scalp on the greasy parts. The talc will absorb the grease.
15. Deep Conditioning
Go back to the old and famous condition method of using hot oils. Use olive oil, almond oil or coconut oil to deep condition your hair.
16. Homemade Hair Mask
Use a hair mask at least once a week (protein mask) to replenish the hair, preferably a homemade protein hair mask. Banana and honey mask or egg and mayo mask will suit you the best.
17. Conserve Your Color
For your color to last longer, always use a leave-in conditioner after washing your hair. If possible, wear a hat or a hair sunblock spray while going out in the sun. This helps to protect hair from getting damaged by the sun and depleting the color away.
18. Avoid Blow Drying
Avoid the use of blow dryer and let your hair dry naturally. If you have to use, then switch to cool setting to dry your hair.
19. Swim With Caution
Chlorine is very harmful to colored hair. It can alter the actual color of your hair. So avoid setting into the pool just after coloring your hair. And if you do, always wear a swimming cap before you step in.
20. Regular Professional Hair Treatments
Coloring your hair is a big investment, in terms of money, time, effort, and of course, your hair! Make sure you take adequate care of your hair by going for regular professional treatments. Hair spa, conditioning treatments, and head massages are some of the things that you can indulge your hair in.
21. Touch-Up Trick
If you need touch-ups, do it every three to four weeks. For a near-perfect touch-up, always use the color mixture and apply it using a cotton ball dipped in the color mixture or use a brush. Follow the same rinsing process with cold water as before to avoid damage.
Colored hair makes you look glamorous and stylish! So which of these tips do you swear by? Have you more such tips for hair coloring? Feel free to share your experiences and ideas with us in the comments section below.
The following two tabs change content below.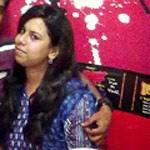 Latest posts by Ankita Biswas (see all)