If you have long hair, you may feel that your only options for hair styling are either sleek looks and/or bun hair styles. This is definitely not the case. You can create several cute hairstyles with your long hair too. Here are our 10 Top choices for cute hairstyles for long hair.
1. Layered and Outward Feathered Look: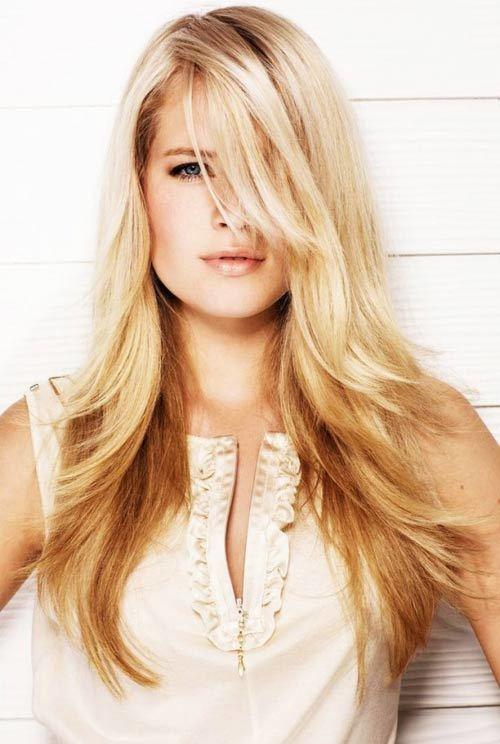 This may seem like a total professional effort but in fact you can also achieve this look easily at home. It is a must that you have a stepped layered hair cut though. You will need big barrel curler or big Velcro curlers and heat to make the hair curly. When the curls are set, you need a paddle brush to brush them out into outward feathers. You will definitely need a front bang to along with this style!
2. The Crimped Look: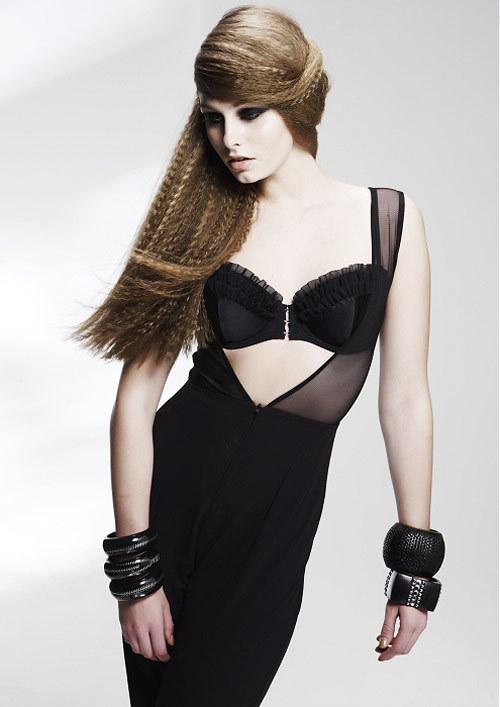 This is a great look for girls with long hair. All you need is a crimper to crimp your hair in its entire length and that's it. You will end up with this nice crimped hair look. This is not a perm! Remember that the perm and crimp are both totally different looks.
[ Read: Simple Daily Hairstyles for Long Hair ]
3. Graduated Cute Sleek Look with Sectioned Bangs:

This is a very cute long hair look which you can easily sport. You need nice graduated bangs for this haircut from a good hairstylist though. The sectioning of the front bangs can be done with a normal or a styling comb and spray some fixing spray carefully such that it doesn't go into your eyes and will stay like that till your next wash. Easy isn't it?
[ Read: Hairstyles For Long Straight Hair ]
4. Rolled Curly Look: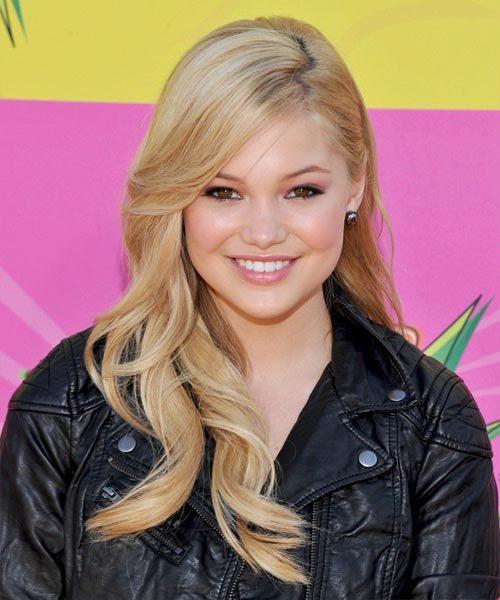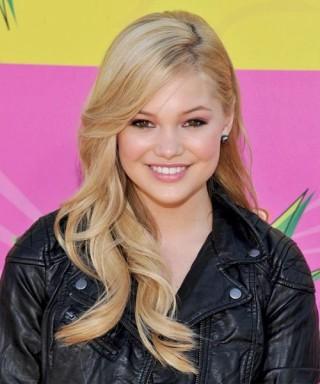 This is a very cute look which you can easily sport with thick bangs that you can side sweep. You can use a medium to small curler to get the curls but while loosening them from the hair, pull the curler downwards such that a rolled curl is formed. If you are still too worried, then you can get this look from your trusted stylist.
[ Read: Simple Hairstyles For Long Hair Fast ]
5. Top Braid with a Sleek look: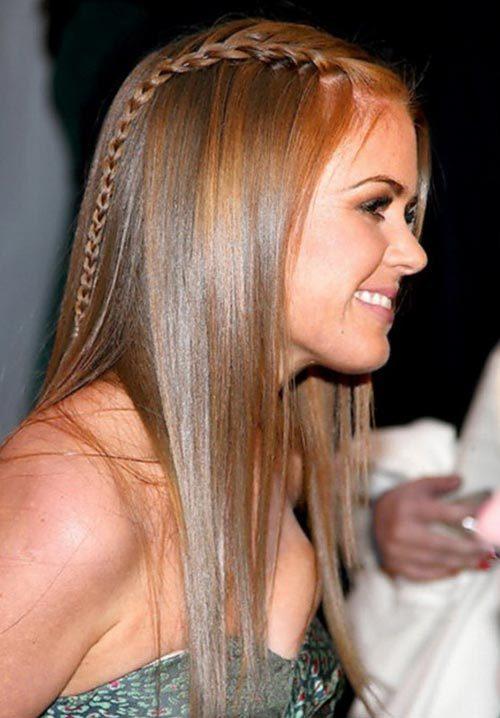 When you have long hair, sometimes it is important to make some twists and turns to your normal hairstyle. Some tricks can make you look stylish and different at the same time. You can try out a cute frontal top braid like in the picture with the sections of your bangs.
[ Read: Braided Hairstyles for Long Hair ]
6. Wavy Hairstyle with Bangs: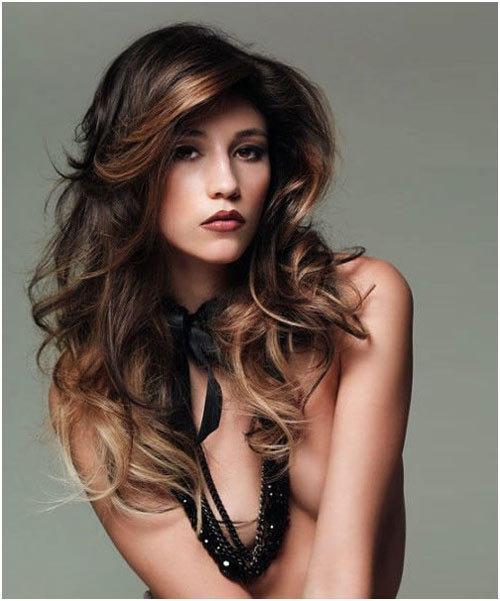 The wavy look is always in fashion! Why?  Because waves can look cute on anyone. You can try out this feather cut hair style with big Velcro curlers or a big barrel curler. Brush out some curls outward and some inward. However remember to sport nice bangs, because without them, this hairstyle will look very simple.
7. Curled Top Notch Pony: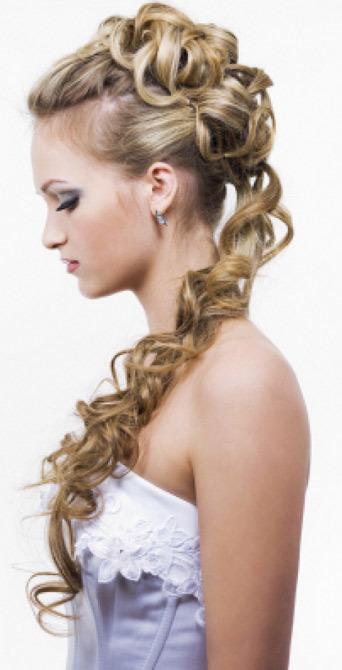 If you have long hair, then you can go for any kind of curls as long as it suits your face. This infact can be a great summer hairstyle choice too. You can curl up your hair but instead of leaving it flowing, make a top tuck bun and clip it. Leave the rest of the hair flowing down in a pony tail. Cool look isn't it?
8. Wavy Long Hair: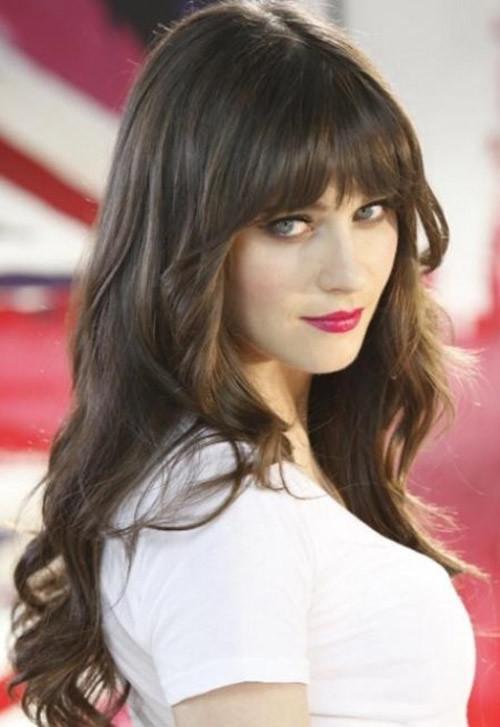 Wavy hairstyles never go out of fashion. Why – because they are super easy to achieve and cute to sport. Rush to your nearest parlour to get a nice long layered feather haircut and front bangs for this hairstyle. You can curl up the tresses and then set these into waves with a paddle brush. Give some hair fixing spray so that the waves stay as it is till your next wash.
9. Long Messy Hairstyle: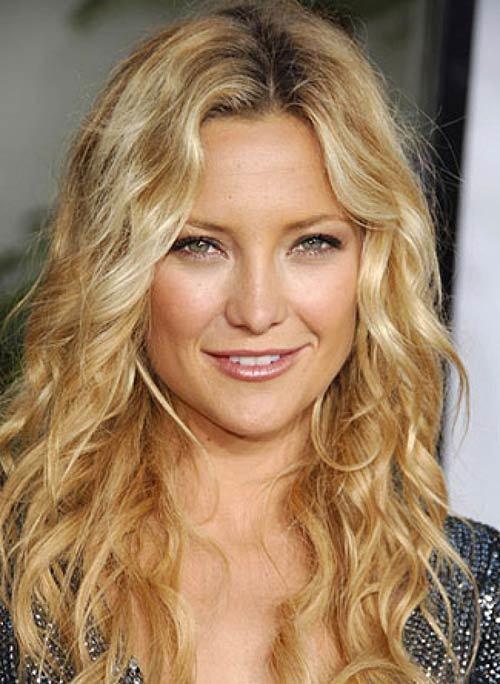 This is another curly hairstyle look which you can achieve on even rough or not washed but combed hair. You need a small barrel curler and a styling comb. Do not use a paddle brush here because it will make the curls looser and make them look wavier. Shuffle the hair thoroughly and use a fixing spray for the tight long time hold.
10. Wavy and Curly Layered hairstyle with Feathered Bangs: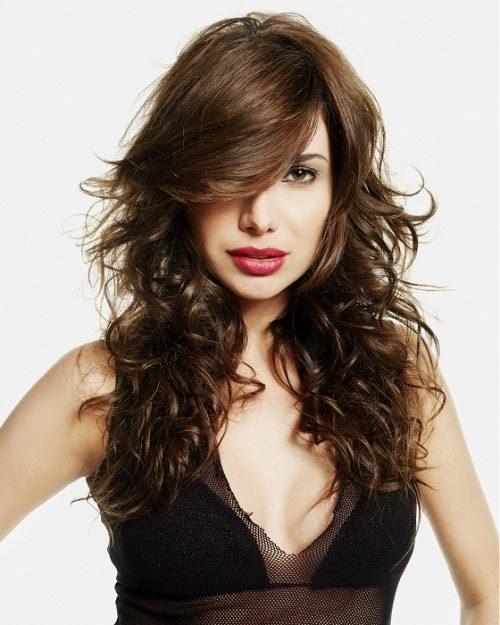 This can be a show stopping look! Not at all difficult to get it if you know a good hair stylist. You need a terrace step cut for this one, that is to say there should be several steps or layers in the tresses. The front bang should be a feathered bang brushed outwards and swept to the side.
Which of these cute hairstyles will be trying out first?
[ Read: Layered Hairstyles for Long Hair ]
Image source: 1 , 2 , 3 , 4 , 5 , 6 , 7 , 8 , 9 , 10
Recommended Articles:

The following two tabs change content below.