Tired of your natural hair color? Want to try a stunning hair color but worried whether it will suit your skin tone or not? Well, the answer is simple! You need a shade that will be just a tad lighter than your current hair color and voila! You have a brand new look.
Golden Brown Hair Color is the perfect shade for you, if you want to play it safe. This shade is one of the most flattering hair colors for Indian women. A wide range of golden brown hair colors are available in the market today. To help you to choose the best shade for yourself, I am enlisting the top 10 brown hair colors here.
1. Revlon Luxurious Colorsilk Buttercream 'Medium Golden Brown':
Enriched with shea butter, this hair color punctuates your hair with golden hints while maintaining the majority of the crown in brown. To further add awesomeness to this shade, it is ammonia-free, so no need to worry about its harshness either.
2. Revlon Color Silk '5G Light Golden Brown':
Here's an ammonia-free hair color that is packed with silk proteins that leave your hair silky, smooth and glossy after coloring. It is gentle on any hair type and provides complete coverage to grey hair while giving it a delicious light golden brown tinge.
3. Streax 'Honey Blonde 7.3' Hair Color:
Think of the mesmerizing blend of golden honey with a deep brown tinge and visualize your hair in it. Sounds exquisite, doesn't it? Well, that's what you stand to gain from Streax 'Honey Blonde 7.3'. Oh, and it uses natural ingredients and has quite a thick consistency which makes it easy to apply too.
4. Streax 'Mahogany Brown 4.56' Hair Color:
This rich hair color may have brown as its base but it has subtle hints of glinting gold that will give your hair a 'now-you-see-it-now-you-don't' look. It's perfect for those who want to go for a brown hair color with a little bit of zing in it.
5. Garnier Herbashine Color Creme with Bamboo Extract – 'Light Golden Brown 630':
While most hair colors make your hair soft and smooth, there are only a few which can render a glossy shine like the Garnier Herbashine '630'. Infused with bamboo extracts, this light golden brown hair color makes your hair soft, silky, smooth, and gives it a shine that not many can compete with. What's more, this hair color can last upto 25 washes.
6. Garnier Olia Oil Powered Permanent Haircolor – '4.3 Dark Golden Brown':
Looking for something that's so brown that it looks almost black? Well, your wait is over with Olia '4.3' from Garnier. More than half of its ingredients are extracted from flower oils which makes it an almost all-natural product.
7. Color Mate Original Henna Golden Brown:
What do you get when you combine the goodness of henna with cutting-edge hair coloring technology? The answer is Color Mate 'Original Henna Golden Brown' – a hair color that is made from natural ingredients like amla, shikakai and other precious herbs. It helps your hair remain soft, smooth and richly-colored. Best suited for white or bleached hair, this hair color also enhances the growth and density of your hair.
8. L'Oreal Paris Superior Preference Color Care System Dark Golden Brown 4G:
If salon-quality hair color is what you're looking for, then there's no better option than L'Oreal Preference Color Care System. They're refined with shine serum, vitamin E and a UV filter which locks in the luster of the first day color for upto 8 weeks.
9. L'Oreal Excellence Crème 5.3 Golden Brown:
Another lovely golden brown color option that you can go for is the pro-keratin enhanced 'Excellence Crème'. It has a non-drip formula which enables effortless application. The conditioner helps maintain the sheen and softness of the hair for long. All in all, a wonderful color option to cover greys and have shiny and silky hair.
10. L'Oreal Excellence Crème Pro Keratin 6.3 Light Golden Brown:
The light golden brown has almost all of the same features and highlights of the 'Golden Brown 5.3' mentioned right above. And with a name like L'Oreal, you can't really go wrong, can you?
With these wonderful shades to choose from, flaunt a beautiful brown that will make your hair look luxuriant and gorgeous. Please feel free to share your feedback in the comments section below.
The following two tabs change content below.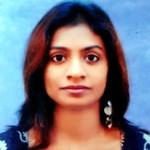 Latest posts by Maanasi Radhakrishnan (see all)