Lakme is India's No.1 Beauty brand and has a huge portfolio of products for everyone. Here, we picked the Top 10 products from Lakme stable.
Lakme Products For Oily Skin
1. Lakme Perfect Radiance Intense Whitening Face Wash:
It's a perfect face wash for oily skin, lakme's perfect radiance intense whitening face wash fights the 6 blocks of fairness.
Deep derma clean action :
It extracts impurities from the deepest layers of the skin .It works at fighting 6 blocks of fairness namely dark spots, acne marks, blemishes, oiliness, tanning and dullness.
Continuous release technology :
Perfect radiance range has the breakthrough technology to release skin lightening vitamins into your epidermal skin cells throughout the day. This is suitable for oily skinned beauties as it helps in removing the excess oil from the face along with the dirt and grease. It does not completely strip you off of the natural oils off your face but helps in maintaining the moisture balance.
Price: Rs 165 for 100 gm
2. Lakme Fundamentals Skin Balancing Toner:
Toning the skin is very essential for everyone after cleansing your face especially for oily skin people. It helps in closing up the pores after cleansing and maintains the ph level of your face. It is important for oily skin people as it helps in removing the impurities and dirt which might have been left out by your face wash. And if you wear heavy makeup, then using a toner is a must. Lakme fundamentals skin balancing toner contains natural ingredients like witch hazel and lavender which are known for their toning properties. It also tightens the pores and helps in maintaining the ph balance; providing a complete skin hydration.
Price: Rs 85 for 120 ml
[ Read: Natural Homemade Skin Care Tips ]
3. Lakme Matte Effect Refreshing Astringent:
It's a new range of product that's been launched by Lakme. The matt effect astringent prevents any formation of oil and debris on the face, close the pores and restore the skin's balance.Take a few drops of the astringent on a cotton pad and lightly dab on your face for a refreshing feeling.
Price: Rs 150 for 120 ml
[ Read: Popular Fairness Creams For Oily Skin ]
4. Lakme Perfect Radiance Day Cream:
Most of the oily skinned beauties stay away from using any kind of creams on their face. However you should know that even oily skin needs hydration and protection. If your looking for a lakme cream for oily skin then perfect radiance day cream is not greasy at all but is very light and smooth on skin giving a total matte finish. It has a sweet fragrance and is light pink in colour. This cream has extracts of white lily and scared lotus and helps to fight all signs of skin damage. Perfect day cream for oily skin beauties, do give it a try!!!!!!
[ Read: Best Lakme Body Lotions ]
Price: Rs 99 for 15 gm
The following two tabs change content below.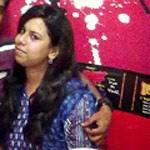 Latest posts by Ankita Biswas (see all)