Recently I was trying to do a soft smokey eye and started looking all over the web for tutorials. I was amazed at the work done by beauty enthusiasts all over the world.
Here I am going to share you my top picks and a little something about why I think they deserve to be mentioned.
Top 13 Smokey Eye Makeup Tutorials
1. Dramatic Smokey Eyes For A Night Out
The first Smokey eye makeup tutorial that grabbed my attention was a video on YouTube. This video is by Lea Michele and the final look of the eyes is so eye-catching that you simply cannot resist trying this out on yourself. The Smokey eye is dramatic, clean and beautiful to look at. This is something you can use for a night out. Take a look yourself.
2. All Black Smokey Eyes
Next I have to mention this tutorial by Cynthia from the Indian Vanity Case (I love Cynthia's posts and especially her tutorials with helpful hints that make the tutorial easy to understand even for newbies). This is a deep black Smokey eye look and is a stunner if you want to keep it all black. The steps are easy to follow and the look is stunning.
3. Daily Wear Smokey Eyes
Another simple Smokey eye tutorial but for daily wear that is a soft and not too dramatic one by EyesOnUMakeup on YouTube.
4. Kim Kardashian Inspired Celebrity Smokey Eyes
Next one is a celebrity inspired Smokey eye makeup tutorial. This one is very dramatic, very bold, inspired by none other than Kim Kardashian. This tutorial is by Makeupbyeman and is available on YouTube. I love the colors used in this one.
5. Pink Smokey Eyes
I myself love the color pink on my eyelids so I searched for a pink Smokey eye tutorial and found this tutorial which I thought was worth sharing. The eyes look gorgeous and this look can be used during the wedding season or any evening occasions. This will go very well with the maroon and Red Indian outfits too. You can always replace the berry pink with any pink shade that you like.
6. Bronzed Smokey Eyes
Talking about the wedding season eye makeup, if you want to attend a party with a bronzed Smokey eye look then check out this tutorial by The Wonder Forest.
The photos are clear and the steps are shown very well. The overall look is very festive and yet soft.
7. Rober Jones – 10 Minute Smokey Eyes
When trying to do Smokey eyes don't forget to take advice from a few professionals. I chose this professional artist video by Robert Jones as it really caught my attention on YouTube. It tells you how to achieve the correct Smokey eyes in just 10 minutes. Notice the blending techniques Robert uses.
8. Sephora Experts 2 Minute Tutorial On Smokey Eyes
Do it like the experts with Sephora Experts' 2 minute tutorial on YouTube. This one tells you how to perfect the technique of Smokey eyes.
9. Sultry Green Smokey Eyes
And finally for the year 2013, the predicted color of 2013 is emerald so how can I miss out Smokey green eyes. A tutorial on turquoise green smokey eye makeup with absolutely clear step by step pictures is worth mentioning here. This one is from the blog Makeup for Life. The final look is truly sultry!
Another one that does not actually give a tutorial but the look created by Rachel from Makeup By Rachel is so stunning and pretty that I couldn't stop sharing it.
10. Soft Brown Smokey Eyes
I tried my hand at Smokey eyes but instead of doing a dramatic look I did something different for office wear and this is a simple and easy smokey eye makeup tutorial by yours truly! The entire look is kept soft by using brown as the main eye color.
11. Reverse Smokey Eye Makeup Tutorial
The bright reverse smokey eyes can be easily created by following the simple steps listed below.
Step 1: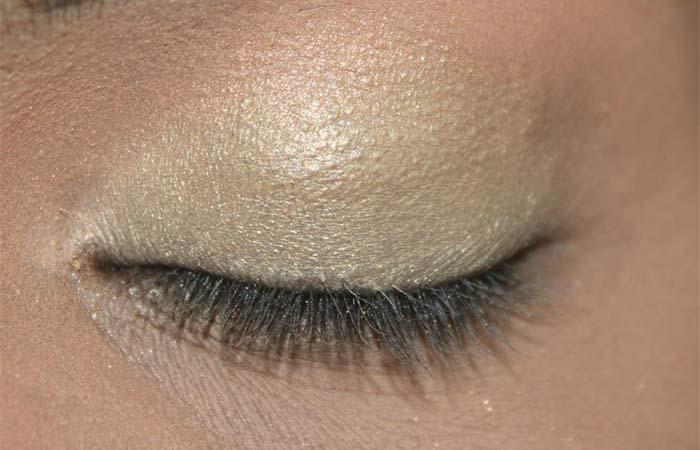 Start by moisturizing your delicate eye area to prepare the skin for eye makeup. Pick an eye cream and dot it under your eye area and softly pat it into the skin. Then, take a concealer with your fingers or a flat concealer brush and conceal your dark circles. If you have deep pigmentation under your eyes, it is best to use a corrector prior to the application of the concealer. Then, use loose compact powder and set your concealer to prevent smudging or creasing of the products applied earlier.
Take a soft creamy nude eye pencil and apply it all over your eyelid area. This step will make the eyeshadow applied on top of it appear brighter and pop out more. Here, I used the Oriflame eye pencil in nude for the perfect finish.
Then, pick a shimmery champagne eyeshadow and apply it on your eyelid area. This eyeshadow is to be placed just above the nude eye pencil applied in the previous step. Start by blending the eye pencil applied on the previous step with your fingers or a flat eyeshadow brush to get an even base for the eyeshadow and then top the shimmery champagne eyeshadow over it. Here, I have used a shimmery champagne eyeshadow from the Elf 144 eyeshadow palette.
Step 2: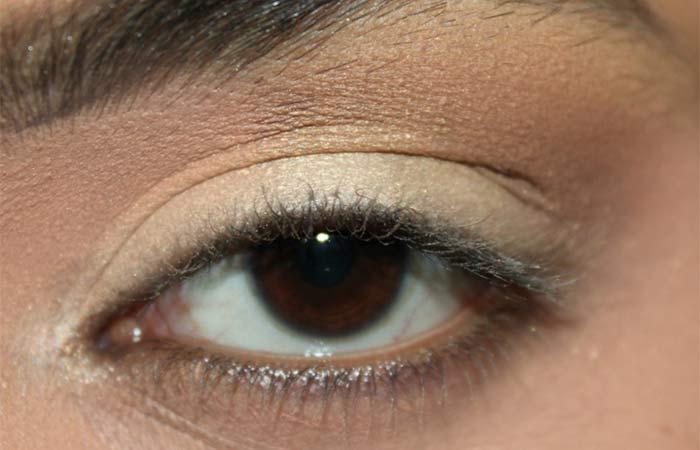 Take a matte medium brown eyeshadow and start applying it to the crease area of the eyes. This color will add dimension and give an illusion of deeper set eyes. For this step, I used a matte brown eyeshadow from the Elf 144 eyeshadow palette.
Step 3:
Then take a deeper dark brown eyeshadow in matte finish and start applying it to the crease area of the eyes. This color will add further depth and give an illusion of deeper set eyes. Here, I have used a matte dark brown eyeshadow from the Elf 144 eyeshadow palette. Then, apply a soft cream eyeshadow to the innermost corner and the brow bone area of your eyes to highlight and brighten the eye makeup. I have used a matte cream eyeshadow from the Elf 144 eyeshadow palette for this step.
Step 4:
Then, pick a matte orange eyeshadow and apply it thickly to your lower lash line. Here, I have used a matte bright orange eyeshadow from the Elf 144 eyeshadow palette. Line your waterline with a nude eye pencil to give an illusion of bigger eyes. I found the Oriflame eye pencil in nude perfect for this step.
Step 5:
Then, line your lower lash line with a black kajal pencil thickly as shown in the image. I used the Lotus Kajal in black. Pick a pointed thin eyeliner brush for this step.
Step 6:
Now, pick a soft yellow eyeshadow and softly blend out the orange eyeshadow applied earlier. Use a fluffy blending brush to achieve this step easily. Blend both the colors into a seamless finish to achieve a neat reverse smokey eye makeup look. Here, I used a matte yellow eyeshadow from the Elf 144 eyeshadow palette. Line your upper lash line with a thick dramatic winged eyeliner to add balance to the eye makeup. Then apply lots of mascara to complete the eye makeup look. I have used the Kryolan eye liner and L'oreal Million Lashes Mascara for this step.
And you are ready to go! That was easy, wasn't it? With these 6 simple steps, you can now create a hot look! So, step out of your comfort zone, and be ready to dazzle the world with your new look!
12. Gold & Grey Eye Makeup Tutorial
Things You Will Need
Some simple and easy things that you will need for this gold and gray eye makeup look are as follows:
A concealer and foundation
A face compact
Eye shadow (Colors needed matte gold , shimmer gray or burnt shimmer gray , Burnt shimmer brown, silver
highlighter)
Kajal pencil/Black liner pencil
Liquid Eye Liner
Mascara
Lash Curler
Lash Comb
Tutorial
Step 1
On clean eyelids, apply concealer and foundation. Follow it up with a compact for a flawless texture. If your eyelid are not clean then the dirt and grime on them will not let you flaunt a perfect makeup look. It's very important that your eyelids are clean and oil free.
Step 2
Apply the matte gold on to the crease part. Do not extend it to the lid or brow bones. Keep it just till the crease.
Step 3
Apply the shimmer burnt brown on two-thirds of the eyelid from the side of your nose.
[ Read: Peacock Eye Makeup ]
Step 4
Take another clean applicator, so that colors do not get mixed. Now use the Shimmer gray color on to the remaining 1/3 of the eyelid. You can either extend or not extend the shadow upwards in a tail. I am not extending it. It's totally a personal choice for this specific eye makeup. Swipe the applicator over the crease also to cover the golden tinge with a slight hue of gray.
Step 5
Use the silver highlighter shadow on to the whole of the brow bones and at the nose eye junction. Using silver highlighter on the brow bones makes them pop out and give a glowing look to the area of the eye. This is especially important if you have dull eyes.
Step 6
Use the liner pencil on to the lower rim. You can do this with a nice kajal too.
Step 7:
Use your liquid liner on to the upper rim. There is no need for a tail extension if you have extended the shadow. If, however, you have not extended the shadow base like I have not, and then a simple tail is good to go. Do not over do a Smokey eye makeup. Smokey eye makeup is a range of dark eye makeup where the priority should be the shadow and not your liner.
[ Read: Eye Glitter Makeup ]
Step 8
Use mascara on to the top of the lashes in a top down manner and on to the lower lashes in a zig zag way.
Step 9
Brush out any excess or clumps of mascara with a mascara brush.
Step 10
Use a lash curler if you want added curl.
This is how it looks when completed. Clean and smooth light makeup style for everyday. Use your choice of lipstick. You can keep it nude or apply a light pink lipstick which is just perfect for this look.
13. Subtle Smokey Summer Day Eye Makeup Tutirial
Things You will need
A concealer and foundation
A face compact
Eyeshadow (Colors Needed Silver, Pink, Red and charcoal/black)
Black Eyeliner pencil
Liquid Eye Liner
Kajal/Black liner
Mascara
Lash Curler
Lash Comb
Tutorial
Step 1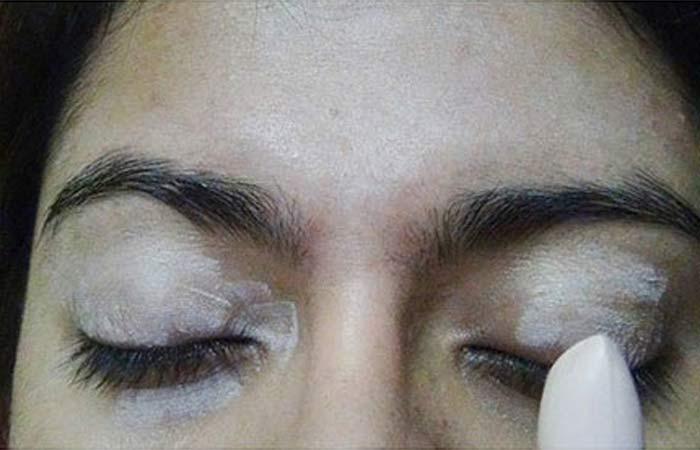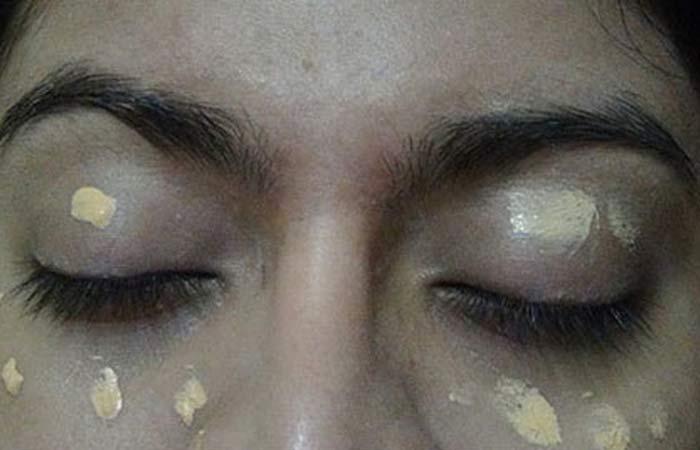 Want beautiful glowing skin? Get best Dermatologists from Lybrate to offer you diet tips to lose weight and stay fit.
On clean eyelids, apply concealer and foundation. Follow it up with a compact for a flawless texture.
Step 2
Apply silver eye shadow on the whole of the lid without creating any extensions. Avoid using a very shimmery silver color because it will create a flashed and glossy appearance which is not suitable in the summer day time.
Step 3
Apply the Pink eye shadow, preferably again in matte form and apply on the exterior end of the lid and end in a jacketed form. Do not extend.
Step 4
Take the charcoal eye shadow and use at the extreme exterior end of the lid. Do not cover the pink eye shadow but just use at the extreme end and extend a little bit to make a tailed jacketed extension.
Step 5
Use silver highlighter on the brow bones and nose eye joint. Follow it up with a liner running along the lash line in moderate form and at the end of the lid give it an upward swipe, just a little such that the liner running from the lower rim will not meet. This will create an open eye look rather than a closed eye look which may not be suitable for the day time.
Step 6
Follow up with nice mascara on the top lashes in a top to down form and in a zig-zag manner on the lower lashes.
Step 7
Comb out the excess mascara with a lash comb.
Step 8
Use a curler if added curling is required.
Step 9
Here is the final subtle Smokey summer day eye makeup look.
Hope you liked our post. Do leave a comment in the box below.
Video On How To Do Smokey Eyes
Recommended Articles:
The following two tabs change content below.