Getting a haircut is not as easy as people make it seem. From picking a style that will sit well with your hair type as well as complement your face, to trying to find the right hairstylist, it can all be a bit of a hassle. To make life a little bit easier, we've put together a list of the 10 best hair salons in Ahmedabad. Keep reading to know all the right places to go to if you wanna get your hair cut.
Top 10 Hair Salons In Ahmedabad
1. Eye Catchers:
Eye Catchers is an Indian salon chain that is becoming increasingly popular among the youth. It provides specialized services from brands such as Keratase, L'Oreal, Agelock, and many more that aren't easily available in other salons in India. Eye Catchers has a highly trained staff of hair and skin experts, hair stylists, skin specialists, and groomers. Itdelivers amazing results that will completely transform the way you look and feel. If you've been looking for a makeover, Eye Catchers is the salon to visit.
Address:
Shivalik Plaza, Unit-2, Ground Floor, IIM Road, Panjrapole, Ambawadi, Ahmedabad- 380 015
Contact: 079 4008 8111/4004 8111, +91 7043030111
2. Shades Of Blackk Spalon
Shades Of Blackk, located in Galaxy Bazaar, Vastrapur, has been gaining a lot of popularity. The salon is definitely one of the best hair cutting salons in Ahmedabad. Shades Of Blackk is a unisex salon that caters to the hair and beauty needs of both men and women.
Address:
GF 24-25 Galaxy Bazaar , Opp. Sunrise Park , Vastrapur, Ahmedabad, India
Contact: 079-40074090, 40081848, 40044090
3. BeLLezza – The Salon
BeLLezza is a salon chain whose first salon was set up 14 years ago. The chain works in collaboration with L'Oréal and has 35 salons across India. The salons are unisex, and each has a set of well-trained staff. So far the chain is catering to the needs of 2 lakh satisfied customers.
Address:
1 & 2, Ground Floor, B-Block, Opposite Ama Centre, IIM Road, Panjara Pol, Ambawadi, Ahmedabad, Gujarat 380015
Contact: 079 3007 3799
4. Darshan – The Complete Beauty Salon
For those of you who like a personal touch, we highly recommend that you go to the Darshan beauty salon. This salon was set up by Saleell Kaarkhanis and his mother Nalini Kaarkhanis because of their shared passion for cutting hair. The salon offers a variety of hair and beauty treatments.
Address:
Shop 1/2, Aayna Complex, Next to Shell Petrol Pump, Thaltej Hebatpur Road, Ahmedabad, India
Contact: 079 3008 3737
5. Rock Style Studio
This small studio is Ahmedabad is not only known for its amazing haircuts but also its color and smoothing treatments. Just as its name suggests, all customers leave the salon rocking great hairstyles. Rock style studio is a unisex salon, and so caters to the hair needs of both men and women.
Address:
17, Vraj Vihar-5, Prernatirth Derasar Road, Opp. Gloria Restaurant, Ahmedabad, Gujarat 380015
Contact: 079 6540 2221
6. Jawed Habib Hair Studio
Who has not heard of Jawed Habib? And even in Ahmedabad, this hair salon chain has managed to mark its place. This chain has 636 outlets spread across the country and caters to the hair and beauty needs of lakhs of customers. With a set of efficiently trained staff at each outlet, Jawed Habib Hair Studio promises consistent quality service.
Address:
Ground Floor Beside Big Cinema Box Office, GF- 117-A, Himalaya Mall, Drive In Cinema Road, Ahmedabad, Gujarat 380052
Contact: 099796 06050
7. Latest Salon
Latest Salon might just have one outlet but it has set the bar high when it comes to quality hair styling and treatments. The salon definitely deserves recognition as one of the top ten salons in Ahmedabad. The staff is well-trained and quick to understand your needs. This unisex salon also offers a wide range of hair and beauty treatments.
Address:
6, Shanti Arcade, Above SBI Bank, 132 Feet Ring Road, Vijay Char Rasta, Naranpura, Ahmedabad, Gujarat 380013
Phone: 079 4008 6535
8. Aurum Spa & Salon
Who doesn't like an amazing day at the spa to go with their haircut or treatment? The Aurum Spa & Salon does it all and is undeniably the best spa salon in Ahmedabad. The salon offers a wide range of hair treatments – from hair spas and styling to hair smoothing and coloring.
Address:
1st & 2nd Floor Sanidhya A Complex, opp Shell Petrol Pump near Anandnagar Bus Stop, Prahlad Nagar Road, Anandnagar, Satellite, Ahmedabad, Gujarat 380015
Contact: 079 2693 7825
9. Black Rose Hair & Beauty Salon
This hair and beauty salon caters to the hair cutting and beauty needs of women, while also providing additional services like tattoos and nail art. This is one of the best hair salons for ladies in Ahmedabad.
Address:
2,3 Shantiketan Business Center, OPP.Gangotri Bunglow, Naroda, Ahmedabad, Gujarat 382340
Contact: 096240 02471
10. Hakim's Aalim Hair n' Beauty Lounge
This chic and trendy salon in Ahmedabad caters to the needs of people who are looking to transform themselves with a hair treatment. The stylists here try to bring out the best version of you with their haircuts. They also offer a variety of hair care treatments.
Address:
Block-A, Safal Mondeal Business Park, Sarkhej – Gandhinagar Highway, Near Gurudwara, Ahmedabad, Gujarat 380054
Contact: 079 2684 2204
We are sure that you're spoilt for choice with this list of the best hair salons in Ahmedabad. What do you have in store for your hair? And, have you every been to any of these salons? Tell us about your experience in the comments section below.

The following two tabs change content below.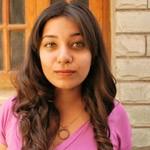 Latest posts by Meenal Rajapet (see all)