America is the land of dreams. And this land also harbours very pretty young girls who are not just beautiful but also talented, confident, courageous, independent, organized, ambitious and hard working.
Most Beautiful American Girls
Here is a list of our top 10 beautiful American girls images along with their personal details.
1. Selena Gomez:
This gorgeous actress and pop star is indeed very beautiful. Selena Gomez began acting at a very young age. This American girl came into lime light with her role in the television series Wizards of Waverly Place. She has since acted in many Disney movies. Her main goal however was to launch her singing career which she has done very well. She is currently the lead singer of the band "Selena Gomez and the Scene" and they have already released three successful albums.
2. Taylor Swift:
Speaking of hot American girls ,Taylor Swift has probably the largest fan flowing online. This country singer is known for her brilliant talent and exceedingly magnificent looks. Though she is often criticized for writing songs about her ex-boyfriends, her fan flowing does not seem to dwindle. This is mainly because of her sweet girl image and her delightfully good looks.
[ Read: Taylor Swift Beauty and Fitness Secrets ]
3. Emma Stone:
Emma Stone has a very lively and bright face. She has starred in movies like The Help, Ghosts of Girlfriends Past and Zombieland. She is naturally good looking and looks magnificent even without makeup. If you ever look up any list of sizzling American girls, her name will definitely feature in it!
4. Vanessa Hudgens:
This beautiful American hot girl is the actress and singer that played Gabriel Montez in Disney's High School Musical. She has both, the talent and the looks.  She had a cute high school girl face as a teenager which has become gorgeous over the years.
5. Rihanna:
Born Robyn Rihanna Fenty, this extraordinarily talented singer has got ravishing looks. Rihanna does not stick to convention and is not afraid to be bold and daring when it comes to clothes. She can look both rebellious and pretty. Overall she is indeed a very glamorous individual.
6. Kristen Stewart:
Known for her role as Bella Swan in Twilight series, Kristen is a very unique actress. She has very pretty features, though they might be criticized at times. She was included in Peoples magazine's Most Beautiful list. She definitely has very distinct and magnificent looks.
[ Read: Kristen Stewart No Makeup Looks ]
7. Taylor Momsen:
She is an American model, actress and musician. She starred as Jenny Humphrey in Gossip Girl and plays in the rock band The Pretty Reckless. She began modelling at two and acting at three. She was born pretty and still retains those ravishing looks.
8. AnnaSophia Robb:
She was violet, the girl who always chewed gum in Charlie and the Chocolate Factory. She was pretty as a child and is definitely pretty as a teenager. Her most recent project is starring as young Carrie Bradshaw in the Sex and the City prequel, The Carrie Diaries. She has an extremely sweet face.
9. Sarah Hyland:
She began acting at five and is currently playing Haley Dunphy in the television series Modern Family. She is slim built and extremely pretty.
10. Chanel Imam:
Chanel Imam is an American model and is best known for being a Victoria's Secret Angel. She has participated in campaigns for Balenciaga, Max Mara, Versace, Yves Saint Laurent, and Stella McCartney. She has extremely dazzling and enchanting features.
Doesn't checking out these American girls photos make you wish for their stunning good looks too? Who do you love the most? Do tell us.
Recommended Articles

The following two tabs change content below.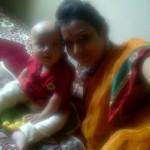 Latest posts by Khushboo Mehta (see all)