Pakistan is known for its beautiful women. They look very beautiful, are fair and gorgeous and have structured faces. Pakistani beauties are a complete package with impressive personalities, incredible charm, brains and tons of ambition. The beauty at #4 will soon be seen in a movie opposite Shahrukh Khan.
Most Beautiful Women in Pakistan
Let's see who all made it to our Top 10 list of Most Beautiful Pakistani Women.
10. Mehwish Hayat
Mehwish Hayat is a very popular singer, model and actress from Pakistan. She has been continuously ranked as the sexiest women in the whole continent of Asia. She has also done a cameo role in the short movie called "Bint-e-Muryum" in the year 2009. She has acted in the movies "Insha' Allah.". This Pakistani beauty has done many television shows like Bin Tere, Mannchalay, Phir Chand Pe Dastak, Mirat-ul-Uroos, Madventures, Akhri Barish, Meray Qatil Meray Dildar, Kitni girhain Baqi Hain, Parchhaiyan, and Kami Reh Gaee.
9. Aisha Linnea Akhtar
Aisha Linnea Akhtar is a Pakistani actress best known for her controversial movie "Slackistan" released in the year 2010. The film was banned in Pakistan by The Central Board of Film Censors because of the language used. She got married in the year 2012.
[ Read: Hot African Women Pictures ]
8. Sara Loren
Sara Loren is a renowned actress and model. She is also known as Mona Lizza. She has acted in many industries like Lollywood, Bollywood and Pakistani dramas. She was born in Kuwait and brought up in Pakistan. She made her acting debut in the year 2003 in the movie named "Rabia Zinda Rahegi". Her debut in a Bollywood film was in the year 2010 in the movie named "Kajraare". Her Lollywood movie "Gidh" was released in the year 2011. She also appeared in "Saltanat" and "Love Mein Ghum" and television shows, like "Romeo", "Phool Wali Gali", "Memsaab" and "Meharbano and Shahbano."
7. Iman Ali
Iman Ali is a beautiful & popular actress and model from Pakistan. She has worked with several Indian designers like Manish Malhotra, Tarun Tahiliani, Rina Dhaka, JJ Valaya and Suneet Varma in the Bride and Groom show. This Pakistani beauty has modelled for Luscious Cosmetics, the most popular cosmetic brands in Pakistan. She has also been featured in many music videos like Ishq Mohabbat Apna Pan, and movies like Khuda Kay Liye and "Bol". She has done many television shows which include Who Tees Din , Dil Dekay Jaien Gey, Kismat, Pehla Pyar, Arman,and Kuch Log Roth Kar Kay Bhi.
[ Read: Most Beautiful Women in Asia ]
6. Syra Yousuf
Syra Yousuf is an actress, model as well as a VJ (video jockey). She is also known as Syra Khan. She made her debut in television industry as a host for popular Indian shows like "Bheja Fry" and "Most Wanted". She also appeared in many commercials for brands like Mobilink, Fair and Lovely and Peki. Her television shows include of Tanhaiyan Naye Silsilay, Mera Naseeb, Mohabbat Rooth Jaye Toh, Bilqees Kaur, and "Coke Kahani."
5. Mahnoor Baloch
Mahnoor Baloch is a popular name in the industry of modelling, acting and directing. She has acted in many popular television shows like "Maarvi" and "Doosra Aasmaan" in the year 1993. She also directed popular dramas like "Lamhay" "Patjhar Ki Chaioon" and "Two Mothers". Her movie hits include "Tishnagi", "Mehar Bano Aur Shah Bano", "Talafi", "Ladies Park", "Pal Mein Ishq Pal Mein Nahi" and "Ek Nazar Meri Taraf".
[ Read: Most Beautiful Women in the World ]
4. Mahira Khan
Mahira Khan is an actress and a VJ star. She debuted with MTV Pakistan as the VJ for "Most Wanted and "Weekends with Mahira". Her breakthrough career started with the controversial movie "Bol". She has also done many television dramas like "Neeyat", "Humsafar" and "Shehr-e-Zaat". She won the Best On-Screen Couple award for "Humsafar" and Best Actress award for "Shehr-e-Zaat"
3. Humaima Malick
Humaima Malick is a popular name in Pakistan's acting and modelling industry. She started modelling from an early age of 14 for Fair and Lovely and Deepak Perwani. She was also awarded the face of Sunsilk in the year 2010. She has been nominated as South Asia's most fancied women in the year 2010. Her television drama list includes Aja Mai Tennu Pyar Kara, Talluq Akbari Asghari, Ishq Junoon Deewangi, Barish Kay Ansoo, Tanveer Fatima (B.A.), Tair-e-Lahoti. She has also done a cameo role in the popular movie named "Bol." Again how are we to speak of the hot Pakistani women and not mention her!
[ Read: Ukraine Beautiful Women ]
2. Annie Khalid
Annie Khalid is a model and musician from Pakistan. She is well known for her song titled "Mahiya". This album had simple and catchy songs that became very quickly popular hits not just in Pakistan but in all of South Asia. The song Mahiya was even included in the hit Bollywood movie called "Awarapan.". Annie also did runway modelling for L'Oreal and endorses popular brands like Pepsi, Telenor, Tony & Guy and Lebara. How can we leave her out when count down the beautiful Pakistani women.
1. Saba Qamar
Saba Qamar is a model and a television actress from Gujranwala, Pakistan. She is the most beautiful girl in Pakistan and has done many television drama series like Dastan, Pani Jaisa Piyar, Jo Chalay To Jaan Se Guzar Gaye, Maate etc and also modeled for many popular brands. She has won the people's choice and jury awards for the Best Television Actress in the year 2011 known as PTV Awards. She is also known for her political satire show called "Hum Sub Umeed Se Hain". She among all the Pakistan women holds a place of love respect in the heart of the masses.
These hot and beautiful Pakistani women know how to steal hearts with their subtle charms!
Recommended Articles

The following two tabs change content below.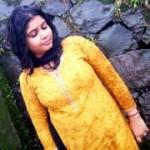 Latest posts by Jayshree Bhagat (see all)